Stella McCartney: The Queen of Eco-Cool
The sustainable fashion designer shares how she's shrinking the style industry's carbon footprint.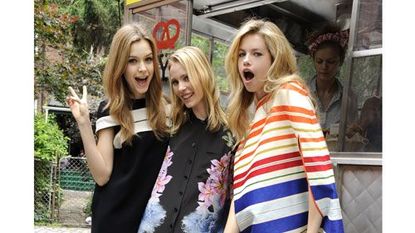 (Image credit: Archives)
So many things are called organic or eco-friendly. How exactly do you put those labels into practice?

Depending on the season, between 20 and 30 percent of my collections contain some sort of eco or sustainable element, whether it's a beautiful organic fabric or a natural dye. And obviously I don't use animal skins or fur of any kind.
What are some of the challenges of being sustainable in fashion?

New techniques and supplies are discovered each season, but they have to be tested before we can use them. I am always on the lookout for naturally sourced yarns, and the cotton we use changes almost every season. We try to use organic fabrics and low-impact dyes, but we won't do so unless we can achieve a high-quality product. At the moment, we're testing a waterless dyeing process in Turkey which is very exciting!
Are your offices and stores completely green?

We try to make earth-friendly decisions whenever we can, as it's part of our brand DNA. We use biodegradable bags and recycled-paper products whenever possible, and the bespoke herringbone floors in some of our stores are made from sustainable oak. Meanwhile, our London store and offices are powered by Ecotricity, which invests in wind power. Our recently opened Dallas location is even solar-powered!
How do you balance your eco-beliefs with an industry that revolves around changing trends?

For me, it's about the basic principles: Sustainability is important, as is recycling. Everyone can do simple things to make a difference, and every little bit really does count. That said, my job is to make desirable, luxurious, beautiful clothing and accessories that women want to buy.
Celebrity news, beauty, fashion advice, and fascinating features, delivered straight to your inbox!