Editor's Picks: Our Favorite Looks from New York Fashion Week
Our fashion team has selected the most awe-inspiring fashion statements to hit the runway this season.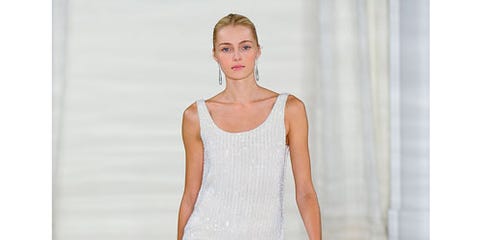 Each day of Spring 2012 Fashion Week, dozens of designers showcase dozens of models wearing dozens of amazing new looks. So how do you keep track? With the help of our fashion team, who has selected the most awe-inspiring fashion statements to hit the runway.For more fashion week coverage, visit our all-access pass to Spring 2012 Fashion Week!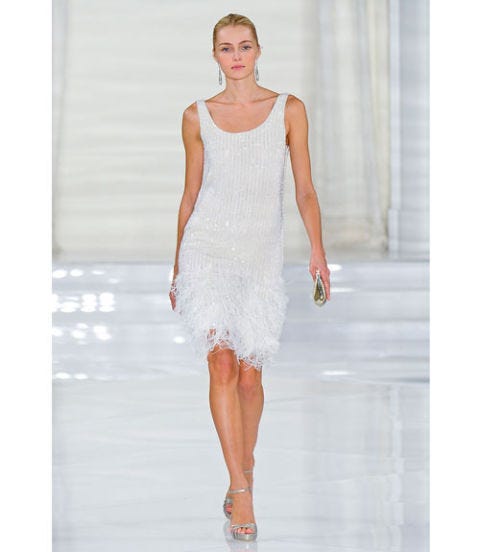 Ralph Lauren
Playing father-of-the-bride (and most recently, groom) has clearly had an effect on Ralph Lauren, whose spring collection recalled an extravagant Gatsby-inspired wedding reception. This dropped-waist beaded frock replete with flirty feathers begs to be a modern bride's partner in dancing the night away.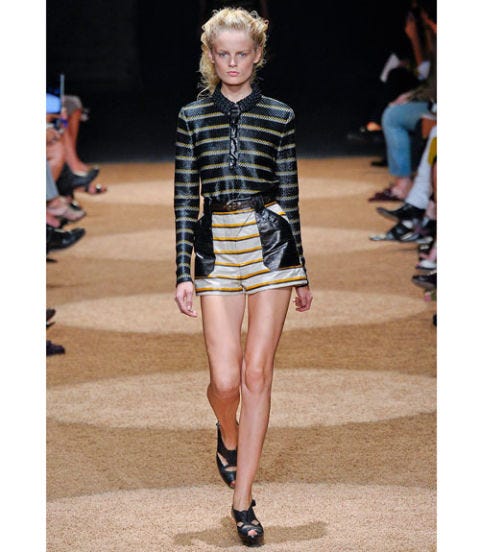 Proenza Schouler
As more movies are presented in 3D, so goes fashion. With surprising texture and richness, the boys at Proenza transform a shirt and shorts combo into something to reach out and touch.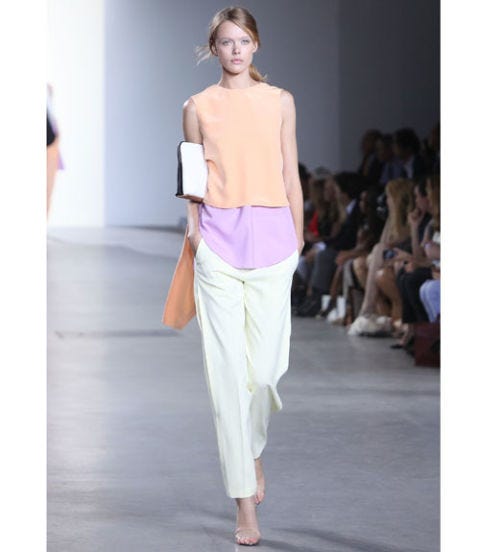 Chelsea Lauren/Getty Images
3.1 Phillip Lim
Got a craving for sherbet? Phillip Lim offers a quick fix by taking a sweet approach to spring colors with delicate raspberry, creamsicle, and lemon sorbet separates. Pants slit up the sides are especially appealing considering the Indian summer we're currently having in NYC. Perhaps we could borrow them now to keep from melting into fall.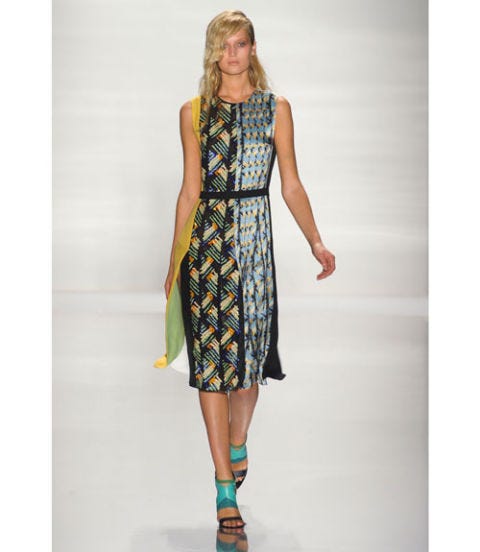 J. Mendel
What does one call color-blocked wallpaper prints? Wall blocking? Color papering? Whatever it is, J. Mendel makes us want to redecorate our wardrobe.
Michael Kors
We've been obsessing over a good tie-dye treatment ever since Proenza Schouler put the old summer camp pastime back in heavy rotation. At the hands of Michael Kors, tie-dye takes an even more sophisticated turn on a draped linen skirt that's so very Indiana Jane.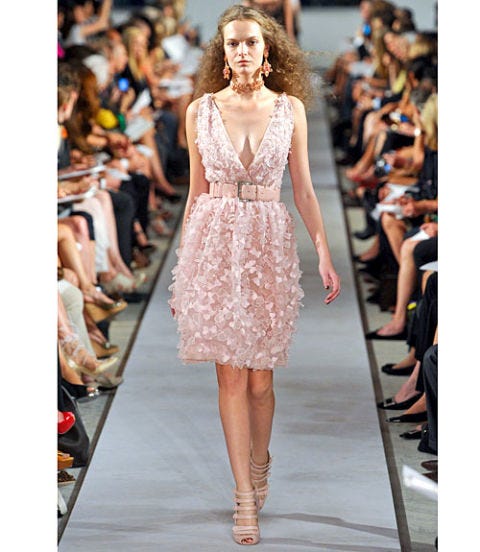 Oscar de la Renta
We can't even read Oscar de la Renta's name without hearing the squeals of Carrie Bradshaw (who can forget the pink OdlR dress Patrovsky gave her?!). It's a good thing SATC ended before Carrie could see this frothy pink confection — she would've gone so high-pitch only dogs could've heard her.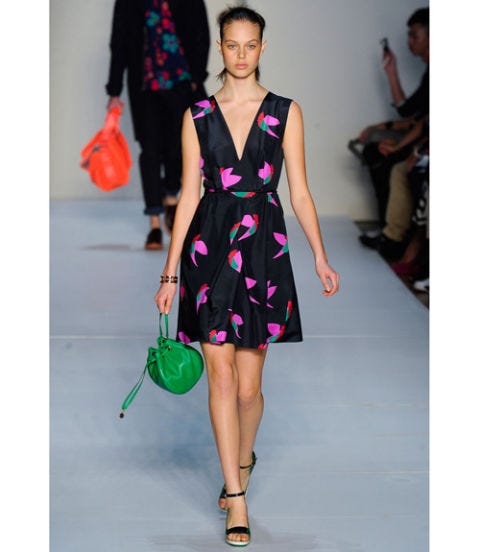 Marc by Marc Jacobs
We're suckers for this silhouette since it's pretty much universally flattering. Our only complaint? It's a little simple. Fortunately, Marc Jacobs keeps things interesting by using techno-fabric and a bird print that at first glance could easily pass as a floral. A trick of the mind's eye? Not-so-simple-chic.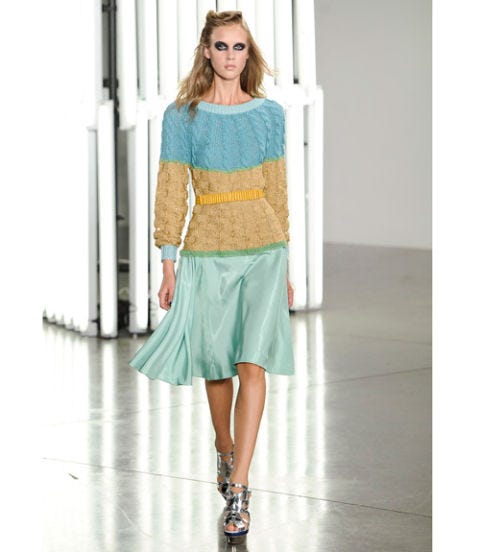 Rodarte
It's amazing how much shinier silk looks when paired with a matte cable knit. While everyone buzzes about the Rodarte sisters' use of Van Gogh prints and embroideries, we'll be obsessing over Laura and Kate Mulleavy's contrasting textures and reflective fabrics. Creating shine without resorting to sequins or rhinestones is a neat trick (much like Prabal Gurung's violet dress).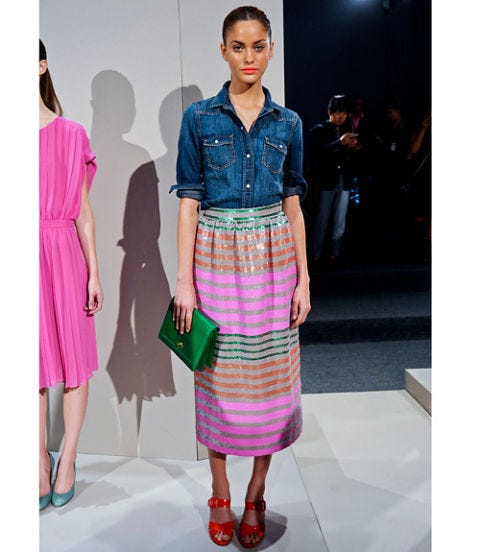 J. Crew
Every season, J. Crew debuts at least one showstopping skirt. For her first ever presentation at Lincoln Center (attended by Beyonce and sister Solange, no less!) the Crew's creative director Jenna Lyons stole our hearts with this shiny stripey stunner.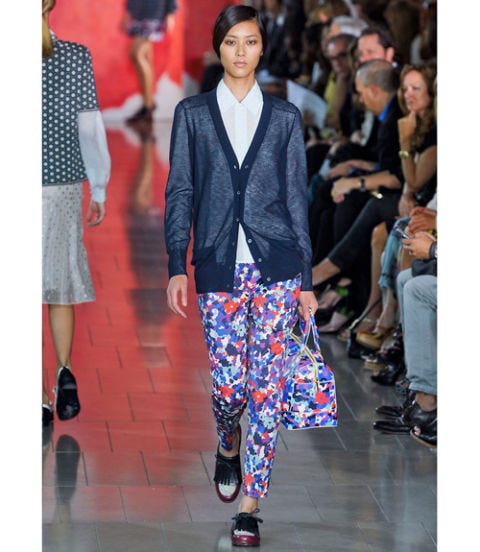 Tory Burch
Matching your bag to your shoes is so passe, but your bag to your pants is a total attention grabber that totally screams "I'm an It-Fashion-Blogger." And you can never go wrong with fringe-fronted golf loafers. Retire your Revas, these are the new must-have Tory Burch flats.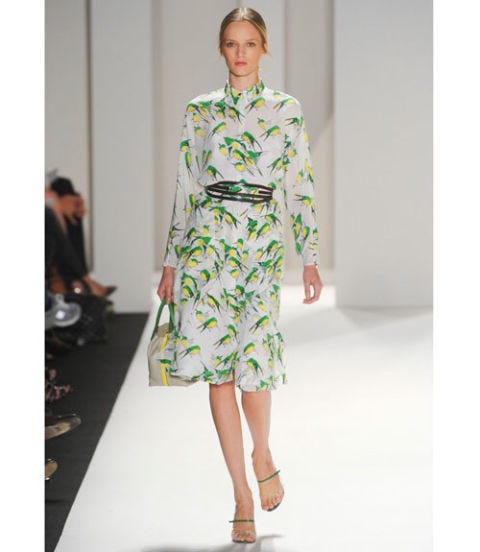 Carolina Herrera
Put a bird on it! Carolina Herrera does just that with dozens of happy little sparrows on a happy little button-down and matching skirt smartly cinched with a multi-strand belt. It's the tweetest, er, sweetest thing.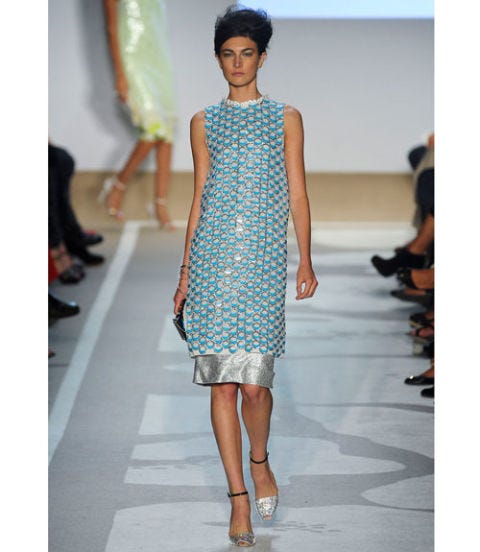 Diane von Furstenberg
DVF reinterprets the fish scale paillettes that were all over fall's runways (see Prada and Marc Jacobs) in a '60s-inspired shift dress that's guaranteed to make a splash.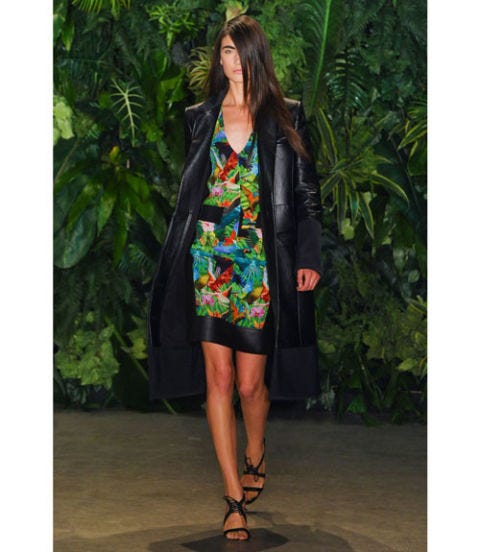 Altuzarra
Between the lush tropical print and the slick leather, this look was made for Art Basel at Miami Beach.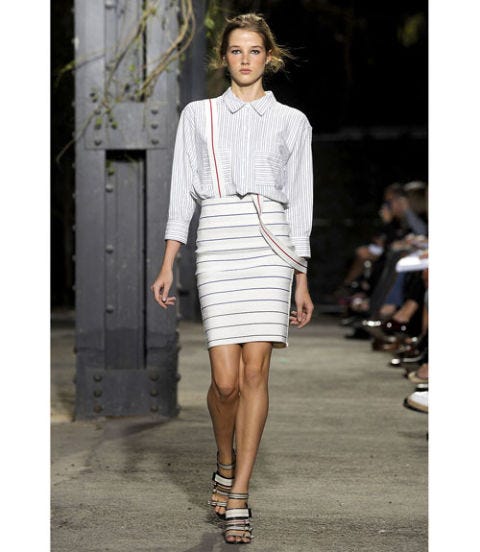 Band of Outsiders
Perhaps it's because we've been in a remembrance state of mind this week, but this Band of Outsiders skirt, button-down, and suspenders combo is really giving us a patriotic vibe in the most subtle-chic of ways. Earmark this for next year's Fourth of July.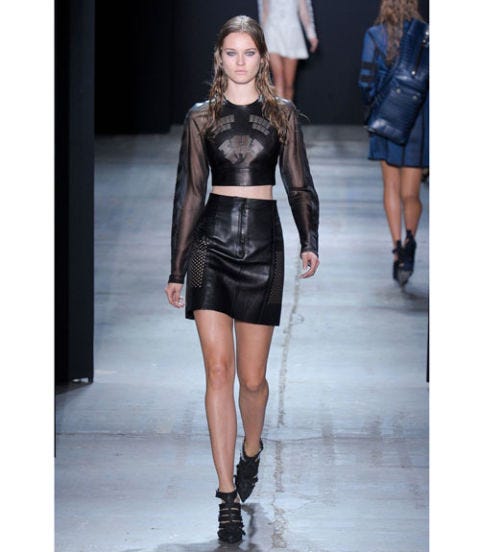 Alexander Wang
Leave it up to Alexander Wang to make a seating chart look chic. The tribal looking prints on his dresses were of the fan-variety (look closely and you'll see the map of stadium seating). Incredible.
Christian Siriano
Christian Siriano knows his way around a poofy dress but for spring it's his slim-fit, floor-grazing, trumpet hem skirts that are the real showstoppers. Paired with a simple stripey tee, they create the perfect casual-meets-couture look.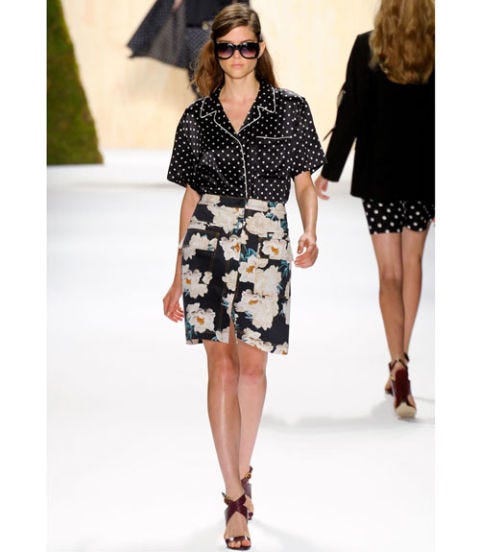 ADAM
Adam Lippes updates the floral denim that was all the rage in the '90s by introducing bold flowers to this jean skirt and topping it off with a sleek polka-dot PJ top. What's not to love?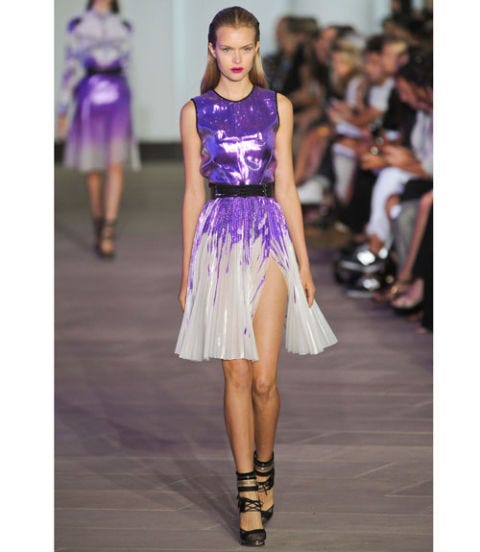 Prabal Gurung
The U.S. space program may be over, but Prabal Gurung reminds us there are still many fashion frontiers yet to be discovered. His paint-drip violet lamé dress = out of this world.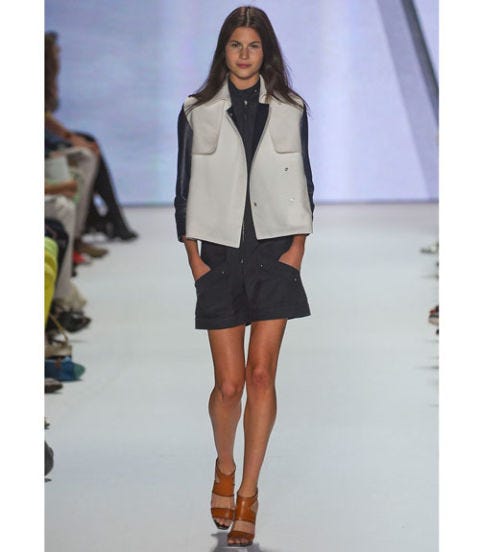 Lacoste
Here's the thing about the spring collections: They hit stores in February — cold, snowy February. For his debut collection for Lacoste, designer Felipe Oliveira Baptista presented a smattering of ultra-chic jackets to ease the chill when your winter coat gets stale. And for that, we thank him.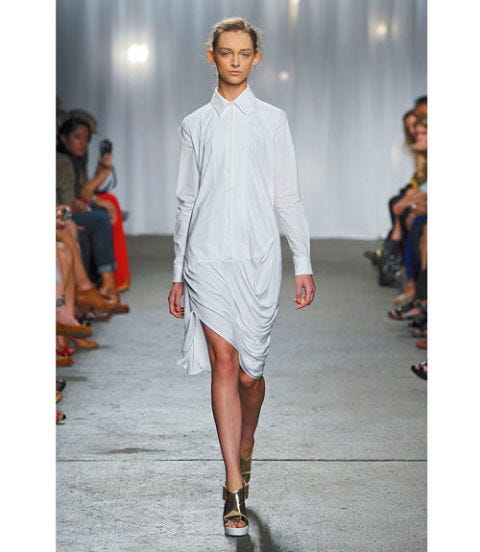 Doo.Ri
Doo.Ri put her stamp on the boy-meets-girl look by adding her signature expert draping to the bottom half of a masculine button-up. This could possibly be the ultimate shirt dress. And the shoes? Divine.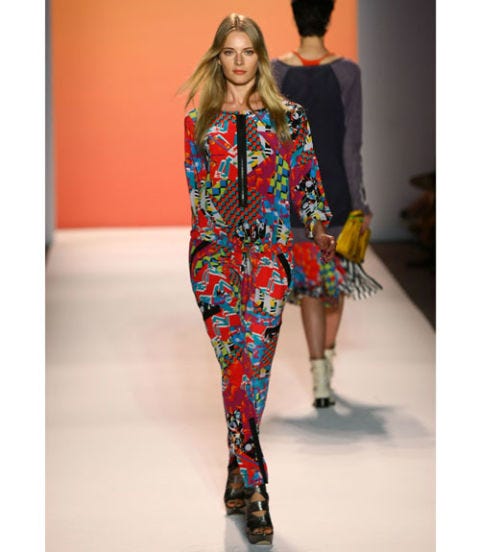 Nicole Miller
Nicole Miller mixed two parts Saved By the Bell with one part Speed Racer and a just a splash of skater boy (note Bam Margera was on the front row — random!). Yet the color scheme and luxe fabrics made it all so perfectly fun and modern. ("When I wake up in the morning and my mom gives out a warning…" this colorful print riot is better than a shot of espresso.)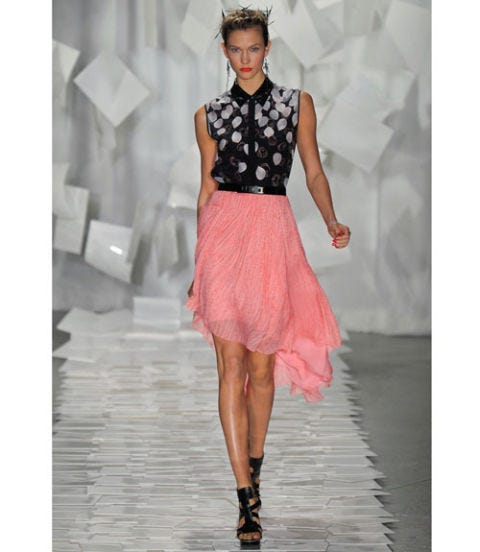 Jason Wu
This spring, Jason Wu masters the mullet hemline (long in the back, short in the front) for both day and evening. Everything he touches is pure ladylike gold.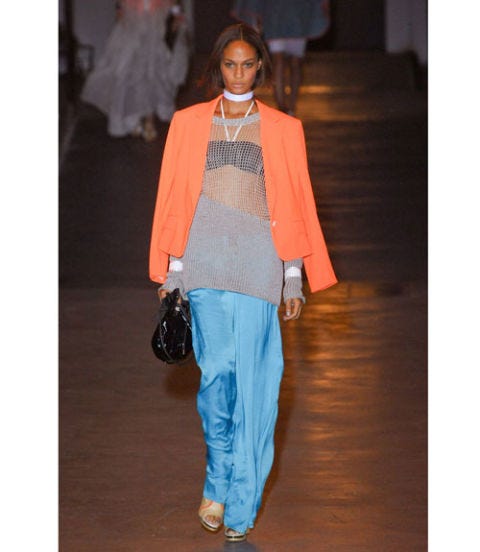 Rag & Bone
Traffic-cone-orange has never looked as good as it does on Rag & Bone's bags, skirts, and blazers.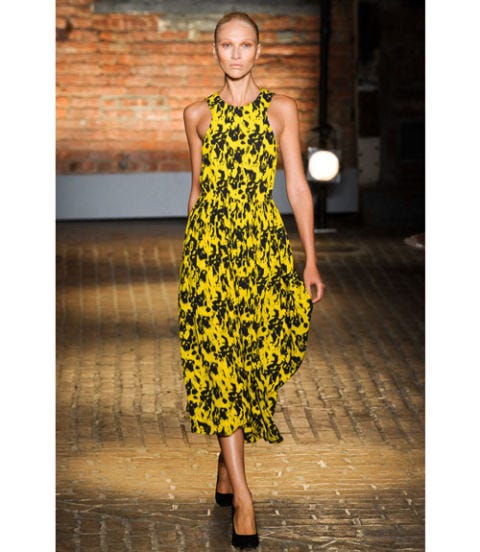 Yigal Azrouël
Yigal Azrouël combines black and yellow in a sweet georgette print on an even sweeter silhouette. Love it when these two colors get together without making the wearer look like a bumble bee.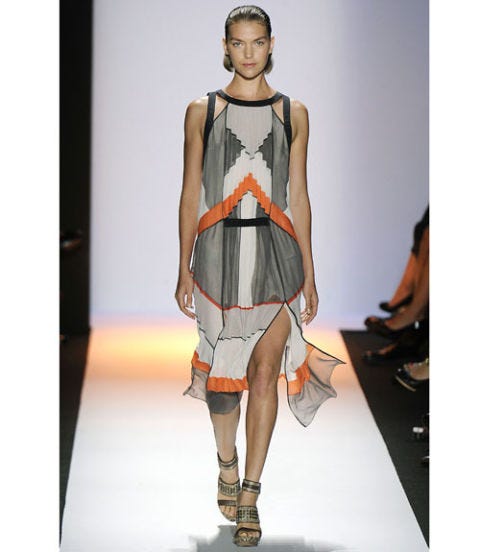 BCBGMaxAzria
Max and Lubov Azria have a stronghold on the diaphanous silk crepe and chiffon dresses. This season they introduce some interesting necklines — an unexpected T-strap across the chest or halter neck-turned-tank top. The bodice pleats and strategic pattern on this gray number will be a godsend to the less busty babes out there.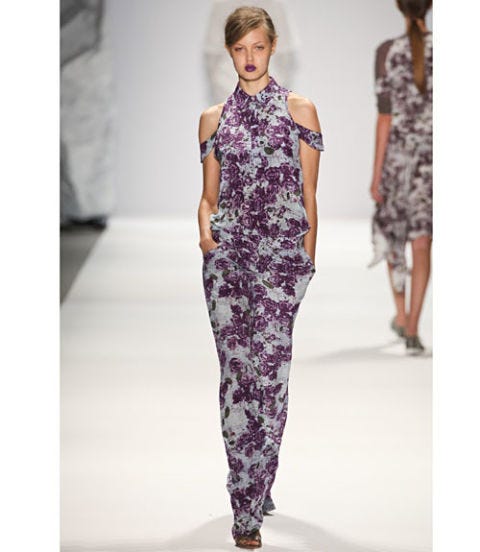 Thomas Concordia/WireImage
Richard Chai Love
Sweet! Looks like pajama dressing has staying power. Richard Chai sexes up a matching silk rose printed ensemble with sexy shoulder cut-outs.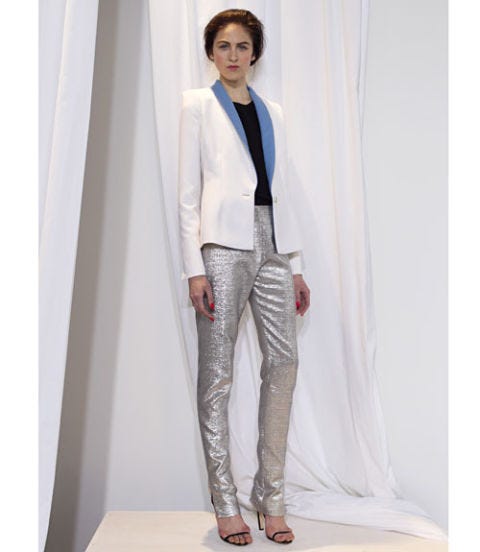 Wes Gordon
At Wes Gordon, it was hard to decide who was more adorable, the collection or the baby-faced designer himself! Since I can't take him home with me I'll settle for this sweet Lurex pant and creamy blazer combo. It looks a lot like love.
This content is created and maintained by a third party, and imported onto this page to help users provide their email addresses. You may be able to find more information about this and similar content at piano.io