The 14 Best Tank Tops for Women in 2023
The essential building blocks of your wardrobe.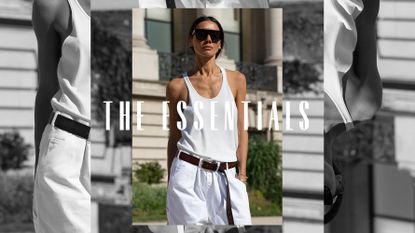 (Image credit: Getty Images)
Welcome to The Essentials, our weekly series highlighting a must-have classic, key to building a timeless, pulled-together closet.
Few pieces are as versatile as the humble tank top. The sleeveless style works as a reliable undergarment, a layering piece worn under a blazer or a tee, or a stand-alone statement for both daytime occasions and nights out. And what's most important to note is that the best tank tops are the ones you feel the most comfortable in, whether that be a lounge-y style for hanging around the house or a structured, ribbed option to wear as an effortless standalone piece.
To wit, tank tops are experiencing a trending spike due to fashion's current appreciation for wardrobe basics. "In recent seasons, designers have made a case for a wardrobe that is, well, actually wearable," trend forecaster Kendall Becker explains to Marie Claire. "Initially emerging from COVID, there was a celebratory ethos that sparked trends like hot pink, the naked dress, and all things shiny; now, reality is setting in. Designers are thinking about clothes that will actually sell and have mass appeal while simultaneously, consumers want to ensure their clothes will be quality pieces that will be worn time and time again, making it worth their dollars." You likely know of this fashion phenomenon that reveres high-quality closet essentials as, and say it with me now, quiet luxury.
If you're hoping to cultivate your capsule wardrobe, start by restocking your collection of tanks, whether that be with comfy-casual iterations, more formal options, or a few of each. To make shopping for the everlasting basic easier, we curated a guide that breaks down the silhouette, fabric, and fit of all the best tank tops of 2023 in one place. In keeping with the minimal theme of effortless essentials, you'll notice that all the below tops are offered in timeless, neutral colorways.
What to Look For in Tank Tops
"The thickness of fabrication is key—this may affect what situations you feel comfortable wearing it in," says Becker. "[A tank top] should border between thick enough to avoid a bra and thin enough to be breathable and have a dose of sex appeal if you get what I'm saying."
You'll want to carefully consider the neckline of your tank top, as there's a gamut of silhouettes to choose from. From scoop to square to halter to asymmetrical, each design yields a different style effect and the look will vary depending on body type. Plus, as Becker notes, "certain necklines (like the halter) may make it difficult to hide bra straps underneath," which will dictate its wearability.
Finding your ideal fit is crucial when it comes to tank tops. Do you prefer yours cropped or longline in silhouette? Or, maybe you gravitate toward form-fitting styles instead of loose and baggy ones? Decipher your preference—and the occasion you'll likely be wearing the tank top the most for!—and keep that in mind while you shop.
As with every garment, tank tops are part of the trend cycle; therefore, certain silhouettes experience their moment in the sun as the most sought-after styles. "Currently, we're seeing higher necklines and ribbed fabrications taking the lead at the 'It' style within tank tops," describes Becker. The trend forecaster also notes that the classic white style is experiencing an extreme peak in popularity in 2023 as well.
The Best Tank Tops
Meet the Fashion Expert