What Will They Wear to the Emmys?
As New York Fashion Week comes to a close, we picked some of the dresses straight from the Spring/Summer 2012 runways that could pop up on the red carpet this Sunday at the Emmys.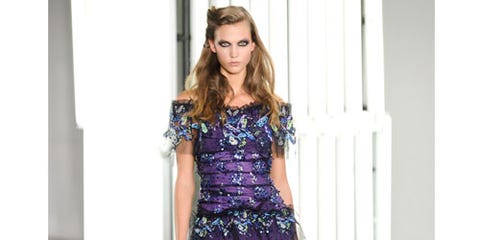 As New York Fashion Week comes to a close, we picked some of the dresses straight from the Spring/Summer 2012 runways that could pop up on the red carpet this Sunday at the Emmys. Click through to see what we think the small screen's leading ladies should have their stylists call in for the big night.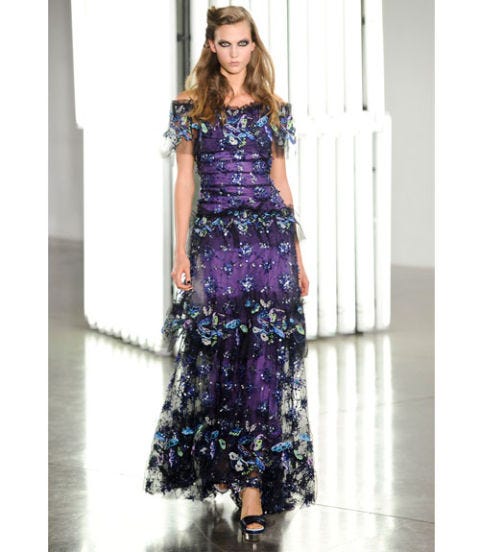 Rodarte
Gwyneth Paltrow's already won an Emmy for her guest-starring stint on Glee (at the Creative Arts ceremony) but that means she should be at the show. And as a true fashion girl, she would rock this purple Rodarte in a way that the other TV girls just can't.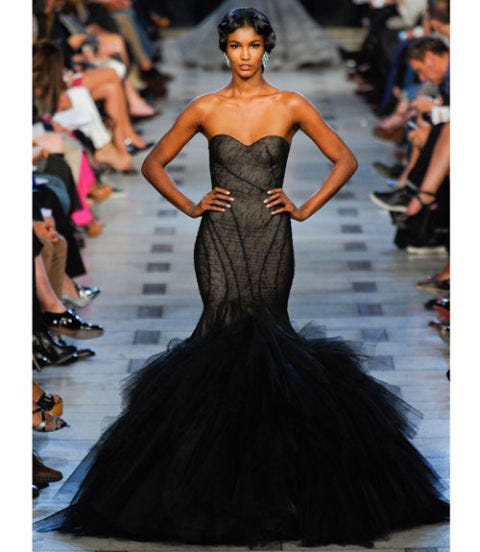 Zac Posen
This dress has Eva Longoria written all over it, right? That girl loves a mermaid silhouette.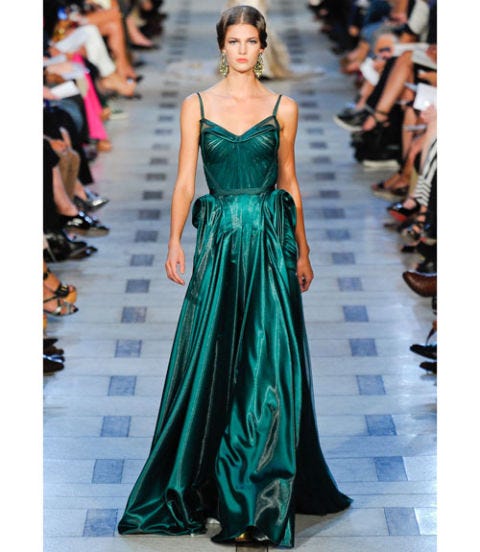 Zac Posen
This color is amazing and would totally stand out on the carpet. Perhaps nominee (for Mildred Pierce) Kate Winslet should try this out.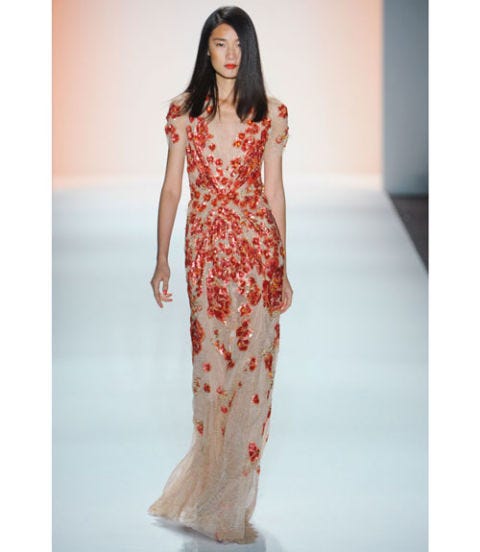 Jenny Packham
Designer Jenny Packham has lots of famous fans, like Kate Middleton and Sandra Bullock. It's easy to see why with her elegant yet safe dresses. No way you're ending up on the worst dressed list in this which makes it a good call for Mildred Pierce's Melissa Leo.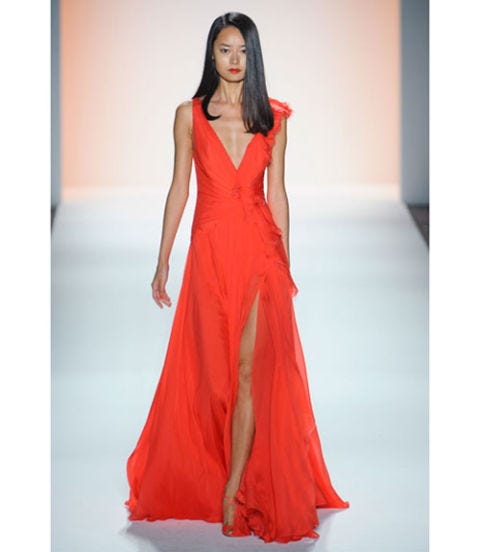 Jenny Packham
Another safe but lovely dress from Jenny Packham. The Good Wife's Christine Baranski definitely has the legs for this one. Plus, it doesn't look too young for her.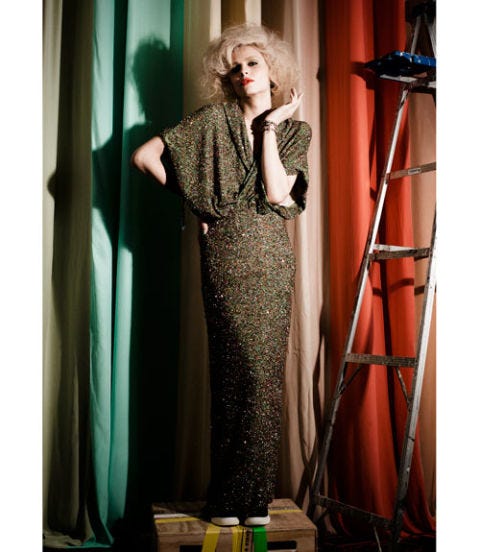 Chris Benz
The spring collection for Chris Benz definitely had a Warholian inspiration but was still totally modern. I could see a preggers January Jones pull off this look, with more toned down hair, of course.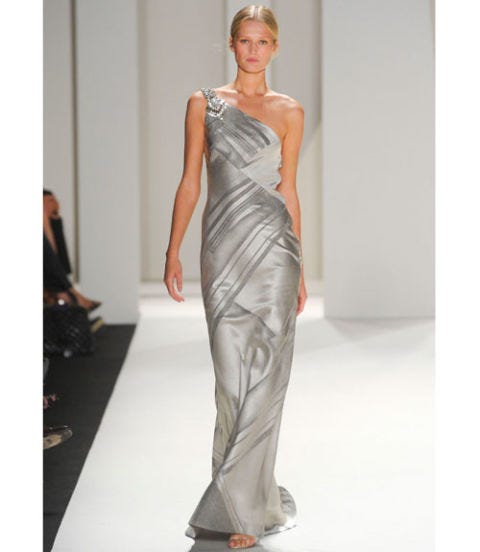 Carolina Herrera
Carolina Herrera always dresses her clients like ladies. (See: Renee Zellweger who wears the designer almost exclusively). While this isn't a WOW dress, it would be perfect for Tina Fey, who's made some red carpet missteps in the past.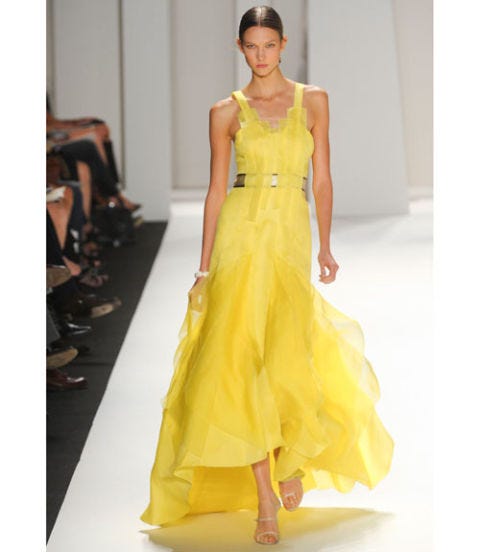 Spring/Summer 2012 Emmy Dresses
When I saw this dress come down Carolina's runway— worn by the model with the most amazing stomp and stare in the biz, Karlie Kloss— I leaned over to my colleague and said "Tami Taylor must wear this to the Emmys." Of course that actually be Friday Night Lights star Connie Britton. But, y'all she would look incredible in it.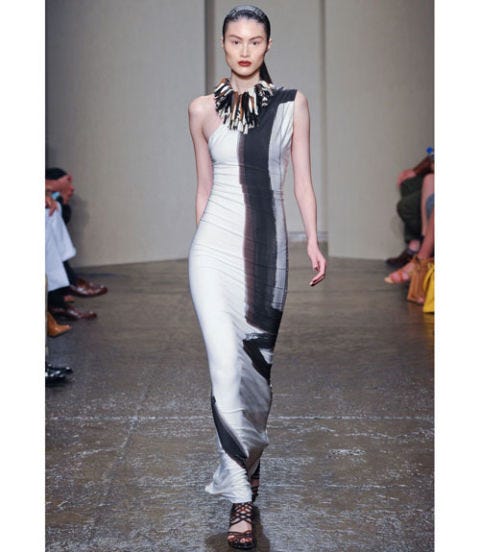 Donna Karan
Law & Order: SVU's Mariska Hargitay tends to wear bright colors on the red carpet, but it would be nice to see her try more muted tones like this tribal Donna Karan number. Plus, they're both New Yorkers!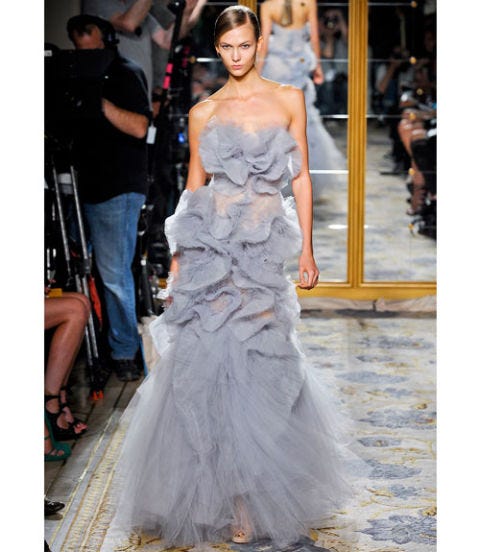 Marchesa
Hollywood loves Georgina Chapman and Keren Craig's Marchesa gowns for awards shows. Julianna Margulies would look amazing in this—and it would be a nice change of pace from the streamlined Narciso Rodriguez designs she usually opts for.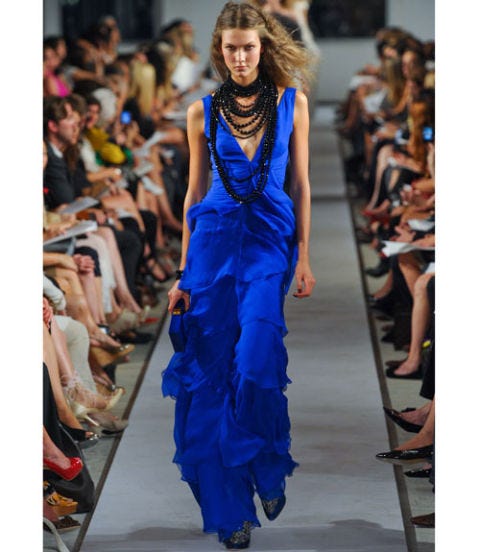 Oscar de la Renta
Obviously, I have a bit of a Karlie obsession. But to be fair she often gets to wear the best dresses! I love this electric blue with the layered necklaces. Nominee Diane Lane would look stunning in this and she should totally do this big wavy hairdo too.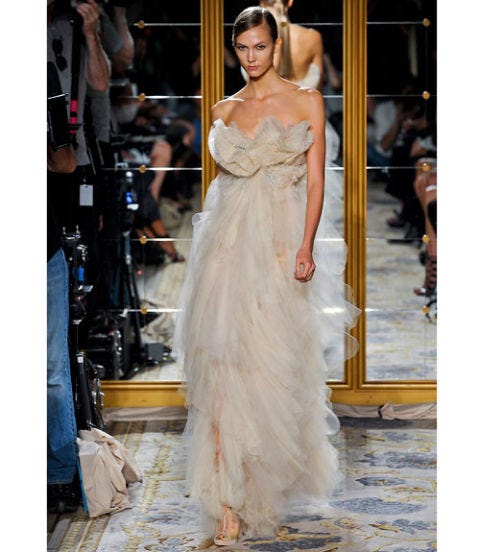 Spring/Summer 2012 Emmy Dresses
More frothy goodness from Marchesa that I think would be perfect for the ethereal beauty of Dianna Agron from Glee.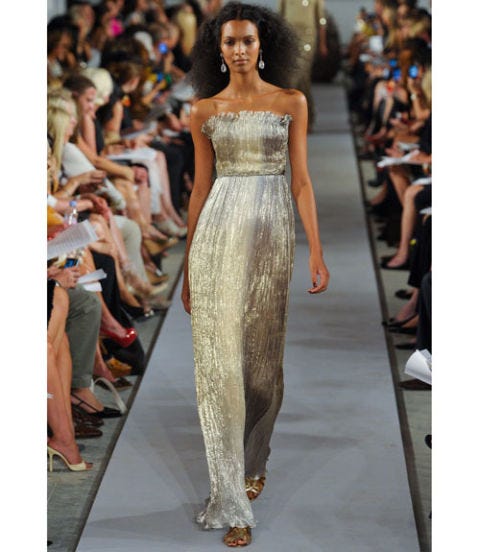 Oscar de la Renta
This metallic column dress from the master, Oscar, would be a breath of fresh air in a sea of puffed up gowns. Who would be daring enough to break from the norm? Perhaps Anna Paquin from True Blood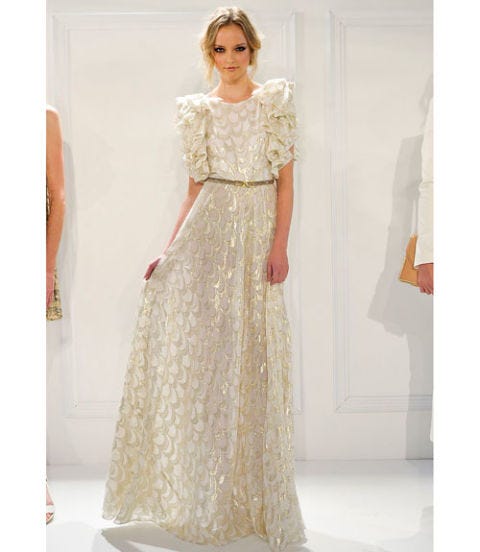 Rachel Zoe
Stylist-turned-designer Rachel Zoe's collection for spring was really, really pretty. Perhaps the TV star should show up in her own design. Though maybe Christina Hendricks could give this a go too. We love her curves but the cleavage doesn't always have to be front and center, and the belted waist would be perfect on her.
This content is created and maintained by a third party, and imported onto this page to help users provide their email addresses. You may be able to find more information about this and similar content at piano.io