'80s Trends We Don't Miss
Oh no, not the head-to-toe Spandex.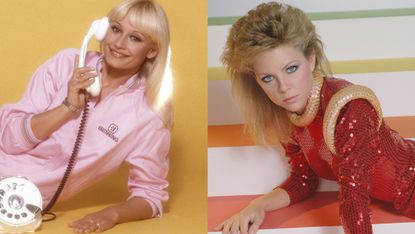 (Image credit: Getty Images)
The '80s are often maligned for being "a bad fashion decade," which isn't entirely fair. '80s fashion brought us a bunch of styles that come back into vogue from time to time, thanks to our cyclical fashion cycles: The oversized blazer. The sharp skirt suit. The love of a neon shirt (or belt or jacket or shoes—you get it). This was also the moment for curly-haired women to go big and unabashedly bold with their hairstyling, which led to some impressively high hairdos and a lot of joyful (albeit over-the-top) perm situations.
The true challenge of the '80s was often the sheer volume and maximization of it all: If we wanted colorful jewelry, we wore piles of necklaces (plus some bangles on our wrists just in case). If we wanted a mullet, we went with short and teased on the top, then long and straight on the bottom. The fun of the '80s was also its biggest challenge: not ever going halfway, ever.
So, with this in mind, keep scrolling for 32 regrettable '80s fashion choices that we hope never come back. From the pastels of Miami Vice to the hair of Dynasty, we'd love to never have to wear these ever again.
The (Kind of Functional) Windbreaker
The windbreaker as a functional item (i.e., something you wear on a hike to give a little warmth without being too bulky) is a perfectly fine fashion choice. But when said windbreaker is, uh, some kind of shiny plastic, it's doing less work as a shield from the elements and more work as a very thin, over the top layering piece. They were all the rage in the '80s and '90s, but rarely did anything good except make you feel very stylish in the rain for two seconds before getting soaked and ruining the jacket.
Crunchy Curls
We have a wealth of ways to style curly hair these days, but back in the '80s that technology (and the hair products) simply wasn't there. If you weren't brushing out your waves and wearing them in a big poofy ball, you were adding gel and getting major crunch factor. If anyone's pulling it off, it's Madonna here, but the rest of us trying to get definition were left with shiny, wet-looking, nearly immovable curls that barely budged in even the biggest gusts of wind.
'Noisy' Sunglasses
Sunglasses (and even wacky, fun sunglasses) can be a cool fashion choice. But the unique combination of large, round lenses with a deeply '80s frame just looks dated no matter how you wear them. Even Princess Diana, who wore lots of trendy outfits in the '80s and pulled a lot of them off, cannot make these oversized white frames work for her (otherwise chic and polished) outfit. This isn't even the worst iteration of the trend, but it's just a tough choice in general.
Mom Jeans
Jean technology (is that a thing?) has really evolved to fit a number of body types and silhouettes—as a person with short legs, I can appreciate this firsthand—which makes the '80s mom jean a particularly challenging throwback. The high-waisted, slim through the legs, kind of baggy and drooping style really only looked chic on the runway. The street style versions, here with some low-rise studded belts because why not, felt very halfhearted.
Neon on Neon
Color-blocking, while a great aesthetic tool, got taken to some pretty intense extremes in the '80s. Neon, while in and of itself a fun pop of color, became the whole color scheme during this decade. Neons basically became a new neutral: Note here the matching shoes, socks, belt, earrings, and bag! Styled for a photoshoot or magazine feature is fine, but imagine taking this exact vibe to a high school environment? Absolutely not the look we need to recreate ever again.
Big Collars
Of the trends that Princess Diana popularized in this decade, the oversized collar, usually in contrast to the rest of the outfit, might be one of the more regrettable ones. A peter pan collar is relatively inoffensive, but when you supersize it, it...ends up looking sort of like a bib? As a consciously curated choice with other maximalist clothing pieces, I can get behind it, but this one sits aggressively over an otherwise very poised day dress with a mini white polka dot pattern.
The Scrunchie
The scrunchie as a hair piece has come in and out of favor, and with good reason—it's a fun and functional choice! What I'm referring to here is the scrunchie at the very top of the head, preferably in a half up configuration, somehow looking messy and incomplete all at the same time. I can't stress enough how popular this hair style was, and how often it just ended up seeming like a choice of last resorts—we didn't want to do a ponytail, and we didn't want to wear our hair down, so we did this instead.
Stirrup Pants
A stirrup pant is a fun alternative to a regular pant or legging—giving visual interest around the ankle, putting the attention on a sneaker or flat. But we weren't really doing that back in the '80s. We tended to wear them loose, so they slipped off our heels and flopped around our ankles. We also didn't get the pants quite as fitted, so there was some interesting pleating and folding happening. We hadn't perfected the stirrups yet, in other words.
Headbands
The headband is a perfectly acceptable way to pull your hair back, even if you're not in the gym. But in the '80s, we for some reason pulled it down onto our foreheads—negating the function of it, I might add—so it sort of looked like a cloth tiara. Diana Ross here is giving it as much life as possible, but just imagine pulling it up about two inches and letting her hair flow freely behind it? A very cute fashion choice. By contrast, this feels like it'll slip down any minute now.
Paint Spatter (Intentional!)
Among the many loud patterns that we gravitated towards in the '80s (think: big flowers, graphic prints, a lot of loud colors), looking like we just came out of a painter's studio was one of our favorites. The random, Jackson Pollock-esque splotches were all the rage, but—particularly when we weren't opting for neon, which is itself an issue—it ended up sort of looking like very artsy mold. The trick, as we would later discover, was to make the splotches look more artful and intentional.
Mini Minis
You may be thinking that a micro mini is a decidedly '00s trend, or else a '70s trend—and you're not wrong. But contrary to popular belief, the teeny mini that serves basically no function other than to be sort of scandalizing was something we saw on the runways as early as the '80s. People really started to run with the look in the '90s and beyond, but the mini mini was still around in the '80s. And it felt just as exhausting back then too.
The Tracksuit
While Paris Hilton might have popularized the tracksuit (alongside icons like Britney Spears and Jennifer Lopez, of course), the out-of-the-gym tracksuit was an '80s thing, too. There's absolutely nothing wrong with a matching, relaxing, athleisure kind of outfit. But when it's occurring literally everywhere, including to formal events, it begins to feel a little incongruous. The problem was really that it became SO popular that everyone got tired of it.
Wide Hats
While this was a trend semi-popularized by the British Royal Family (who never met a hat or fascinator they didn't love), the loud, large hat was definitely an '80s fashion look. While we often pay more attention to the bucket hat, which comes back in style now and then, the wide brim hat is the tougher one to pull off—and the one that looks more dated more easily. There's something about the wide, flat brim that only works for a couple head circumferences, mine not included.
Huge Earrings
Technically, Cher's choice of earware here might be big earrings and some side hair clips, but either way: The Big Earring, usually sparkly and/or loud, was a big '80s thing. In this case, Cher sort of looks like she's wearing elf ears, but most of the time, it just ended up jarring with the rest of the outfit. Also, it usually made your ears hurt a lot, making this a not very functional but also not very pleasant trend. Big earrings are fine, but not the ones that make your ears throb.
The Acid Wash
Plain blue or black denim? That wasn't our style back in the '80s. We really favored an acid wash style, which looked like we accidentally left our pants in bleach for 20 seconds too long. While acid wash eventually found its place and can now be found alongside other denim styles, the issue was that we wore acid wash everything—including looks like this Canadian tuxedo. This kind of tonal dressing is probably best left in the past.
An Off-Center Ponytail
Center ponytail? Boring. Ponytail that's just an inch off-kilter? Absolutely yes! Unfortunately, this is one of those immediate tells: If someone's in a photo with a side ponytail (usually worn high and very visible), it's a sign you grew up in the '80s. Often, as with this photo, you wanted some bangs to go with them, usually ones that ended right in the middle of the forehead. We thought it was the height of chic.
The Unironic Fanny Pack
The fanny pack had a real redemption arc in 2021, with trendsetters finding fun ways to style the item (including as a crossbody—a nice way to go hands-free during one's commute). But up to that point, the fanny pack was essentially synonymous with 1) the '80s, with the vibe originally "fun" but swiftly morphing into "uncool," and 2) parents, specifically dads, wearing them on vacation. Cheryl Tiegs, who in an actual model, is keeping us within the realm of "fun," but even with her fun hiking style, this item isn't quite the cute accessory people thought it was.
Pastels ('Miami Vice' Fashion)
It's really hard to overstate how much this show influenced fashion. If you go back to photos and spot a relative from the '80s in a pastel shirt, blazer, or matching suit, you're seeing the influence of Miami Vice. On the plus side, men felt more liberated to experiment with color, pattern, and joyful fashion choices. Conversely, though, once everyone started doing it, the market became saturated—and everyone looked like they came straight out of Miami.
Harem/Hammer Pants
The harem pant has been with us for a while, but in the '80s, they were re-popularized as a fun, costume-y pant choice. The most obvious reason for this was M.C. Hammer, who debuted his "hammer pants," which featured a particularly low crotch and were associated with Hammer's dance moves. It did not take long for the trend to catch on, but the fit is so oversized and baggy that it's hard to style them and feel like a serious person. Although fanning them out like wings: always fun.
Big Glasses
Movies like Working Girl and 9 to 5 really influenced professional style for women. For the most part, that gave us some fun trends that still work (oversized blazers, tie-neck silk shirts, pleated trousers, and so on), but they also gave us some that don't—like these oversized glasses in a bright color. Much like the sunglasses you see in this decade, the lenses are big and round, and the colorful frames really emphasize the shape in a way that feels...pretty jarring, to be honest.
Patterns Patterns Patterns
If colors and patterns were a distinct element of the '80s, one way to look the most '80s of all time was to combine all the elements together. Print mixing is a distinct art form, and one that wasn't served particularly well in this decade. Not even the incomparable Raquel Welch could save a pink plaid tie, gingham top, and green-and-plaid jacket. Fortunately, as we evolved our collective fashion sensibilities, we knew to combine polka dots with plaid, instead of just mixing our whole closet together.
Mullets
Ah yes. The hair style beloved by pretty much everyone in this decade. With the benefit of hindsight, I'm sure there are a couple people that can pull this off. Unfortunately, no one really told us that, which meant that a lot of people tried their hand at this divisive style. We're also not talking about a subtle mullet, with a full top and feathery back, but a full-blown short, bushy hairstyle on top with a different, longer, straighter hairstyle in the back.
Wild Messy Eyeshadow
Cyndi Lauper was a lot of people's fashion icon in this decade (and to be honest, her maximalist style is still iconic and absolutely her trademark). But, like other '80s styles, it wasn't for everyone: If you're going to commit to red and black eyeshadow—already a tricky move—and then make it blurred and messy, you need the earrings, hair, and clothes to match the eclectic style. If, for whatever reason, you just made your eyes look like this (I am guilty of it too!), it looked weird.
Popped Collars
The popped collar ascended in the '00s, but we absolutely saw it in the '80s (sometimes combined with Miami Vice pastels). Usually we were popping a plain collared shirt, but no "popped" collar was more well-known and controversial than Princess Diana's "Elvis dress." The sparkly, over-the-top styling raised eyebrows even at the time, and (reportedly) Diana didn't even particularly like it after the fact. Princesses: just like us.
Huge Shoulder Pads
Even if you know nothing about the '80s, you know that the decade was defined by big shoulder pads. But it's not just the kind of boxy blazers you spotted on parents or grandparents in old photos: The race was on to see who could wear the biggest shoulder pads in the most architecturally impressive fashion statement. This one feels like it wins, but Boy George and Elton John probably would argue that their performance pieces were even bigger.
Leg Warmers
This trend also went through a redemption arc and is now considered a fun alternative to socks (and a way to channel ballet-core, if that's you're aesthetic). But we wear leg warmers as a fun part of a sleek outfit, not throwing them on over sneakers and leggings so that they serve no functional purpose—in other words, it's an '80s leg warmer if you don't really know what it's doing there. It's just a scrunched-up sock at that point.
Crimped Hair
Alongside the traditional "big hair aesthetic" of the '80s was the crimped hair aesthetic—so it only made sense if you combined the two in one over-the-top hairstyle. In this iteration, the whole thing felt very haphazard, and a heck of a lot of work—imagine having to blow-dry, tease, and then break out your crimper—so it makes sense that the trend fizzled after several years of ubiquity. Don't forget the straight bangs in front! They're essential!
Maximalism
Cyndi Lauper had a style all her own, from her neck and arms literally dripping in bangles to her multicolored hair and outfits. But what most people don't understand is it actually takes a smart, sharply honed sense of style to pull this off. Lauper also made it work by absolutely committing to the look from head to toe (a style icon!), but rarely could one channel this explosion of color in their daily lives. Only taking one aspect of this style came off as half-baked.
'Dynasty' Fashion
As embodied by Joan Collins (who had a style that was almost indistinguishable from her character on Dynasty), the sharp shoulder pads, bold suits and blazers, and—never forget it—intensely large hats became an '80s staple, mostly for women who were in their professional lives. Whether you were channeling this look at a fancy dinner party or just trying to wow all your coworkers with your style, this aesthetic was for women was what Miami Vice was for men.
High-Cut Bottoms
Jane Fonda's workout VHS tapes were bestsellers not just because she promised fitness from the comfort of your living room, but because she did it in tight spandex that looked awesome on her. Those high cut bottoms rode all the way up over the hip bone (and sometimes were a thong style)—to which I can attest that, in real life, the style was exceedingly uncomfortable. But the fact that she could pull it off, all while coaching watchers through exercise, is why she's the best.
Spandex
Christie Brinkley is pulling off what us mere mortals could not: the full-body spandex onesie. Granted, this trend wasn't always about dressing head-to-toe in the shiny material, but this is a testament to how popular the style was (don't forget the leg warmers!). With the advent of better clothing construction came the rise of the material being used as stretchy, clingy shapewear, but its place as head-to-toe athleisure is pretty exclusively contained to cosplaying as Barbie on Halloween.
'Dynasty' Hair
Never forget how popular this hairstyle was! Let's state the obvious right away: Big hair can be great. And so can frizz and brushed-out curls, when deployed effectively. But the hair that looked like a big fluffy basketball feels decidedly dated today—and was incredibly popular in the '80s. Joan Collins would deploy several versions of the "big hair" trend, and was arguably the forerunner for this style being seen in popular culture. But if she can't make this particular cut and style work, no one can.
Marie Claire email subscribers get intel on fashion and beauty trends, hot-off-the-press celebrity news, and more. Sign up here.