Denim Maxi Skirts Are the Standout Style of the Season
Give your blue jeans a break.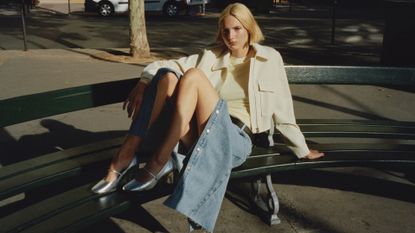 (Image credit: Mango)
Marie Claire Newsletter
Celebrity news, beauty, fashion advice, and fascinating features, delivered straight to your inbox!
Thank you for signing up to Marie Claire. You will receive a verification email shortly.
There was a problem. Please refresh the page and try again.
Fashion often operates like a pendulum. Once a trend peaks, a style that's its diametric opposite will rise to take its place. You've recently seen the whiplash phenomenon with skirt hemlines. Leggy silhouettes generated quite a lot of hullabaloo in 2022, but once you wrapped your head around the idea of a micro-miniskirt, the conversation pivoted to floor-grazing styles. As Marie Claire's Sara Holzman reports, denim maxi skirts, in particular, are a standout trend of 2023.
The trend cycle is certainly confounding (you'll break your brain trying to figure it out), but that's what makes fashion so fun; It's full of contradictions and nuance, which gives you plenty of variety to shop. To wit, there's a surplus of great denim maxi skirts available to shop now that will perhaps even rival your beloved pair of blue jeans. Legacy denim brands like Levi's and AGOLDE offer straightforward longline options, and you can shop RAEY's jean pencil skirt, every fashion editor's favorite workwear piece, in four different colorways. There are options from Stella McCartney and Zimmermann, too, which integrate more experimental touches like flared, fluted hems and doubled-up denim waistlines.
Ahead, shop our favorite picks for long denim skirts, ranging from pencil-like styles to wear to the office to relaxed maxis you can integrate into your weekend rotation.
The Best Denim Maxi Skirts
Best Overall
MOTHER The Candy Stick Denim Skirt
With its true blue wash, consider this ankle-length denim skirt the more feminine version of your favorite pair of jeans. This hip-to-hem style by MOTHER, a made-in-L.A. brand beloved by fashion editors for its high-quality offerings, features a button fly and five (five!) pockets. Considering the brand's track record (hi, a fashion editor self-inserting here: I bought a pair of MOTHER boyfriend jeans years ago and practically live in them), you can rest assured this skirt will last you for ample seasons to come.
Best Denim Pencil Skirt
Raey Split Back Organic-Cotton Denim Maxi Skirt
In the world of denim maxi skirts, RAEY's sleek pencil style reigns supreme. Rachael Proud, the creative director at the MATCHES exclusive brand, elaborates on her design inspiration for the cult piece beloved by every fashion girl I know: "I made myself some denim skirts in the '90s from old blue jeans, and I have worn them ever since. The time was just right to recreate that skirt in a way that a few more people could enjoy, and in different washes too," she explains.
Best Button-Front Denim Maxi Skirt
Mango Buttoned Denim Skirt
Once you master the classic denim maxi, level up with a more experimental iteration—like this low-slung style from Mango. The retailer gets creative with the classic denim bottom, integrating a purposefully asymmetric and off-kilter button-front that mimics the effect of a front slit. There's a back slit, too, which offers yet another flash of skin and ensures you'll be able to move easily and freely. Try styling this slightly quirky style with a tee shirt, cropped jacket, and sophisticated slingback kitten heels.
Best Cargo Denim Maxi Skirt
SLVRLAKE Worker Denim Maxi Skirt
Cargo pants have had their moment in the limelight for several seasons—understandably and deservedly so. But we're now seeing designers reinvent the utilitarian bottoms in fresh-feeling, inspired designs. Take, for instance, this big-pocketed denim maxi skirt by SLVRLAKE. It's finished with statement stitching, a side loop like those you'd traditionally find on carpenter jeans, and silver grommets—if you know anything about the history of denim, you know the significance of the metal hardware. However, it's still undeniably a feminine find with its A-line cut.
Best White Denim Maxi Skirt
LOULOU STUDIO White Rona Denim Maxi Skirt
Some of us prefer a roomier, big-and-baggy fit. Others, however, may gravitate toward snug, figure-hugging styles. LOULOU STUDIO'S Rona maxi skirt in white is a quintessential example of the latter. It's made of a sturdy, non-stretch denim that offers structure and form, further accentuating the wearer's shape and creating a more formal feel. "Jeans are sometimes too casual, but skirts just make you feel smarter," articulates RAEY's Proud. "A maxi pencil denim skirt makes you feel dressed up because it's a maxi skirt, but then casual at the same time because it is denim."
Most Comfortable Denim Maxi Skirt
Reformation Kass Raw Denim Maxi Skirt
But now here is a quintessential example of a more relaxed and oversized longline denim maxi: Reformation's high-waisted Kass skirt. It's high-waisted with a significant flare around the ankles and features a back slit and edgy raw hem. Crafted of cotton-blend denim with a slight give, this maxi skirt is conducive to walking. In fact, consider this your next errand-running staple on the weekend: it's in style, guaranteed to get you a few compliments while out and about, but won't restrict you as you check off your to-dos.
Best Flared Denim Maxi Skirt
Zimmermann Luminosity Denim Maxi Skirt
If it's sartorial drama you're after, this floor-length fluted skirt by Zimmermann is a no-brainer buy. Its mermaid silhouette creates a more formal, romantic vibe but is balanced by the denim's casual feel. At first glance, it hardly appears to be from the same brand that offers kaleidoscopic bohemian sundresses and flouncy, puff-sleeve blouses. But, the energy of the skirt is the same as all of Zimmermann's offerings: It's a fun piece that's guaranteed to get you a few compliments with every wear.
Best Budget
Everybody knows and loves Levi's. And when you're shopping for denim of any sort, the iconic American brand should be high up on your list. Take, for instance, its longline skirt in an ice blue wash. It fits and feels just like your classic 501s, only done in a more girlish silhouette. Plus, it's impressively affordable at under $100. "This skirt is incredible," writes one incredibly enthusiastic Levi's reviewer. "The fit and the style are so good! I am having no problem whatsoever walking in the skirt."
Best Black Denim Maxi Skirt
AGOLDE Leif Organic Denim Maxi Skirt
AGOLDE is a denim brand that masterfully merges vintage design with a contemporary feel. Every piece crafted by the Los Angeles-based label will make you feel equal parts nostalgic and fresh—like its dark black Leif denim maxi skirt, for example. It's made from cotton that is 80 percent organic and 20 percent recycled and has a statement front slit (there's the future-leaning perspective). The skirt also boasts a worn-in black wash and gentle fading along the seams (and there's the throwback spirit).
Best Blue Denim Maxi Skirt
Madewell Denim Mid-Rise Maxi Skirt in Pineland Wash
Here's another piece with such an inexpensive price tag that it's almost unbelievable for the quality you're getting: Madewell's mid-rise maxi in a deep blue wash. Crafted from 100 percent cotton, this style has a comfortable mid-rise fit and features eye-catching, figure-accentuating stitching along the front and back. One particularly enthused Madewell shopper dubs it "the skirt you need for fall." They continue: "It pairs perfect with a simple white tee or blouse. This is a skirt you can wear in all seasons."
Best Splurge
Stella McCartney Denim Maxi Skirt
Last but certainly not least is Stella McCartney's double-denim maxi skirt. It epitomizes the British designer's ingenuity: Why invest in two light and dark wash skirts when you can wear both simultaneously? This hybrid, paneled style is ideal for unconventional dressers who like their looks to live slightly out of the box. (It's also a great contender for those who can't decide between either washes). Plus, the thigh-level front slit injects the textured style with the perfect dose of sex appeal.
Meet the Fashion Expert
Rachael Proud is the Creative Director at RAEY at MATCHES. Launched in 2015, the London-based label makes its manufacturing decisions based on reducing its environmental and social impact, starting with the use of innovative recycled fibers, closed-loop manufacturers, and production audits.
Celebrity news, beauty, fashion advice, and fascinating features, delivered straight to your inbox!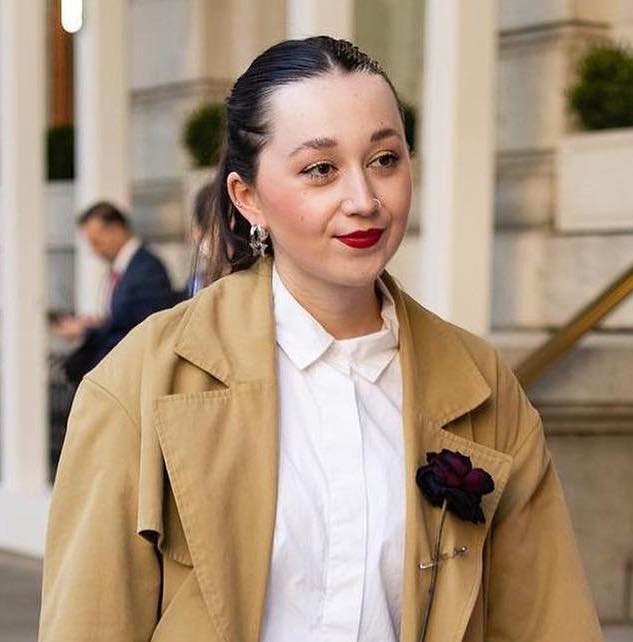 Emma Childs is the Style Editor at Marie Claire, where she researches up-and-coming trends, curates shopping guides, and gushes about the must-buy items she can't stop thinking about. She previously wrote for TZR, Editorialist, Elite Daily, and Mission Magazine and studied Fashion Studies and New Media at Fordham University. When she's not writing up fashion deep-dives or finding the season's best pieces, you'll find her fiddling around in Photoshop and perusing HBO Max for the next show to base her personality on (currently, it's "Succession").