The 11 Best Linen Blazers for Women in 2023
Streamline your summer work style.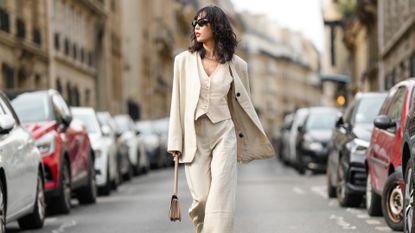 (Image credit: Edward Berthelot/Getty Images)
Marie Claire Newsletter
Celebrity news, beauty, fashion advice, and fascinating features, delivered straight to your inbox!
Thank you for signing up to Marie Claire. You will receive a verification email shortly.
There was a problem. Please refresh the page and try again.
We are in a new era of workwear dressing. With the adoption of flexible and hybrid schedules, office dress codes have become marginally laxer. Your stiff power suit and pointy pumps collect dust in your closet because you're now reaching for more casual and comfort-driven alternatives (your sweatpants, however, still stay home). Lightweight linen separates, in particular, have become the MVPs in many workwear rotations, as the flax-made material offers impressive breathability and ease. Marie Claire editors have previously rounded up their favorite linen pants, dresses, and linen suits, but this space is dedicated to the very best linen blazers, as the tailored style epitomizes easy polish.
For summer 2023, luxury brands like Polo Ralph Lauren and Jacquemus offer their takes on the suiting staple, utilizing the season's leading color trends and contemporary silhouettes. Of course, there's also a bevy of must-see options from affordable retailers, with J. Crew, Banana Republic, and Quince leading the charge with their sleek yet subtle blazers that you'll want to add to your summer work outfit rotation ASAP. Ahead, find our picks for the best linen blazers for women and insight from a fashion expert to guide you through your shopping decisions.
What to Keep in Mind
"Linen is an incredible fabric," says Alison Bruhn, stylist and co-founder of the fashion and culture media group, The Style That Binds Us. "It's timeless, elegant, breathable, and very versatile. It can be dressed up or down, hand washed, and the fabric gets softer with wear."
When it comes to finding the best linen blazer, Bruhn explains that "first, you need to decide what look you're going for. Do you want a classic double-breasted tailored look or a more relaxed-fitting blazer?"
"How do you feel about fabrics that wrinkle with wear? The only negative that some people find with this fabric is that it can wrinkle easily," the stylist shares. "However, there are ways to get around this if wrinkling feels sloppy and is causing you to pause when buying a linen blazer. Consider choosing a blazer with a lining, as they don't wrinkle as easily and keep their shape better. When going this route, be aware that, depending on what the lining is made of, they may not be as cool in very hot, humid weather."
Ultimately, though, "as long as you take care of the one hundred percent linen [by] hanging it after wear and giving it a quick steam to freshen before the next wear, the natural wrinkles will only enhance the fabric's beauty, " says Bruhn.
"Linen blazers come in a multitude of colors, as the natural fabric holds dye really well," explains Bruhn. "Once again, you must decide the look you're going for because the selection is endless! One hundred percent linen is a natural fiber made from flax, and because of this, soft neutrals like ivory, beige, and khaki are a natural fit for linen in the summer, but if you are someone who loves color, a beautiful melon, lavender, Kelly green, or royal blue will create a statement look that is very on trend for summer 2023."
The Best Linen Blazers
Best Overall
Reformation The Classic Relaxed Linen Blazer
Traditional with its single-breasted silhouette but contemporary in its oversized and relaxed fit—this navy blue, 100 percent linen blazer by Reformation is our top pick. Simply put: It's a piece you'll gravitate towards for years to come. "When wearing a blazer like this, pay special attention to the other parts of your outfit," advises Bruhn on ensuring you achieve the maximum sleek impact from the style. "To avoid looking like you just rolled out of bed, style with a smooth top under, a cute mini skirt, shorts, or a pair of pants or jeans that aren't visibly wrinkled."
Best White Linen Blazer
Madewell The Larsen Linen Blazer
Bruhn shouts out this stark white, 100 percent linen option from Madewell as being one of her personal faves. "There are a multitude of ways to wear this quintessential summer piece," she describes. "Linen pairs well with a crisp white jean or a beautiful pair of summer pants and a heel. You can also pair a linen blazer with a T-shirt and shorts for a casual summer vibe or throw it over a slip dress for a night on the town. The possibilities really are endless."
Best Value
Quince 100% European Linen Blazer
"This blazer by Quince is 100 percent natural linen and much more unstructured, making it the coolest option for hot weather. It is a perfect choice for staying cool in the heat," shares the fashion stylist. "The single-breasted blazer's vibe is relaxed and European, creating a very casual look. This is a nice option if you are comfortable with a slightly rumpled look," she adds, praising this affordable (only $70!) linen blazer for creating a lived-in, effortlessly elegant effect. Try teaming it with Quince's matching elastic-waist linen pants.
Best Pink Linen Blazer
J. Crew Linen Bristol Blazer
"Another option for solving the wrinkling dilemma with linen blazers is the material used. Blazers made with a mix of linen and other materials wrinkle less," explains Bruhn. "This pink linen blazer by J.Crew is made of what the brand calls 'stretch linen;' it is made of a blend of mainly linen, but with some polyester added to give it the stretch and help ward off wrinkles. You can find this type of material with multiple brands at different price points."
Best Striped Linen Blazer
Banana Republic Alva Linen-Cotton Blazer
Go for a graphic look with Banana Republic's striped linen-cotton blend blazer. Its sharp lapels, luxe-looking gold buttons, and double-breasted design deliver a classic, almost nautical effect. This blazer is available to shop in sizes 0 through 20 and also offered in specifically tall and petite sizing, which ensures you can find the style that fits you best. And for a low-effort look with a high-style impact, team this striped style with Banana Republic's coordinating linen shorts.
Best Linen Blazer Dress
H&M Linen-Blend Tie-Belt Dress
This linen-blend dress from H&M is the ideal balance of feminine and masculine style codes. It boasts front buttons and padded shoulder pads, which give the dress structure and polish, while the tie belt offers a more casual feel. The tailored blazer dress is offered in sizes small to extra large and in white, as pictured, dark black, and khaki. Plus, it's a top-rated find at H&M with a four-point-seven out of five stars. "Perfect for a work convention in a very hot climate," describes one reviewer. "Excellent quality [and] looks more expensive than what it is."
Best Cropped Linen Blazer
Abercrombie & Fitch Cropped Linen-Blend Blazer
Bruhn shouts out fresh melon shades as being a fruity color palette to consider trying for summer 2023. Abercrombie & Fitch's honeydew-hued blazer is a perfect example of how refreshing the bright, citrus-y shades can feel. Plus, the cropped silhouette is ideal for those not partial to the longline look. "This cropped jacket is perfect: the fit and crop are great," writes one Abercrombie & Fitch reviewer, saying "don't wait" to buy it for yourself. "I'm weaving this into my summer office and informal wear."
Trendiest Linen Blazer
Polo Ralph Lauren Linen Blazer
"Some blazers are partially lined"—like this crisp option by Polo Ralph Lauren—to offer slight structure and give you greater control over how wrinkly your piece gets, Bruhn says. This blazer is made of 100 percent linen, while the lining is 100 percent cotton, offering much-needed breathability on the interior. It comes in a size range of 0 to 10 and boasts a slightly cinched waistline to create shape definition. And as the stylist describes, "if you are going for a classic, quiet luxury look and like a longer blazer, you cannot beat this style."
Best Sustainable Linen Blazer
Eileen Fisher Notch Lapel Longline Organic Linen Blazer
When you want sustainable fashion with a sophisticated, minimal, and no-fuss look, turn to Eileen Fisher. The label is known for its sleek and eco-conscious offerings, with its notched-lapel blazer being a particularly smart buy for summer 2023. It's crafted from 100 percent organic linen and boasts an open silhouette to create an understated and free-flowing look. Take it from this pleased Nordstrom shopper: "I adore this jacket. It is so oddly hard to find a piece like this: casual and chic at the same time [and] very high quality. Wear with jeans and a white tank for day or with trousers for evening."
Best Oversized Linen Blazer
DOLAN Linen Boyfriend Blazer
Here's another linen blazer that offers a balanced combination of feminine-masculine vibes. The pink and orange floral print offers a romantic element, while the oversized, relaxed fit—a major summer 2023 trend, by the way—provides a more traditional boyish slant. However, reviewers note you might want to size up if you like a dramatically roomy fit. "Perfect, easy-fitting blazer in optimistic colors," writes one Anthropologie shopper. "Size up if you're searching for more of a "boyfriend" look. Cute stripe lining [and I] love styling this with rolled sleeves, back to denim, cargo, shorts/skirt, or over a dress! A classic option for the season!"
Best Splurge
Jacquemus Tibau Linen-Blend Blazer
"For the fashion insider, this blazer and matching pant by designer-of-the-moment Jacquemus is divine," Bruhn says. Simon Porte Jacquemus, the creative at the helm of the eponymous French brand, is a master at low-key luxury. His pieces—like this sunny yellow Tibau linen-blend blazer—epitomize French fashion in that they possess a refinement that's simultaneously nonchalant. It's that classic, trying-but-not-too-hard, je n'ais ce quoi look. Admittedly, this nipped-in blazer is quite the investment, but it's worthwhile if you're fond of an unassuming and carefree aesthetic.
Meet the Fashion Expert
Alison is a national style and image consultant with clients across the country. She studied at the Fashion Institute of Technology in New York City, and holds a Color certification from the Image Resource Center of New York. She is a member of the Association of Image Consultants International and the co-founder of The Style That Binds Us.
Celebrity news, beauty, fashion advice, and fascinating features, delivered straight to your inbox!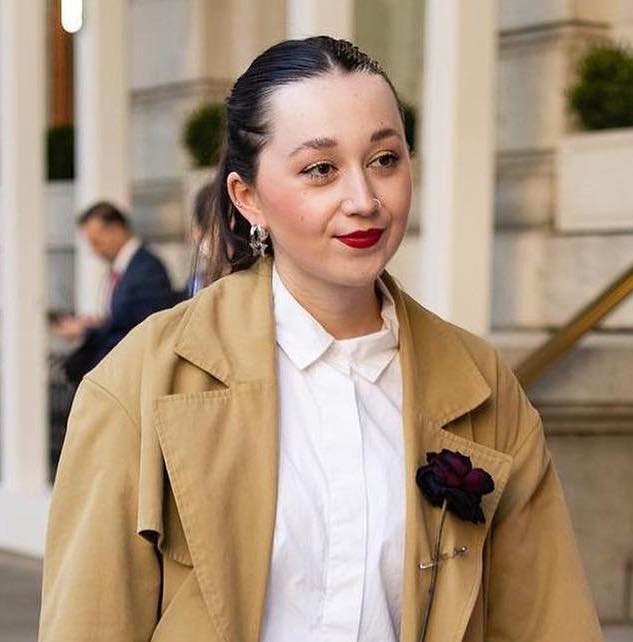 Emma Childs is the Style Editor at Marie Claire, where she researches up-and-coming trends, curates shopping guides, and gushes about the must-buy items she can't stop thinking about. She previously wrote for TZR, Editorialist, Elite Daily, and Mission Magazine and studied Fashion Studies and New Media at Fordham University. When she's not writing up fashion deep-dives or finding the season's best pieces, you'll find her fiddling around in Photoshop and perusing HBO Max for the next show to base her personality on (currently, it's "Succession").