The 10 Best Mini Skirt Outfits, According to Stylists
Honest wearability is key.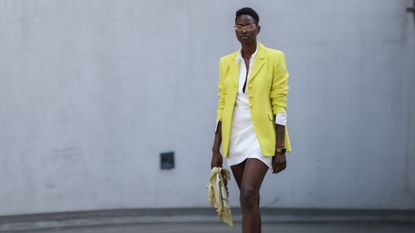 (Image credit: Jeremy Moeller/Getty Images)
There's been beacoup de buzz about mini skirts in recent seasons. You remember the scandalous micro-minis of 2022, which incentivized almost every city-dwelling fashion devoté to flash some serious upper thigh while stunting around downtown. The Spring/Summer 2023 trends, however, signal that the skirt is shifting toward a less ostentatious, more polished direction. The best mini skirts of 2023 are made of more grown-up materials—bouclé tweed, luxe leather, and sturdy denim—which makes it easier for you to style the skirt in a way that feels wearable and honest to your everyday.
Ahead, Marie Claire tapped two fashion stylists for their insight on styling the flashy, flirty piece and rounded up the best mini skirt outfits that won't leave you feeling like a Gen-Z impersonator. The two experts also break down the top mini skirt trends (in terms of silhouettes, materials, and colors) so you can shop the leading styles directly.
How to Style Mini Skirts
"I find a good mini skirt outfit is all about balance," says fashion stylist and creative consultant Allison Bornstein. "I prefer not to have anything too fitted or too much skin showing on top to balance the bare legs," inviting you to opt for more oversized shirts or blouses to keep your top and bottoms in proportion with each other.
"I would take some time to ask yourself what you normally look for in a bottom and go from there," she adds. "If you often wear trousers, maybe try a wool mini with side slip pockets like a classic trouser. Or, if you wear a lot of jeans, maybe a denim skirt would be a good introduction to the mini!"
"I would really try to understand your own preferences first," Bornstein emphasizes, especially when it comes to the silhouette of your mini skirt. "I have found that clients who typically prefer an A-line dress have the same preferences when it comes to skirts."
Best Mini Skirts Outfits
Denim Mini Skirt
"A denim mini looks excellent with a white tee or tank top," says Bornstein. "It feels very intentional but effortless, which is a look that I know everyone strives for. If you want to play up that Parisian vibe, add a classic trench. I love a long coat with a short skirt."
Pleated Mini Skirt
"I also like the idea of styling a mini skirt with a poplin button-down shirt and a loafer and socks," offers Bornstein. "It is playing with balance and proportion in a way that feels classic and modern, and adding some menswear touches makes the mini feel a bit more sophisticated and less straightforward."
Pink Mini Skirt
"Most importantly," fashion stylist Mickey Freeman says about styling a mini skirt, is to "be sure that the length of your top is short enough to showcase the skirt but not so long that it overshadows it." Case in point: the magic, faultless combo of a mini skirt with a matching cropped jacket.
And for bonus points, choose a co-ord in one of the season's front-running color trends—hot pink. In fact, a bright, bubble gum-hued look is particularly timely for summer 2023, as it will be the season of all things Barbie, with the much-anticipated film dropping in July. This bouclé set from Self-Portrait makes for the perfect opportunity to replicate Valentino's mega-viral magenta mood without a price tag that's double your rent.
Plaid Mini Skirt
"I love a mini skirt in the fall with a pair of sheer black tights and a high boot. I like to play with the proportion and add a boxy blazer on top as well," says Bornstein, inviting you to try your hand at a modern skirt suit via separates in classic tweed.
White Mini Skirt
"I always talk about choosing the 'wrong shoe,' which I find can be very helpful in making a mini skirt feel more interesting and considered," says Bornstein. "And I love a mini with a sneaker." Consider fully committing yourself to a sporty route by teaming your best sneakers with a white tennis skirt and court-ready collared polo shirt.
Leather Mini Skirt
As for a leather skirt, either genuine or faux fabrications, Bornstein "would style it with a turtleneck or a thin cashmere sweater to make [the outfit] feel both covered up but also fitted and sexy." This thigh-grazing number from J. Crew is a smart buy because, yes, it's on sale for $80, but it's also a trans-seasonal piece you can keep in your wardrobe throughout the year.
Cargo Mini Skirt
To create an enticing aesthetic clash and "offset the flirty nature mini skirts are synonymous with," Freeman advises you to lean into the exact opposite vibe. Tap into a more "conservative or utilitarian" feel via the most ubiquitous trend of late: cargo pants or, in this case, a cargo mini skirt. Since the bottoms are more of an of-the-moment style, reach for classic and timeless separates to tie the look together—a second-skin white tee and your best leather jacket, for instance.
Sequin Mini Skirt
Try your hand at spring's metallic trend via a high-shine sequined skirt. Bornstein recommends pairing disco ball-like bottoms with "a pair of sheer tights and a pointed slingback heel to ensure the skrit feels polished and mature, as opposed to juvenile and clubby. "I also think the sheer tights allow for a little coverage, but [the outfit] still feels sexy," the stylist adds.
Micro Mini Skirt
And here we find ourselves: in micro-mini skirt territory. The leggy bottom rose to fame through Miu Miu's Spring/Summer 2022 runway and has stayed in the mainstream ever since. Styling the teeny-tiny skirt, however, is a different, more complex story. "I always talk about choosing the 'wrong shoe,' which I find can be very helpful in making the skirt feel more interesting and considered," says Bornstein on building an outfit around the micro-mini. "For example, instead of a heel or something strappy and sexy that echoes the vibe of the skirt, try something sweeter like a Mary Jane or ballet flat, which feels like the 'wrong choice.' Also throw on a crisp blue button-down shirt, and you're good to go.
Black Mini Skirt
A more classic iteration of the mini skirt is one in every fashion editor's favorite hue, black. "I am very big on playing up the youthfully vibrant effect that mini skirts tend to bring to a look," says Freeman. The stylist invites you to brighten up a black mini skirt outfit by "incorporating more demure fabrics into the look by way of pieces like t-shirts with lace overlays or an elegant chiffon blouse."
Meet the Fashion Experts
Allison is a stylist and creative consultant who effectively uses social media to teach and guide her followers on how to integrate today's trends with classic pieces for chic elegant results. Her popular virtual styling sessions show how to work with pieces already in your wardrobe to emphasize that sometimes it just takes a discerning outside eye to help you look your best.
Mitchell Freeman, also known as Mickey, is a fashion stylist born and raised in Philadelphia. Mickey currently works with the likes of Peyton List, McKenna Grace, Landry Bender, Aldis Hodge, Tobias Harris, Sinqua Walls, Dylan Sprouse, Azealia Banks, Keke Palmer, and Dascha Polanco. His work has been featured in publications such as GQ, Vogue, Marie Claire, Grazia, and L'Officiel.
Emma Childs is the Style Editor at Marie Claire, where she researches up-and-coming trends, curates shopping guides, and gushes about the must-buy items she can't stop thinking about. She previously wrote for TZR, Editorialist, Elite Daily, and Mission Magazine and studied Fashion Studies and New Media at Fordham University. When she's not writing up fashion deep-dives or finding the season's best pieces, you'll find her fiddling around in Photoshop and perusing HBO Max for the next show to base her personality on (currently, it's "Succession").