The 32 Best Celebrity Met Gala Gowns of All Time
The biggest fashion event of the year has seen some of the biggest gowns—literally.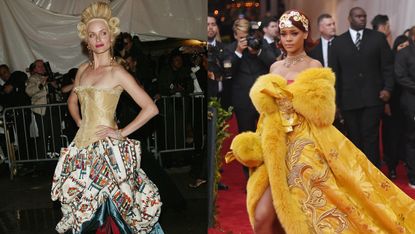 (Image credit: Getty Images)
The Met Gala is sometimes considered the Fashion Oscars, and with good reason: It used to be a niche event for fashion's big designers, but has become a chance for celebrities to show off their edgiest style and for couture designers to make the most stunning gowns you've ever seen. The event has seen quite an evolution over that time period, ranging from Diana Ross and Bianca Jagger in fancy couture in the '80s (and Cher debuting a naked dress in the '70s!) through Rihanna helping to redefine Met Gala fashion in a yellow Guo Pei dress and enormous train in 2015. Even for people who don't typically follow fashion, the daring looks become part of popular culture, with people debating which celebrities pulled off their looks—alongside plenty of memes, of course, and more celebrities emulating the looks at other formal events. Throughout its multi-decade history, the Met Gala has given us some of the weirdest, wackiest, and most stunning looks of all time.
Below, see 32 of the best Met Gala gowns to have ever walked the red carpet.
Princess Diana, 1996
In 1996, the Met Gala paid tribute to Christian Dior, so Princess Diana (in her only appearance at the Gala) wore a dress by the new designer of the house, John Galliano. With that famous pearl and sapphire necklace to give some elevated panache, Diana actually went a little out of her wheelhouse in a silk navy dress with black lace detailing, with a silk robe-like topper to match. Post-divorce, she really leaned into her love of fashion, and this silky nightgown-esque dress was a bold choice for her.
Cher, 1985
Cher had been working with iconic designer Bob Mackie (pictured) for a long time, and they'd already scandalized guests with Cher's 1974 "naked dress" at the same event. This one's more buttoned-up, certainly, but the sheer detailing in the bodice means this dress has some "surprise cleavage" that is very appropriate for a Cher dress. Mackie told Variety it was one of his favorite looks. "So, the skirt on this was simple and black. It's one layer of fine tulle and beads. The rest is her skin showing. Anywhere that is not black is her skin. There were also the ear cuffs, which people went wild for."
Harry Styles, 2019
Harry Styles never shies away from gender fluidity in fashion, and this look, designed by Gucci's Alessandro Michele, was no exception. Obviously I love the lace shirt, heeled pumps, black mani, and chunky rings (yes, please, I would wear all of those right now), but the standout was probably the pearl drop earrings. In the years following, "pearlcore" absolutely became a thing, and Styles (who apparently really likes that particular gem) can be credited with helping popularize it.
Selma Blair, 2003
For Selma Blair's first Met Gala, she looked like a gorgeous and very stylist ballet dancer in a long tulle skirt and gold bodice (which looked particularly dancer-esque when she moved). The theme was "Goddess: The Classical Mode," which...actually works very well for this. Blair later wrote on her Instagram, "I sat with my favorite @clairedanes and @behnazsarafpour who is the brilliant designer behind this now iconic dress. I truly had a memorable, festive, opulent, fragrant and glorious night."
Lena Waithe, 2018
There's statements, and then there's statements. Lena Waithe here does both (in an outfit designed by Kerby Jean-Raymond). It was a more evolved understanding of, and a political statement about, the theme of "Heavenly Bodies: Fashion and the Catholic Imagination." Waithe, who identifies as queer, explained that "I'm reppin' my community, and I want everybody to know that you can be whoever you are, and be completely proud, and be doin' it, so...Wear the damn cape."
Solange Knowles, 2015
Solange is a fashion innovator through and through, and this isn't her only Met Gala appearance. But for my money it's her most memorable. This Giles Deacon fanlike dress is actually quite on theme for the "China: Through the Looking Glass" gala, which really functions as a Rorschach test for whatever you happen to see inside the design at any particular moment. She later shared that she loved the look and "wanted to be as respectful as possible to the theme."
Sarah Jessica Parker, 2006
For the "AngloMania: Tradition and Transgression in British Fashion" Met Gala, Sarah Jessica Parker said she screwed up her courage to ask if the designer of her gown, the late Alexander McQueen, would attend with her. He said yes, creating this iconic matching plaid look. Parker later noted in a Vogue video that the designer was incredibly shy, and that she was trying to be attentive to him. "It wasn't a fun night. Like, it was, but it wasn't because I was so nervous. I just wanted him to be OK."
Kim Kardashian, 2022
Attending with then-boyfriend Pete Davidson, Kardashian (ever the sartorial button-pusher) wore her most memorable look. The theme was "In America: An Anthology of Fashion," and Kardashian said she couldn't think of anything more American than Marilyn Monroe. So, she donned the actual "Happy Birthday" dress Monroe wore to serenade JFK—but only for a few minutes, since the dress is considered a cultural artifact. "I'm extremely respectful to the dress and what it means to American history," she told Vogue.
Taylor Swift, 2014
This is not Taylor Swift's only Met Gala appearance, but it was a big train moment that the event is known for (and appropriate for the theme, "Charles James: Beyond Fashion"). The dress is Oscar de la Renta and the train is meant to look like origami. Per ushe, Swift had a funny story to go with the dress, telling People, "I've never seen more fashionable people lose their composure quicker than when a cat [in this case, her cat Meredith] walks up to a satin, custom Oscar de la Renta dress and then decides to make a home inside of it."
Elizabeth Hurley, 1997
For the "Gianni Versace" theme of the 1997 Met Gala to honor the late designer and his indelible impact on fashion, Elizabeth Hurley made sure to make an impact. It was a couple years after she debut that Versace paper clip dress, which made her an international fashion star. So, of course she doubled down to wear Versace again—this time, a lavender slip dress underneath a white coat. On her arm was the most stylish accessory of them all, boyfriend-at-the-time Hugh Grant.
Bianca Jagger, 1981
Mick Jagger's ex-wife wore this gorgeous black Dior ballgown with lace on the bodice in 1981. The theme was "The Eighteenth Century Woman," and it's largely considered to be one of the most chic early dresses the event has ever seen. If the gown looks familiar, it should: Kaia Gerber wore an Oscar de la Renta gown that directly referenced this moment at her debut at the Met Gala in 2021. (Gerber's gown was lower-cut, but it was an impressive deep cut fashion reference that had even the biggest fashion experts impressed.)
Elle Macpherson, 2006
It took a few years for the Met Gala to be as costume-y as it is today (it's now considered to be one of the most avant-garde fashion nights of the year). This lime green Chanel is a gorgeous, sculptural piece with an unusual-for-the-time color, so it makes sense that the fashion house would put "The Body" in it (Macpherson was a very in-demand supermodel, and appeared on five Sports Illustrated covers). But the big headlines were reserved for her choice of footwear—casual flats! On a red carpet! Unheard of! In 2016, she reminisced on her iconic "Calvin Klein and flip flops" look.
Blake Lively, 2018
No biggie, just a gown that took 600 hours(!!) to make. This ruby and gold Versace gown, complete with enoooormous train, naturally worked with the "Heavenly Bodies: Fashion and the Catholic Imagination" theme. The internet also thought it looked very Game of Thrones-y, and frankly they're not wrong. And if that wasn't enough, the spiked headpiece made her look like an actual angel. According to Vogue, she had to take a party bus to the event to fit her massive train, and it's one of Lively's favorite dresses ever.
Iman and David Bowie, 1990
If you missed the context, singer David Bowie and model Iman had a long, loving relationship for 24 years until his death—but they were incredibly private, so it was rare for the two to be photographed together. One of the few places they did go publicly, however, was the Met Gala—this is one of a few instances the two would be captured together. What I love most about her black gown, aside from its simplicity and the fact that she's working the heck out of it, is that the two match.
Diana Ross, 1981
Just in case anyone is laboring under the illusion that big gowns are a modern Met Gala invention, feast your eyes upon one of our biggest fashion icons of all time, Diana Ross, in a ruffly concoction befitting the event—made completely out of feathers, and glamorous as can possibly be. I'm...not totally sure it fits in exactly with the "The Eighteenth Century Woman" but who even cares? Fun fact: She pulled it back out for the 2012 American Music Awards, and looked just as great!
Anne Hathaway, 2015
This molten gold dress is so simple, and yet! For the "China: Through the Looking Glass" Met Gala, Anne Hathaway showed off a cool hood to complement her Ralph Lauren column gown. She said it made her feel "weirdly confident," and told Vanity Fair that it was inspired by a statue of Buddha. "I found a few contemporary Chinese artists that I liked and I sent it over to Ralph Lauren, and this was the one we decided to try to interpret...So we interpreted a Buddha with a hoodie."
Naomi Campbell, 1995
Ugh, I love this sparkly dress on Naomi Campbell so much. It's Versace, and it's pretty emblematic of her bold and beautiful glamour (which was her natural style even when she wasn't on the catwalk). This was the same year that fellow supermodel Kate Moss would show up to the same "Haute Couture" Met Gala in a pale yellow Calvin Klein dress; This was the age of the supermodel, and having this much star power on the red carpet meant that it was the event of the season.
Cate Blanchett, 2007
There have been many Met Gala looks over the course of its long history, but I love this tiered fringe dress on Cate Blanchett. It's Balenciaga, and it's for the "Poiret: King of Fashion" theme (if you're unfamiliar, the master couturier Paul Poiret was most prolific in the 1910s and 1920s, so the dress is a callback in style to that particular fashion aesthetic). The dress catches the light at about a million different angles, and it helped establish Blanchett as a fashion icon.
Amber Valletta, 2004
In the '00s, designers really began experimenting with the costume-y elements of the Met Gala in new ways. Once you learn that the theme this year was "Dangerous Liaisons: Fashion and Furniture in the 18th Century" and you realize that model Amber Valletta is dressed in the same style, you'll understand how cool the look really is. With her Maggie Norris Couture corset and John Galliano skirt, the outfit (which Valletta refers to as her "Marie Antoinette" look) was apparently as heavy as it is cool.
Dita von Teese, 2014
This Zac Posen dress on Dita von Teese might be one of my favorite sculptural looks from the Gala, which that year was themed "Charles James: Beyond Fashion" (with an emphasis on big ballgowns). This wasn't quite as big as some of the dresses we saw on the carpet that year, but the mermaid construction with the red contrasting detail on the pink (especially the mermaid flare at the bottom) was perfect for the event and for the burlesque star's trademark old Hollywood style.
Karolina Kurkova, 2005
If you're going to make a (literally) huge statement, why not have it be this? For "The House of Chanel" Met Gala, Karolina Kurkova wore a white Viktor & Rolf dress with a sweet "I Love You" message emblazoned in red on the front. Now considered to be one of the most iconic gowns of all time, it coincided with designers going bigger and bolder, with an emphasis on experimentation. At the time, the look was much-discussed—some people thought it might have been too over the top—but it's stood the test of time.
Cameron Diaz, 2007
This type of layered dress was popular at the time (Penelope Cruz had just worn a similar feathered Versace to the Oscars just a few months prior). But this fuchsia Dior is, in my opinion, just as gorgeous and ornate. The contrasting turquoise Fred Leighton jewelry may look distinctly '00s, but I actually still think it works well with the over-the-topness of the gown. From the back, the dress looks even more architectural and tiered, and it might be one of Diaz's best looks ever.
Kate Moss, 1995
Sometimes, simplicity really can make just as much of a statement as an ornate gown. For her Met Gala debut, Kate Moss wore a yellow Calvin Klein dress, which was backless and pretty simple in construction. But it works well for the model, who would shoot iconic campaigns for the brand, and for the time. Back in the '90s, the height of simple and luxurious style was a column Calvin Klein dress. Bonus: matching your highlights to your gown, which is a black-belt level fashion move.
Fan Bingbing, 2015
For the "China: Through the Looking Glass" Met Gala, Chinese actor Fan BingBing wore a Christopher Bu ensemble (he's one of her favorite designers, and she said she considers him a close friend). The gold sequined column gown would have been stunning enough for the event; Her cape wasn't quite as long as Rihanna's, who turned up in an iconic yellow look that same year, but this ornate green topper was still one of the most gorgeous from that year (and of all time).
Lupita Nyong'o, 2016
There have been a few divine Met Gala looks from icon Lupita Nyong'o, but my personal favorite is this pretty Calvin Klein jade green ensemble. Inspired by The Matrix and Nina Simone in equal measure, the real standout is the hair, which was inspired by sculptural hairdos around the continent of Africa and was designed to be a celebration of natural Black hair. "We wanted to demonstrate the versatility of textured hair and this was a great way to do that," hairstylist Vernon François told Fader.
Billy Porter, 2019
If you're unfamiliar with Billy Porter's ability to push the boundaries of fashion (and then break through them), it's worth going back at some of his most notable looks. This one is no exception: He arrived being carried on a litter (with six shirtless male attendants, naturally), then he stepped onto the carpet to reveal 10(!!)-foot-long wings. This "Sun God" ensemble was created by The Blonds, and as the designers explained to Vogue, "The wing cape is an archival piece, and it is comprised of gold baguettes, crystals, and beads, all anchored with caviar beads."
Cardi B, 2019
Cardi B is a couture house's dream: She loves a big and bold look, she commits 100 percent, and she's never ever afraid to do the most posing. So, this Thom Browne blood red gown with huuuuuge train (that required ten people to wrangle) is the kind of iconic dressing we've come to expect from her. It was very, very thematic for "Camp: Notes on Fashion," and of course the Internet immediately did its thing to meme-ify the dress. Comparisons to a red blood cell and a duvet were rampant!
Katy Perry, 2018
Katy Perry brought her whimsy to the Met Gala several times (including, among others, dressing up as a hamburger and a chandelier), but it's this winged concoction that takes the cake for me. This Versace getup is perfectly in keeping with "Heavenly Bodies: Fashion and the Catholic Imagination" (Perry is literally an angel, my goodness!), and the fact that she committed to a six-foot-long wingspan on her costume really shows how much she leaned in to the assignment.
Lady Gaga, 2019
There are layered looks on the Met Gala every year, but because Lady Gaga is always pulling out all the stops, her Brandon Maxwell look encompassed a grand total of four different looks. (If you missed the original debut, go to YouTube and watch—you won't be disappointed.) We started with this huge pink gown with a 25(!) foot train, then that came off to reveal a corseted black dress, then THAT came off to reveal a bright pink column dress. And then! She stripped down to black crystal bra, panties, and mega platform boots. Only Gaga!
Zendaya, 2018
Fashion icon Zendaya has given us many a fantastic red carpet (and Met Gala) look, but this one has to be my favorite. For "Heavenly Bodies: Fashion and the Catholic Imagination," she literally cosplayed as Joan of Arc in a feminized suit of armor—Versace, naturally. The blunt bob and platforms help it from becoming too dated or costume-y. She later referred to it as one of her favorite red carpet looks of all time for the power that it gave her, telling InStyle that she felt like a "warrior."
Blake Lively, 2022
If you have never seen the "reveal" of this Atelier Versace dress, you owe it to yourself to go find a video of it. The original gown, rose gold and sparkly, was stunning enough on its own. But then a second layer to the gown appeared on the red carpet: three men revealed a long turquoise train, gloves, and accents. In keeping with the "In America: An Anthology of Fashion" theme, Blake Lively's dress mimicked the Statue of Liberty's oxidation process. Stunning.
Rihanna, 2015
Stars have absolutely worn big gowns at the Met Gala, both before and since. But Rihanna's yellow Guo Pei gown was the envelope-pushing, ahead-of-its-time, bold statement that ushered in a new era for the event. She told Access that she was circling the block beforehand, not sure whether she even wanted to go in. "I was driving past the red carpet, and I was just seeing like gowns, and I was like, 'Oh my god, like, I'm a clown. People are going to laugh at me. This is like, too much.'" Thank goodness she changed her mind.
Marie Claire email subscribers get intel on fashion and beauty trends, hot-off-the-press celebrity news, and more. Sign up here.