3 Dress Styles Fashion People Love in NYC, L.A., and Paris
I want every last one.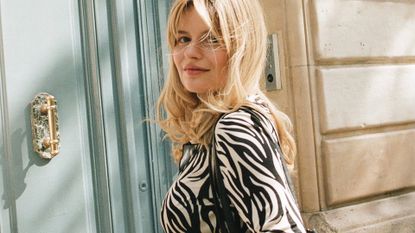 (Image credit: @PUJKAPARIS)
It's officially dress season, so the options are endless at the moment. This can be a daunting task, but narrowing down options that fit your current tastes can be a huge help. My personal style hovers somewhere between classic minimalism and fashion-forward with a whimsical touch, so that's what I set out to find during my recent search for a cool new dress (or two or three). As with most new purchases I plan on making, I like to check in with my top style muses in some of my favorite cities for a little inspiration on what to buy and how to style it.
Three cities I often look to for inspiration are NYC, L.A., and Paris. I did a quick scroll through my Insta follows in those cities with dresses in mind and knew exactly what I wanted to track down. From simple slip dresses to summer-ready knit options and standout prints, I found three dress styles that fashion people in each respective city are reaching for this season. Ahead, peruse my top picks and get some stylish outfit inspiration along the way.
NYC: Maxi Dresses
The interest in '90s-inspired maxi slip dresses is rampant globally, but fashion people in NYC are overwhelmingly fans of the style. The dress is effortless and super easy to style for casual days or formal occasions, making it a go-to favorite.
L.A.: Open-Knit Dresses
The naked-dressing trend is in full swing, and open-knit dresses are part of the craze. You can wear the style year-round, but it reigns supreme in the spring and summer months. Wear one to dinner, on vacation, to the pool, or even on your next beach trip.