Created for Clicks
What it takes for fashion and beauty brands to generate billion-dollar buzz.
Marie Claire Newsletter
Celebrity news, beauty, fashion advice, and fascinating features, delivered straight to your inbox!
Thank you for signing up to Marie Claire. You will receive a verification email shortly.
There was a problem. Please refresh the page and try again.
For a moment, it was the nap dress. When Hill House Home's elevated nightgown began popping up on social media, a certain section of the internet became possessed with the possibility of a mid-afternoon rest. One where we looked ethereal and empyrean. Except, Nap Dress Nation wasn't really napping; often we were squeezing into digital "Nap Rooms" in anticipation of the latest drop. Our fingers twitching over buy buttons in hopes of nabbing one of the flowy frocks before they sold out.
Then it was: Too Faced Cosmetics' Cloud Crush Blush in Candy Clouds. Drunk Elephant's D-Bronzi Drops. SKIMS Bodycon Maxi Dress. Bottega Veneta's Large Drop Earrings. Sometimes it was less of a specific thing and more of a vibe that went viral: Barbiecore, coastal grandmother, quiet luxury.
Going viral can feel like creating magic in a bottle—unpredictable, lucky, impossible—but it's not accidental. Our intense desire to dress like ladies of leisure—complete with bucket hats and earth-tone outfits, if not waterfront property—is less serendipity and more a full-on strategy. Fashion and beauty brands are creating, marketing, and promoting intentionally for the sake of Internet clicks, and often, the hype of it all. But is that enough to stay relevant?
---
Once upon a social media-less era, a great product, solid marketing strategy, and a well-edited story crafted by executives with dozens of years of experience was the formula for a successful launch. And it often worked. Until: TikTok. Today, at least 15 percent of product discoveries are happening on the platform, with one in three people buying a beauty product just because they saw it in their favorite short. The same goes for fashion. Four in five TikTok users actually buy an item directly after searching for it.
As the algorithm becomes fashion's muse, drops replace collections, and personal style becomes a lot less personal, it's clear the rules have changed and if brands want to stay relevant, they need to change, too.
"Going viral is a big conversation over here; it's everybody's dream," says Tara Simon, global brand president at Too Faced. To the outside eye, Too Faced, a beauty brand with 1.2 million followers, is one of the lucky few to have cracked the code to viral success. Just look at their stats: The beauty brand caused a frenzy with its Cloud Crush Blush (which it expectedly sold out of) and experienced a weekly 54 percent sales spike on Better Than Sex Waterproof Mascara earlier this year. Each was prompted by a #TikTokMadeMeBuyIt craze among app users (the popular concept of purchasing, trying, and documenting a product discovered on the app).
While Simon explains the company's success as "pulling the right levers," including community engagement, authenticity, and thoughtful product development, it's impossible to ignore the ways the company is doing things differently. Notably, the brand decided to hire Sara Echeagaray, a lifestyle influencer with 7.7 million TikTok followers and no formal brand experience, as their Creative Director in Residence. "When it comes to content creation and marketing, I know what audiences like to see," says Echeagaray. "The times are changing and I'm able to help Too Faced navigate how Gen Z likes to consume."
Too Faced isn't the only brand rethinking who should be in their boardroom. Mirror Palais, a fashion brand known for its viral "It Girl" dresses, with nearly one million followers across social media platforms, has built its success with an entire company, save one executive, under the age of 32. "Someone who is in their late 20s or early 30s is going to be more adept at speaking to and connecting with people their age or a little bit younger or older," says Mirror Palais' founder Marcelo Gaia. "My younger team members bring freshness, they're cool, and they're inspiring." They help make being Internet savvy a part of the brands' DNA—literally.
That shift has changed the way brands interact with their customers, too. No longer do they see themselves as all-knowing prophets of what's in vogue, but instead as stewards of customer-driven trends. Look at Set Active, an athletic-wear brand, that gives fans the power to design some of their best sellers via a continuously restocked Community Collection. It's a product development tactic that designers would have scoffed at just years ago.
Those winning online also understand that in a world where virality is king, content is the queen. Meaning: Carefully curated brand messaging, campaigns, and uptight ambassador ads must live in the past. "The shift that we're seeing is that brands have lost control of telling their story, and it's other people who are telling it," says James Nord, the founder and CEO of Fohr, an influencer marketing platform.

No longer are brands telling influencers how to execute their branded content, they're asking them how. "You're usually looking at 300 to 500 percent better conversion on clicks and sales on influencer content versus brand-created content," says Nord. "Five years ago influencer marketing was a thing that got tacked on to whatever else a brand was doing. Recently, really just in the last year, it's becoming central and setting the strategy for the entire brand."
Nord continues, "The savvy brands are starting to not just think about the best strategy or way to talk about a product. They're pulling in their core group of influencers and ambassadors to decide how their product should work, what their packaging should be, and see what they're actually connecting the most with," who has noticed an uptick in this type of involvement via Sephora Squad, a collective of beauty content creators his team helped launch in 2019.
---
Even the most savvy brands know influencing the algorithm isn't easy, though. Everyone wanted to take a nap in 2020 because the pandemic found us all suddenly working from home. Cultural moments can't be engineered and even the best social media savants aren't mystics.
And sometimes, despite a brand's new-age efforts, they end up chasing a viral moment that's not their own or the one they planned for. Take the coastal grandmother trend. The term was coined by an unverified creator—and prompted fashion brand's across the board to create on-theme content with their clothing at the forefront—all in an effort to use chance virality as a vehicle for their own sales. When it works, it works. But aimlessly chasing clicks has a downside, including moving faster than your manufacturing or inventory can keep up with.
"Brands who are thinking about just trying to succeed with one viral moment is a race to the bottom," says Amy Oelkers, the US Head of CPG and Global Business Solutions at TikTok. "You can't be one and done with the community on TikTok. It's about showing up and having a presence and really engaging with these communities to make sure that you're part of the conversation. That authenticity—that's what really pays off."
---
Animations by Deanna Staffo
---
The Fashion Changemakers Issue
Celebrity news, beauty, fashion advice, and fascinating features, delivered straight to your inbox!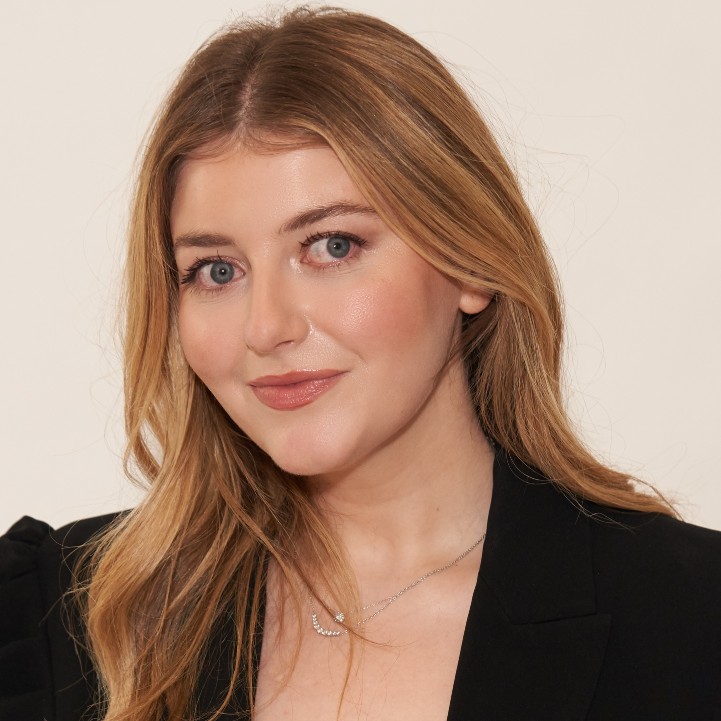 Samantha Holender is the Beauty Editor at Marie Claire, where she reports on the best new launches, dives into the science behind skincare, and keeps up with the latest trends in the beauty space. She has previously written for Us Weekly, Popsugar, Makeup.com, Skincare.com, and Philadelphia Wedding. Follow her on Instagram @samholender.