Fall 2023 Jewelry Trends: Pearls, Pendants, and Pure Fun
Pieces for minimalists and maximalists alike.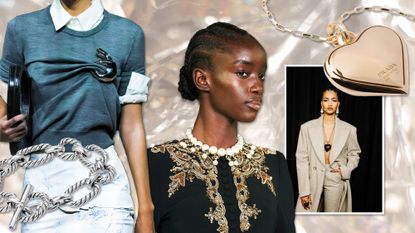 (Image credit: Future)
Marie Claire Newsletter
Celebrity news, beauty, fashion advice, and fascinating features, delivered straight to your inbox!
Thank you for signing up to Marie Claire. You will receive a verification email shortly.
There was a problem. Please refresh the page and try again.
The defining theme of fall 2023's fashion is, without question, wearability. We're renouncing look-at-me showmanship and illogical looks worn solely for Instagram impressions. Instead, we're reaching for clothing that makes sense and meets the demands of our daily to-dos: button-down shirts to wear to work, cocoon coats for optimal coziness, and leggings that match our on-the-go lifestyles. But does this concept of streamlined practicality extend to fall 2023's jewelry trends, too? As we pare back our wardrobes and focus on subtlety, what do we do with our jewelry boxes filled with bold baubles and statement jewels?
The answer, unfortunately, is not a straightforward yes or no, keep or toss. Fall's jewelry is spread across the style spectrum, with some falling securely in the minimal zone and others smack dab on the maximalist end. Hair-thin hoop earrings and timeless pearl jewelry were plentiful on the runways, but so were vintage-inspired brooches and statement pendant necklaces. (Every look of Courrèges' Fall/Winter 2023 show was accompanied by an enormous circle choker that eclipsed the models' décolletage.) There's a lack of aesthetic coherence, but there's an inherent bonus that comes with all this variation: you, dear reader, have the liberty to pick and choose which pieces of the season's varied assortment serves you and your style best.
Ahead, find a synthesized list of the jewelry trends of fall 2023. The chief creative officer of cult jewelry label Catbird, Leigh Plessner, offers insight and tips, and you'll find pieces ready to shop, too, if you primed to start stocking up now.
Pearls of Wisdom
Pearl necklaces are a timeless style with generation-spanning appeal, living both in your grandmother's collection and your Gen-Z niece's. For fall 2023, fashion houses like Chanel, Chloé, and Carolina Herrera celebrated the milky gemstone by stringing them on chunky chokers and double-looped strands.
"Pearl necklaces are a tale as old as time—and for a good reason," describes Plessner. "They illuminate the face like a little personal candelabra." Plus, as the creative points out, the milky gemstone is a smart investment buy that will only get more and more striking with every wear: "Pearls love to be worn and grow more luminous with wear," details Plessner.
Hooplah!
Never count out the power of a great pair of hoop earrings. On the fall runways, the circular style was done in thick chunky gold, sculptural silver, and double (in some cases, like Valentino's) quadruple stacked. "A pair of gold hoops are a classic for everyday wear, although it's important to find a pair that is lightweight and comfortable," shares Plessner. "We always love the interest of an earring stack, so we love to layer hoop sizes."
Power Pendants
Remember the statement drop necklace (likely in a coral shade or deep teal) you wore consistently throughout the 2010s? Fall 2023 revisits the concept of a one-and-done power pendant but with more of a refined tweak (no offense to your 2013 self). Laquan Smith complemented plunging necklines with low-hanging heart trinkets, while Alexander McQueen, in line with the brand's signature emotive and artistic M.O., showcased supersized orchid motifs on hefty chains.
Pin-Up Girl
Brooches were a dark horse on fall's runways: maximalist pins were seen in quirky surrealist forms at Schiaparelli, irreverent hand motifs at Coperni, and drooping, dramatic crystals at Gucci. And, yes, the accouterment veers from the season's over-arching theme of simplicity, but brooches are fun. "The world of brooches is so wild and wonderful: they are a bit like New Yorkers crammed together in a subway car, full of quirks and surprises," illustrates the Catbird creative. "I've been wearing clusters of my grandmother's brooches mixed with a sterling silver baby spoon brooch that I got from an antique silver-by-the-gram dealer."
Ready to Rock
Gemstones are obvious players in the jewelry space, but this fall invites more literal interpretations. Michael Kors clipped slices of geodes to metallic chords, while Dries van Noten strung multi-colored stones on a string. Alaïa, too, felt sentimental for sediments and turned chunky rocks into drop earrings.
Chain Reaction
Not a novel look but welcome just the same: chains, both as necklaces and bracelets, were sprinkled throughout the fall 2023 showings. Crystal-embellished curb chains were seen throughout Jil Sander, while Tory Burch linked chunky silver around models' wrists. If a heftier weight doesn't call to you, Plessner encourages you to seek out more of a delicate look. "Every single one of us in the office wears a thin gold chain (well, most of us wear many). They're so flattering on everyone and gleam just so. And you can really make them your own by finding the length that suits you best," she details.
Meet the Fashion Expert
Leigh Batnick Plessner joined Catbird in the fall of 2006 after meeting Rony at a trade show where she was displaying her own line of stationery. Along with founder Rony Vardi, Leigh has shaped Catbird's fine jewelry from its inception, when the studio was a tiny apartment above the store, and the first rings were made on their only jeweler's bench. Applying a love of subtlety that transcends trend and era, Leigh creates from the idea of jewelry as poetry; small pieces of fine jewelry to be kept forever, and added to as a layered autobiography worn on oneself. Together, Rony and Leigh are members of the CFDA following their induction in 2015.
Celebrity news, beauty, fashion advice, and fascinating features, delivered straight to your inbox!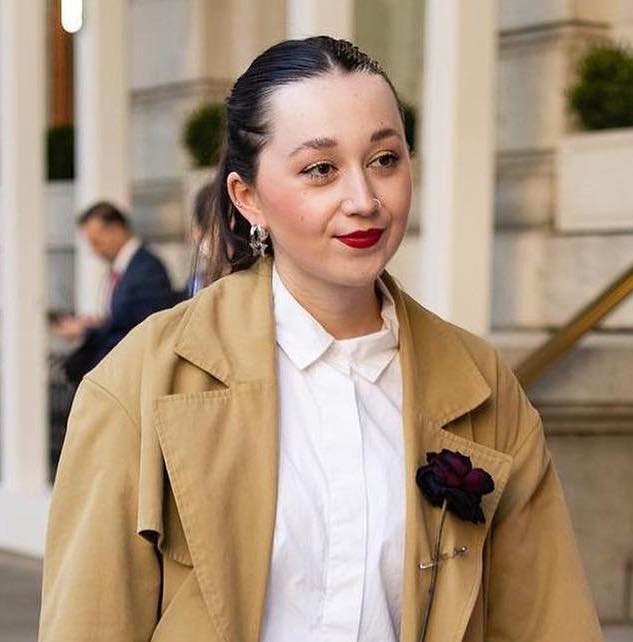 Emma Childs is the Style Editor at Marie Claire, where she researches up-and-coming trends, curates shopping guides, and gushes about the must-buy items she can't stop thinking about. She previously wrote for TZR, Editorialist, Elite Daily, and Mission Magazine and studied Fashion Studies and New Media at Fordham University. When she's not writing up fashion deep-dives or finding the season's best pieces, you'll find her fiddling around in Photoshop and perusing HBO Max for the next show to base her personality on (currently, it's "Succession").