The Pearl Trend Is Back for 2023—Here's How to Wear Yours
Classic, contemporary, and everything in between.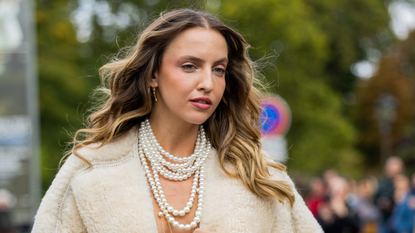 (Image credit: Getty)
Marie Claire Newsletter
Celebrity news, beauty, fashion advice, and fascinating features, delivered straight to your inbox!
Thank you for signing up to Marie Claire. You will receive a verification email shortly.
There was a problem. Please refresh the page and try again.
When you think of classic, retro accessories, pearl jewelry is probably one of the first styles that come to mind. After all, icons like Audrey Hepburn and Marilyn Monroe immortalized pearls both on and off-screen, and the style has continued to hold up for celebrities and everyday people alike. In fact, pearls are seeing a particularly strong resurgence as one of spring 2023's jewelry trends—news that's more than welcome for pearl fans like me.
"To me, pearls are just classic," agrees Omer Herzog, founder of jewelry brand Omè. "They are graceful, elegant, and very feminine. There is also such a variation of size and shape, including contemporary jewelry, which makes for endless design possibilities. Years ago, we saw Princess Diana wearing pearls, and now we see Kate Middleton wearing them—you just never get tired of women wearing pearls, because it's such a chic, refined look."
Jin Jungsura, founder of luxury, Bangkok-based jewelry brand Matara, agrees that pearls, like diamonds, never go out of style. "Pearls have long been loved," she says. "They are not only timeless and traditional but also unique and dynamic. Some of the most precious gems have the power to span generations and remain covetable for decades, and pearls fit firmly into that sartorial realm."
But if you associate pearls solely with old-fashioned style, think again. Not only are traditional pearl pieces versatile enough to incorporate into a modern wardrobe, but there are also a number of contemporary styles and innovations now taking the pearl market by storm.
Inspired by my own love for pearls, I've tapped Herzog and Jungsura to learn everything there is to know about pearls, from what to look for in a high-quality pearl piece to how to style the most popular pearl trends today.
Shopping for Pearls
Style is often a matter of personal taste, but there are a few basic pointers to remember when shopping for pearls—particularly if you've never done it before.
"Go for natural or cultured pearls," Jungsura advises. "Worn often and properly cared for, these pearls can look as good in decades as they did the day they left the store!"
Indeed, my grandmother took painstaking care of her jewelry, and the pieces look just as fabulous today as they do in photos from when they were new.
And in terms of design? Herzog says this aspect of your shopping decision "depends on one's preferences and mood." She elaborates, "Sometimes I'm in the mood for a discreet, subtle necklace, and at other times I feel like wearing something long and overstated—perhaps even large pearls, or crazy baroque pearls."
If you're new to buying jewelry and are still unsure, or if you're getting a gift and want to play it safe, Jungsura says to go "classic or contemporary, but minimal. Those can never go wrong, and you'll still love it 10 years later."
Finally, if you have sensitive skin and want to be sure that your pearl pieces won't irritate you, never fear.
"I've never known or heard of anyone allergic to pearls," says Jungsura. However, if your pearl pieces incorporate metals and other materials, take care to check if they'll activate your allergies and consider consulting your dermatologist before you buy.
Styling Pearls
If you're concerned that your pearls are destined to collect dust in your jewelry box, don't be! Herzog and Jungsura agree that pearls are versatile enough to be worn with just about any style, from an everyday office look to an elevated formal ensemble.
"A necklace of round eight millimeter pearls can go well with a sporty outfit, or casual jeans and a T-shirt," suggests Herzog. "It's simple and gorgeous."
And for a lavish look? "Three or four strands of seven millimeter-sized pearls—perhaps in gradual lengths and maybe even with (a not-too-big) diamond-encrusted clasp,—will go with any formal look, from an evening dress to a skirt and shirt," she says.
Jungsura also recommends pairing your favorite formal frock with "a classic strand-of-pearls necklace." As far as other accessories go, she says that fancier outfits also look great when "paired with a statement pearl ring with paved diamonds and pair of pearl earrings with colored gem-like stones for a pop of color."
Finally, Herzog reminds us that you don't necessarily need the pearls to call attention to themselves in order for your pearl jewelry to jump. Instead, you can opt for a unique clasp—a touch she cites as a recent trend, which "is an effortless way of taking your look to the next level."
Monica Vinader Large Keshi Pearl Hoop Earrings
I'm obsessed with these pearl hoop earrings from Monica Vinader, which are right on trend with their uneven baroque pearls and unique, ornate clasp.
Éliou Marci Freshwater Pearl Necklace
This strand of pearls by Latinx-owned brand Étiou is comprised of pearls that increase in length between four and 10 millimeters, adding an asymmetrical touch to the traditional pearl strand.
Angara Freshwater Pearl Collar Ring with Diamonds
I love this statement collar ring from Southeast Asian-owned brand Angara. It features a stunning freshwater pearl at its center, surrounded by diamonds and set on your choice of rose gold, yellow gold, white gold, or platinum.
Bina Goenka 18-karat Gold, Tsavorite, and Pearl Earrings
These stunning earrings are comprised of round mabe pearls set against vibrant green tsavorite—for when you really want to make a statement.
Round Pearls
If you've ever shopped for pearls, you've probably noticed that they vary in size and shape. While some, like those you might spot on the neck of Marilyn Monroe, are perfectly round, others are uneven and more elliptical in shape.
Jungsura confirms, "There are two primary shape categories that all pearls fall into: traditional and baroque. Traditional pearls are round, while baroque pearls are virtually anything else."
She explains that "traditional pearls are generally more valuable," and Herzog adds that round pearls "are a classic choice" and that "they're perfect for that elegant, timeless look."
To keep up with the current incarnation of the round pearl trend, Herzog suggests a single-strand necklace. They also work with single-strand bracelets, long drop necklaces, and even rings.
Baroque Pearls
Round pearls may be classic, but Jungsura says, "Some prefer baroque pearls for their unique shapes." Personally, I love the distinctive, natural, almost unpredictable look of baroque pearls and tend to opt for them when I'm adding to my jewelry collection—and based on recent trends, I'm not alone.
"The abstract pearl necklace trend is picking up," continues Jungsura. "They are just so fun to wear and are an instant conversation starter."
Herzog agrees, adding, "Uneven pearls are more unique, so they offer an individualistic touch and are great for making a personal statement."
Below, some of our favorite baroque pearl pieces that are sure to draw attention no matter how you style them.
Colorful Pearls
If you're more into vibrant, rainbow jewelry, you can still indulge in the pearl trend. In fact, colorful pearls are among the most popular pearl pieces among jewelry aficionados and casual shoppers alike.
"Another crowd favorite is definitely the combination between pearls and colored gem-like stones," Jungsura confirms. "These pieces are playful, stylish, and more contemporary than ever."
She adds that colorful pearls are perfect for everyday and weekend looks. When styling a casual outfit, she recommends wearing "a pair of pearl earrings with colorful, gem-like stones—and stack the rings up!"
Herzog says that she, too, has been donning the recent colorful pearls trend. Lately, she tells me, she enjoys "wearing a colorful string bracelet with a single dark pearl."
Below, a collection of colorful pearl jewelry to suit any and every taste.
Meet the Experts
Omer Herzog is the founder of Omè, a luxury jewelry brand predicated on a commitment to creating versatile, wearable pieces that make their wearers look and feel their best.
Jin Jungsura is the co-founder of luxury jewelry brand Matara. An expert on luxury jewelry and pearls in particular, she is currently based in Bangkok.
Celebrity news, beauty, fashion advice, and fascinating features, delivered straight to your inbox!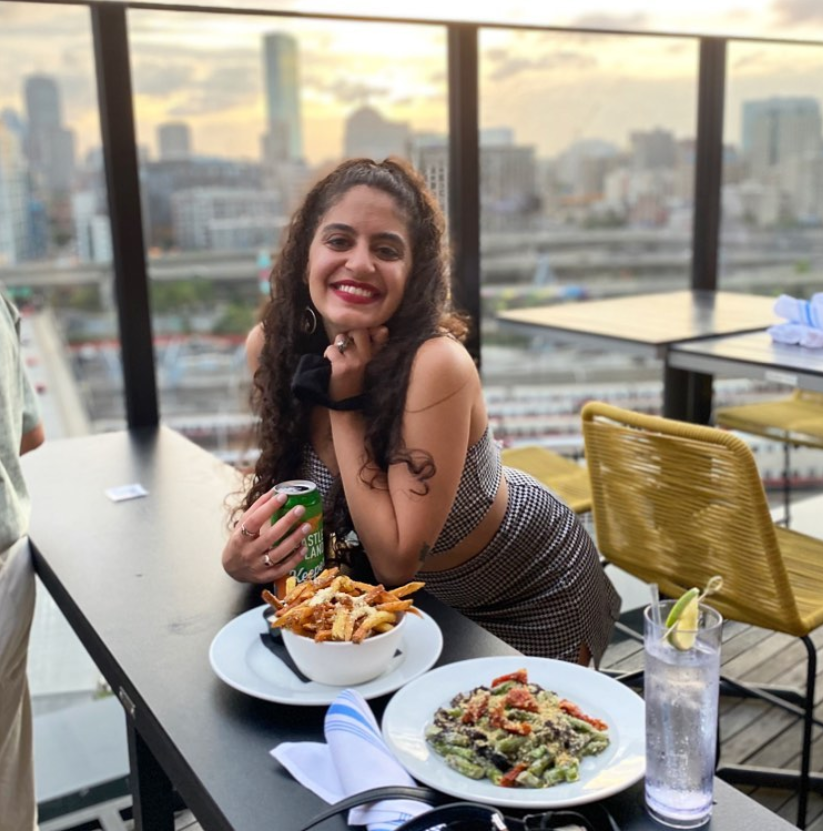 Gabrielle Ulubay is an E-Commerce Writer at Marie Claire and writes about all things beauty, sexual wellness, and fashion. She's also written about sex, gender, and politics for publications like The New York Times, Bustle, and HuffPost Personal since 2018. She has worked extensively in the e-commerce and sales spaces since 2020, including two years at Drizly, where she developed an expertise in finding the best, highest quality goods and experiences money can buy. As a film school graduate, she loves all things media and can be found making art when she's not busy writing.