Editors handpick every product that we feature. We may earn commission from the links on this page.
9 Fleece Jackets to Convince You This Fall Trend Is Stylish as Well as Cozy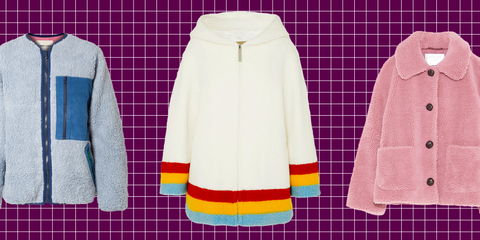 Design by Morgan McMullen
A few weekends ago, I was out shopping when I noticed something peculiar. Almost every retailer I popped into, from Aritzia to Uniqlo, offered some type of fleece outerwear. You're probably thinking, it's fall, of course fleece would be everywhere. But I know better. Fleece jackets, for this season at least, are a trend.
Fleece is normally used to create coats, jackets, and footwear for the great outdoors, but also works just as well for a city girl like me. The material, unlike wool or shearling, is completely synthetic (it's made of polyester), super warm, lightweight, and resists annoying fall/winter elements like moisture. I like to bundle up when the temperatures dip, and luckily, this fall, there is no shortage of cute and fashionable fleece jackets. I picked out my favorite nine styles, below. They all offer something a little different.
This content is created and maintained by a third party, and imported onto this page to help users provide their email addresses. You may be able to find more information about this and similar content at piano.io