Editors handpick every product that we feature. We may earn commission from the links on this page.
9 Fleece-Lined Leggings For When You Can't Bear the Cold a Moment Longer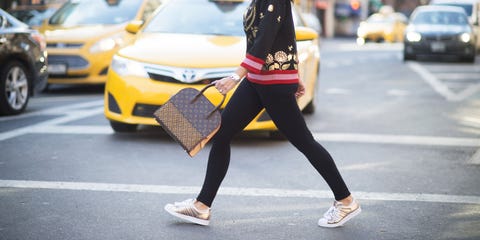 Disclaimer: By the end of this post, you'll have a pair of fleece-lined leggings in your checkout cart. Now we've gotten that out of the way, let's chat about this cold-weather staple: It's warmer than your average pair of pantyhose and thicker than any tights thanks to the fleece material. In the winter, fleece-lined leggings are the cozy, warm alternatives to jeans and trousers and can even be worn under your knitted dresses or leather skirts.
These thick leggings pair well with sporty sneakers for an athleisure look, but just as easily work with suede ankle boots and an oversize sweater. If you didn't know fleece-lined leggings were a thing, well, now you do. And they're really not that difficult to find—a quick search shows that popular retailers such as Amazon and Anthropologie both carry fleece-lined hosiery. Prices for these warm leghuggers aren't terrible, either: They range from $13 to $75.
Although winter is still months away for most of us, I'm a firm believer in preparing for the cold. Thus, if you dread the return of snow-coated sidewalks and gusts of wind that send chills down your body, invest in a pair of fleece leggings to protect you from the elements.
This content is created and maintained by a third party, and imported onto this page to help users provide their email addresses. You may be able to find more information about this and similar content at piano.io