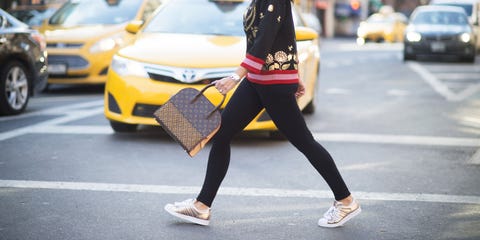 Disclaimer: By the end of this post, you'll have a pair of fleece-lined leggings in your checkout cart. Now we've gotten that out of the way, let's chat about this cold-weather staple: It's warmer than your average pair of pantyhose and thicker than any tights thanks to the fleece material. In the winter, fleece-lined leggings are the cozy, warm alternatives to jeans and trousers and can even be worn under your knitted dresses or leather skirts.
These thick leggings pair well with sporty sneakers for an athleisure look, but just as easily work with suede ankle boots and an oversize sweater. If you didn't know fleece-lined leggings were a thing, well, now you do. And they're really not that difficult to find—a quick search shows that popular retailers such as Macy's and Anthropologie both carry fleece-lined hosiery. Prices for these warm leghuggers aren't terrible, either. They range from $13 to $800 for designer pairs.
Although winter is still months away for most of us, I'm a firm believer in preparing for the cold. Thus, if you dread the return of snow-coated sidewalks and gusts of wind that send chills down your body, invest in a pair of fleece leggings to protect you from the elements.
H&M fleece legging, $13
If your first instinct is to browse H&M for a pair of affordable fleece-lined leggings, you wouldn't be wrong. The retailer offers an opaque style with an elasticized waistband and elasticized hems for only $13. It comes in only one color option so far (black), but that's probably the only versatile hue you need!

Anthropologie fleece-lined leggings, $24
Anthropologie sells a pair of ribbed knit leggings if you're looking for a textured feel. The item comes in three different colors and is made from a mix of polyester, cotton, and spandex. This cozy winter staple can be worn with a floral minidress and combat boots, or with a sweatshirt for a lazy weekend lounge outfit.
3
The Leather-Inspired Legging
Plush fleece lined leggings, $75
Designer Jennifer Kim understands our struggles for functional and warm tights. That's why she created Plush, a hosiery line that offers fleece-lined bottoms to wear with skirts, thermals, and more. I have my eyes on this shiny pair with a raised design because they almost resemble actual leather pants. Though I bet these are twice as comfortable.
4
The Pair That Hugs Your Curves
Lane Bryant fleece leggings, $30
Lane Bryant designed the perfect pair of fleece-lined leggings: They feature an elastic waistband for easy wear, while the soft plush interior wraps your legs in warmth all winter long. Style with slip-on sneakers or knee-high leather boots.
Fendi stirrup blue leggings, $890
Do you need a pair of $890 leggings? Maybe not. Are the Fendi ones cool, though? 100 percent yes. You won't find the exact details like black velvet stripes and stirrup hems on any ol' pair of leggings, making this designer pair one of a kind. And, according to the product description, they're even meant to ski in! So hit the slopes in style, I guess?
6
The High-Waisted Legging
Hue fleece-lined high-waist leggings, $44
I love high-waisted bottoms, which is why I also own a few pairs of this type of legging. But I don't have one with a fleece interior yet. This navy pair (I know, it almost looks black!) is machine-washable and has extra stretch, so don't worry about any discomfort around the waist.
90 Degree by Reflex fleece lined leggings, $23
You can find fleece leggings easily on Amazon, but this pair has a four-and-half star rating and over 1.3k customer reviews. Fans have pointed out that the leggings have a snug fit (they're tighter than yoga pants) and thus "make your butt look amazing." You can also wear the leggings with or without underwear. As for the cons, customers noted that these have a low-rise fit and the length is shorter than pictured.
Motherhood Maternity fleece leggings, $30
Expectant mothers who don't fit into their regular leggings can pick up this maternity fleece option from Macy's. The bottoms feature a skinny fit through the hips and thighs. Plus, it looks like your day-to-day leggings, so you don't have to change your style during pregnancy. Wear around the house or out to dinner.