The 18 Best Beach Hats on Amazon to Shield You In Style
The perfect finishing touch to your beach look.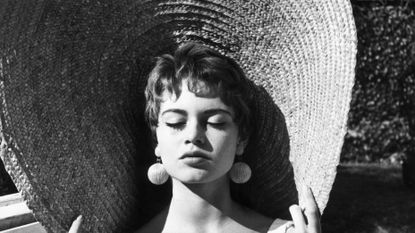 (Image credit: Express)
When packing for the beach, hats are crucial, both to top off your look and to protect you from the sun. If you still haven't found a sun hat to your liking or in your price range, let's try another option: Amazon. After all, you can find some amazing t-shirts on there, not to mention totes. I perused a ton of hats on the e-retailer and selected the best ones, ahead, based on style, function, price, and reviews. Before you even think about laying out in the sun this season, make sure you're armed with one of the hat options below.
1/18
St.Dona_Hat Large Oversized Straw Hat
Best for Keeping Your Distance
It'll be easy to maintain a distance of six feet apart with this oversized brim hat. Not only will it keep the pool- or beach-goers at bay, you'll be protected from the sun's rays all summer long.
2/18
Lack of Color Terrycloth Bucket Hat
Brightest Pick
Swap out your cold-weather beanie for this bright and quirky terrycloth bucket hat from Lack of Color. This is a simple accessory that can easily be worked into any beach or warm-weather outfit.
3/18
Scala Cotton Hat
Best for Coordinating
A fun accessory for your itsy-bitsy bikini: A colorful canvas hat that not only will grab everyone's attention but will block your face and shoulders from the UV rays all summer long. Lucky for you, this hat comes in 34 colors—one to match each of your swimsuits.
4/18
Wallaroo Hat Company Victoria Sun Hat
Best Lightweight Hat
This hat has excellent reviews in terms of being lightweight, adjustable, and easily packable. It comes in 22 different colors, so you can theoretically get one to match every one of your outfits. The hat can be dressed up or down by swapping out your bikini for a cute dress.
5/18
LLmoway Cotton Boonie Sun Hats
Best Reversible Hat
This bucket hat is made from 100 percent cotton and is reversible, so you're getting two looks in one. For a little pick-me-up, show off the printed side. The hat is windproof and comes with a detachable wind lanyard if you don't want the straps dangling by your face.
6/18
Pineapple & Star Straw Fedora Beach Hat
Best for First Timers
The soft pink ribbon on this sun hat is a charming addition to your beach-day look. Its woven straw material makes the hat look more natural and gives it that beachy feel.
7/18
Adidas Originals Women's Tie Dye Strapback
Best Sporty Hat
Your sporty side doesn't stop at the beach, so opt for a snapback in place of the traditional straw sun hat. This one from Isabel Marant comes in a fun tie-dye print that is sure to make a statement.
8/18
Eugenia Kim Women's Mirabel Hat
Best for Brides
For those planning destination bachelorette parties at the beach, this is the perfect hat for the bride-to-be.
9/18
Furtalk Wide Brim Sun Hat With Wind Lanyard
Best for Strong Wind
The next time a strong gust of wind threatens to knock your hat off and send you scrambling to chase it across the sand, tighten the straps on this wide brim sun hat. It can be easily folded into your backpack or beach tote and will still pop back to its original shape.
10/18
Hat Attack Frayed Edge Crusher Hat
Best for Packing
Hat boxes are inconvenient when you're trying to travel light, so pick a hat that's easily foldable and won't crease. This one comes suitcase-approved!
11/18
Furtalk Panama Sun Hat
Best Unisex Pick
This unisex panama hat is made from recycled paper instead of straw for eco-friendly shoppers. It has a Velcro inner band, so the fit is adjustable, and the woven material allows for moisture to escape, thus keeping your head cool. It's also water resistant, so if a splash of water gets on it while you're on the boat, it'll be fine.
12/18
Be Your Own Style Reversible Cotton Bucket Hat
Best Bang for Your Buck
This reversible bucket hat has two sides: A printed one, like this one with daisies, and an inner black lining. The navy floral print has a retro vibe like the hats spotted at 3.1 Phillip Lim and costs just $11 compared to its luxe designer counterparts. With more than 22 colors and prints to select from, you won't have trouble finding the best one for your summer wardrobe.
13/18
Hat Attack Roll Up Visor
Best for Full-Face Coverage
Hat Attack's extra wide brim visor is making visors cool again! Perfect for those looking for something functional, a.k.a. a hat that will keep their face free of redness and sunburns and keep their beach look chic and fun.
14/18
Funky Junque Sun Hat (3-Pack)
Best for Smaller Heads
These floppy hats have cute little phrases written across the brim for those who love being on vacay. They'll hold its shape because of the harder material, and they come in a variety of sayings. One note: This hat is suited for people with smaller heads and less hair.
15/18
Meratomedo Straw Hat
Best for Instagram
The best part about this straw hat is definitely the fringed edges that add an interesting detail to the accessory. Given the short brim, this accessory won't provide too much face coverage but will look great on the 'gram.
16/18
Simplicity Foldable Straw Visor
Best for Breathability
The cutout at the top of this hat is best for those who want their hair to get some sun, but not their face. Plus, the hole allows heat to escape from your head on super hot days. Though the hat is easily packable, some reviewers have said fold marks do appear and it doesn't hold up well against the wind.
17/18
Boderier Wide Brim Cotton Bucket Hat
Best for Versatility
I've been on the hunt for a plain white bucket hat and, not surprisingly, found my new favorite on Amazon. This one has a frayed edge for extra design effect and can easily be folded away into your work tote once you arrive to the office. Style with your favorite striped shirt.
18/18
Krono Krown Women's Wide Brim Beach Hat
Best for All Occasions
This hat works for both the beach and for any outdoor wedding you're attending in 2022. The ribbon can be switched out for fancier occasions to match whatever you're wearing and the brim is neither too wide nor too small. It's durable, thin, light, and perfectly floppy.
Celebrity news, beauty, fashion advice, and fascinating features, delivered straight to your inbox!
Taylor Ayers is a fashion editor at Marie Claire, covering the new editorial fashion trends, looks, and contemporary styles.