A History of Denim in Pictures
From Marilyn Monroe to Britney and Justin.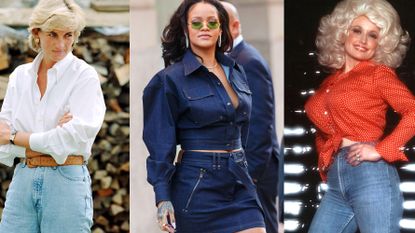 (Image credit: Getty Images/Shutterstock)
Marie Claire Newsletter
Celebrity news, beauty, fashion advice, and fascinating features, delivered straight to your inbox!
Thank you for signing up to Marie Claire. You will receive a verification email shortly.
There was a problem. Please refresh the page and try again.
Before French actresses and supermodels glamorized the blue jean, laborers wore the sturdy twill fabric—which was developed in 1873 by Jacob Davis and Levi Strauss—to work. Almost immediately, other manufacturers followed suit, producing their own versions of the original Levi 501 jean. Overalls. Jean jackets. Jorts.... Each new iteration of denim has stood the test of time, all the while embracing new washes and era-defining embellishments, some of which have lived through the trend cycle more than once. From Audrey Hepburn to Britney and Justin, here we present you with a timeline of denim at its best.
1/37
Mademoiselle Cover, 1943
Jeans—durable enough for digging in the dirt, but while still looking très chic—grace the cover of Mademoiselle magazine in an adorable mommy-and-me moment.
2/37
Marilyn Monroe and Keith Andes, 1952
Marilyn's perfectly cuffed jeans worn in the classic movie Clash by Night prove to be just as sexy as that famous subway dress. Jeans weren't everyday wear for women yet, though, and her on-screen wardrobe likely inspired fans to take their turn trying on a pair.
3/37
Sunning Stewardesses, 1958
Denim swimsuits? They exist, and here's the proof. In this Life magazine shoot, American Airlines stewardesses take a break from the sky to lay poolside in some very trendy swimwear.
4/37
Bridget Bardot, 1960
Bardot sports a pair of now-retro skinny jeans on the set of La Verite. Would wear today.
5/37
James Dean and Natalie Wood, 1963
Mr. James Dean put blue jeans on the map for bad boys everywhere in Rebel Without a Cause. Swoon.
6/37
Elaine de Kooning, 1964
Artist Elaine de Kooning trades in her artist smock for a denim button-down as she works on a portrait of President John F. Kennedy in her New York City studio. She paired them with black slacks so as to avoid the Canadian tuxedo look (more on that later).
7/37
Audrey Hepburn, 1967
Audrey swaps her red carpet couture for a pair of blue jeans in Two For The Road. Still looks chic as ever.
8/37
Caroline Coon, 1970
Artist and political activist Caroline Coon styles her perfectly worn denim with a trendy boho scarf billowing through a belt loop. And that worn knee signals the start of designers taking liberty with their denim fabrics, including rips and fading.
9/37
Jane Birkin, 1974
Just Jane looking effortless in jeans and a tee during the 28th Cannes International Film Festival.
10/37
Bob Marley, 1975
Could this be love? We feel very strongly about this top-to-bottom denim outfit with Marley's signature rastacap. Denim-on-denim was groovy in the '70s, a faux pas in the early aughts, and today...?There are no rules!
11/37
Farrah Fawcett, 1976
Farrah masters the skateboard in a pair of bell bottoms, THE must-have style of the decade.
12/37
Cher, 1977
Fur, fringe, and cowhide patches elevate these jeans to Cher-approved status.
13/37
Dolly Parton, 1977
Dolly poses for a portrait during the cover session for her album "Here You Come Again." Even with a rare turned up hem and a sky-high heel, Dolly can do no wrong.
14/37
Brooke Shields, 1980
A midriff-baring 15-year-old Brooke Shields poses in a Calvin Klein jeans ad, shot by photographer Richard Avedon. The campaign put Brooke on the map.
15/37
Goldie Hawn, 1981
Goldie sits pretty in a chambray shirt and light-washed jeans. Consider chambray a cousin of denim—they look similar and share a lot of the same qualities, but chambray is less rough to the touch.
16/37
Daisy Duke, 1982
Actress Catherine Bach from The Dukes of Hazzard wears the eponymous daisy dukes, which in a great exchange made both her and the super short cut-off jean short wildly famous.
17/37
Madonna, 1984
If anyone can rock a denim jacket backwards, it's the Queen of Pop. Traditionally a utility jacket for cowboys, the jean jacket's popularity as fashionable outerwear skyrockets in the '80s.
18/37
Dirty Dancing, 1987
Nobody puts Baby—or her rolled jean shorts—in the corner. Still summer outfit goals.
19/37
Lauren Hutton, 1989
Hutton masters the perfect cuff roll as she roots for the home team.
20/37
Brad Pitt, 1990
Twenty-seven-year-old Brad Pitt in straight-leg jeans and a henley is as American as apple pie.
21/37
Seinfeld, 1990
Unbeknownst to him, Jerry's uniform of dad jeans (and sneakers) were ahead of their time.
22/37
Winona Ryder, 1991
A baby-faced Winona wears the perfect pair of Levis 501s out and about in Hollywood.
23/37
Mark Wahlberg, 1991
It's hard to forget this iconic '90s Marky Mark photoshoot, taken back when the singer-slash-actor preferred to wear his jean shorts around his knees.
24/37
Saved By The Bell, 1992
Pair your embellished jeans (all of the rage in the '90s) with a little fringe for a western take, à la Lisa Turtle.
25/37
Leonardo Di Caprio, 1993
The young heartthrob, then 19, embraces '90s fashion with an ultra-cool wallet chain.
26/37
Pamela Anderson, 1993
Pamela reps her hometown of Ladysmith, British Columbia, Canada, with her version of the Canadian tuxedo. Her ripped pockets were a grunge-inspired '90s phenomenon.
27/37
Kate Moss, 1994
Kate's airport attire is the epitome of the supermodel's effortless style. White tank + jeans + patterned bag = perfection.
28/37
Courteney Cox, 1995
The bleached denim trend favorited by Monica Geller two decades ago has come full circle. Invest in a pair this fall.
29/37
Britney Spears & Justin Timberlake, 2001
Brit and J.T. claim their throne as the king and queen of denim with these all-jean ensembles at the 28th Annual American Music Awards.
30/37
Jennifer Lopez, 2002
Jean shorts? Jenny says ab-solutely on the set of her music video, I'm Gunna Be Alright. The now-cringe-worthy low rise jean was a favorite amongst the then-A-list, worn by the likes of Paris Hilton, Lindsay Lohan, and Kate Hudson.
31/37
Courtney Love, 2002
We are in love (sorry, couldn't help it) with this New York Fashion Week look in which the front of the jean skirt is almost completely split open—in true Courtney Love fashion.
32/37
Mary-Kate and Ashley Olsen, 2003
This dynamic duo will forever be trendsetters. Case in point: Side slit denim flares are actually back in style! See how to style them here.
33/37
Rihanna, 2017
Leave it to Riri to up the ante. She doesn't stop at a perfectly matched top-and-skirt combo. Kindly note her boots are also made from denim.
34/37
Taylor Swift, 2018
Not many people can rock a button down denim tank top and black jean shorts like Taylor Swift does as she leaves her Tribeca apartment.
35/37
P!nk, 2019
While it's unclear if Pink cut up her denim jacket herself, we do know that with her oversized faux fur orange hoodie underneath, her outfit definitely makes a statement.
36/37
Katie Holmes, 2020
Katie Holmes' white tee, fabric mask and oversized culotte jeans is the perfect casual look for a summer in Manhattan.
37/37
Sarah Jessica Parker, 2020
Only Sarah Jessica Parker knows how to strut the New York City streets (carrying gift bags branded with her shoe line) in cropped culotte jeans and heels.
Celebrity news, beauty, fashion advice, and fascinating features, delivered straight to your inbox!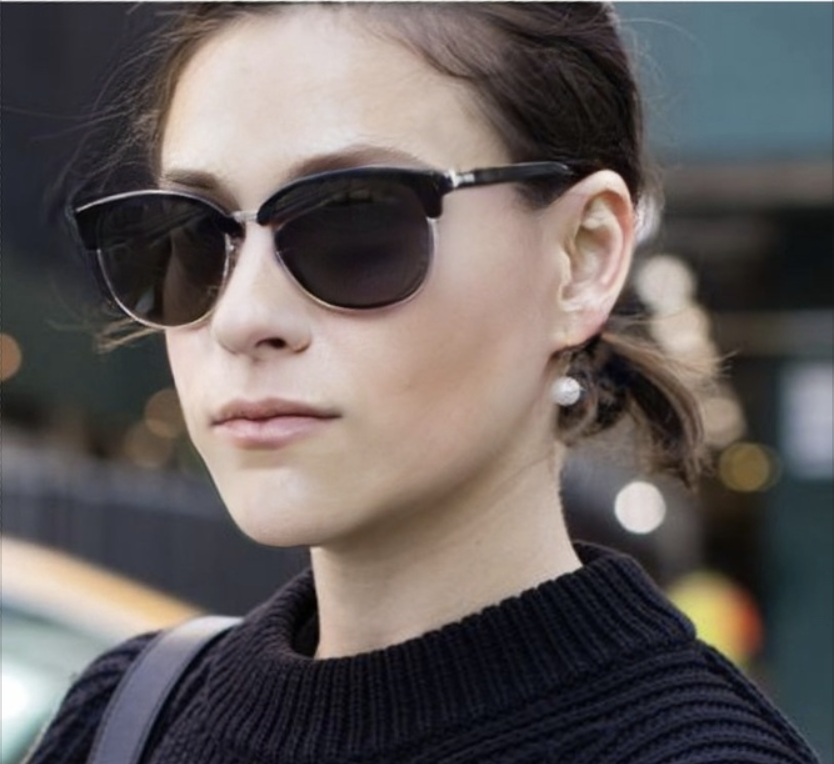 Sara Holzman is the Style Director at Marie Claire, covering runway trends and tracking down the latest finds to buy and wear. When she's not writing about fashion, she pens about the best places to jet-off to. Over her six years with Marie Claire, Sara has reported on the ever-evolving world of fashion— covering both established and emerging designers within the industry. Sara has held fashion positions at Lucky and SELF Magazine and was a regular contributor to Equinox's Furthermore website, where she wrote across their style, wellness, and travel verticals. She holds a degree in Journalism from the University of Missouri, Columbia, and currently resides in Manhattan. Follow her along at @sarajonewyork.