Editors handpick every product that we feature. We may earn commission from the links on this page.
The Best Fall Fashion Finds From Amazon
Teddy coat, check. Faux-fur boots, check.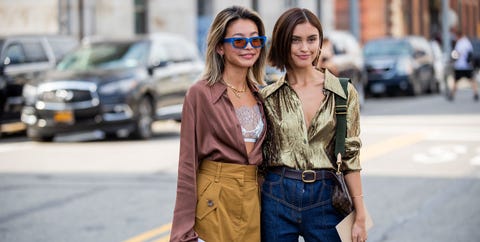 Christian Vierig
Getty Images
Did you make your fall fashion wish list (and check it twice) yet? If not, consider this a friendly reminder before you're stuck with too-thin-to-wear cotton dresses and sandals in that 55-degree weather. For everyone else who has an on-going list of things to buy (hello, that's me), apologies. I am about to add more fall-friendly must-haves for consideration. The silver lining here is that every single product is from Amazon—the place where you can find a sweater for under $40. It won't take much spending to outfit yourself in fall's newest trend pieces, so make room for our favorite fall style finds on your wish list now.
A Teddy Bear Coat
Faux Wool Blend Jacket
Google "teddy coats" and you'll see the trend is still alive and flourishing this season. The textured outerwear is gaining steam again in various styles, from color-blocking to neon colors, but opt for the original hues like this autumnal fall brown to keep it classically tasteful.
A Loose Sweater
Turtleneck Sweater
Farysays
amazon.com
$36.89
A baggy turtleneck you can shrink into and not feel guilty about wearing six out of the seven days of the week. This top comes in eight other colors and, most importantly, according to customers, isn't itchy. Buy in your regular size unless you want an even slouchier look.
A Fall-Appropriate Dress
Long Sleeve Midi Dress
The Fifth Label
amazon.com
There are so many ways to wear this dress for the cooler temperatures ahead. You can cover up with a blazer, tuck a turtleneck underneath, or throw an oversize sweater on top so only the lower half shows in a "is it a dress or is it a skirt?" illusion.
A Faux Fur Boot
Leonore Burnished Wyoming Leather Boot
Dr. Martens
amazon.com
$150.00
$128.00 (15% off)
If you love Dr. Martens and already have combat boots from them, go for this Chelsea ankle boot variation. You can wear right now all the way into winter, thanks to the warm faux fur lining on the inside. The soles are also slip-resistant, so don't worry about that invisible patch of ice on the sidewalk.
A Unique Top
Mesh Puff Sleeve Blouse
Tired of #sweaterweather? This black top with sheer puff sleeves is the one-piece you need to spice up your shirt options for fall. Since nothing else is see-through, you can definitely wear this to work tucked into a pair of jeans or trousers.
A Winter-Approved Coat
Thickened Down Jacket Green
Orolay
amazon.com
$159.99
This outerwear is tagged as one of Amazon's "best sellers" and has over 7,000 reviews. One person wrote "It's a decent thickness down jacket that stands up to Michigan winters" while another wrote, "No. Doesn't hold up to Seattle weather. Soaked thru to clothes underneath." Though the jacket is cute and looks luxe, reviews on the quality of the piece are mixed. Some seemed to have gotten the coat in excellent condition, while others have discovered loose threads and holes. For the price and style, though, it doesn't hurt to order and try it on for yourself, and return if you don't like it.
A Smart Work Blazer
Belted Blazer
The one feature that makes this blazer different than the other ones hanging in your current closet is the built-in belt. The natural waist-cinching design makes you look instantly put together even if you just wear this with jeans. Throw on a pair of heels and earrings and you'll be ready to head out the door in minutes.
A Bracelet Worth Showing Off
Pearl Charlotte Bracelet
When you're all bundled up, it's easy to forgo jewelry. This pearl bracelet will convince you to do otherwise. The shiny iridescent shapes coupled with multicolored beads deserves to see the daylight, so wear the piece by itself or with a few other delicate gold chains.
A Classic Pair of Jeans
Sarah Slim Jeans
Say goodbye to your linen trousers and denim shorts. It's all about jeans for the next few months. Paige makes some of the softest and most comfortable denim around, which you can now shop directly from Amazon. Add this to your checkout cart along with miscellaneous items like nipple covers and iPhone cases.
An All-Occasions Dress
One-Shoulder Column Gown
Keepsake the Label
amazon.com
$121.66
With all the upcoming holiday parties, work gatherings, and winter weddings, you'll need a dress you can rewear without it feeling old and boring. Enter this ruffle one-shoulder thigh-high slit gown from Keepsake the Label. Your average LBD won't compare.
A Pair of Non-Denim Bottoms
Thick Wool Blend Cropped Wide Leg Pant
Tanming
amazon.com
$39.97
A pair of work-appropriate pants you can wear even on the weekends. According to reviewers, the bottoms are extremely well made, soft, and drapes well on the body. Wear with a pair of heeled ankle boots, so you can properly show off the flare hems.
A Scarf for Windy Days
Classic Tassel Plaid Scarf
Century Star
amazon.com
$11.99
Don't let the size of this scarf fool you in photos. It'll unroll into a length suitable to wear as a shawl or as a lap blanket when you're at your desk in the office. Aside from the multiple use, it'll protect your neck on even the windiest of days.
A Fleece Pullover
Leopard Print Fleece Pullover
Rainlin
amazon.com
$36.99
Fleece pullovers aren't just for adventurous campers or hikers. This outdoorsy piece has been remade into cuter styles like this leopard one for anyone to wear. You can rock them with jeans and sneakers just as easily as with sweats.
A Versatile Ankle Boot
Rapture 75 in Lush Nappa
Stuart Weitzman
amazon.com
If you didn't know this luxury shoe brand was sold on Amazon, now you do. You can find a wide array of styles, from loafers to heels and boots. One of our favorites is this skinny sock boot with a pointed toe. It's a sleek and versatile everyday shoe to rock with jeans or underneath a dress.
A Layer-able Skirt
Animal Print A-Line Split Skirt
Pick your spirit animal (the skirt comes in two different snakeskin prints and a tiger print) to channel for the rest of fall. The midi length shows off your ankle boots while the side slit flashes a hint of your skin's fading tan from summer. Wear it tucked over or under a sweater.

•••
For more stories like this, including celebrity news, beauty and fashion advice, savvy political commentary, and fascinating features, sign up for the Marie Claire newsletter.
This content is created and maintained by a third party, and imported onto this page to help users provide their email addresses. You may be able to find more information about this and similar content at piano.io