Black Boots Should Be the Backdrop of Your Winter Wardrobe
Our favorite pairs from Prada, Rothy's, and more.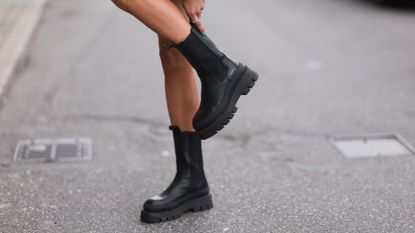 (Image credit: Getty Images )
Finding a great pair of black boots is, in my opinion, the most crucial fall/winter footwear decision. While trendier silhouettes crop up season after season, the humble black boot has constantly been reimagined and refashioned to keep up with the times. Search my closet at any point in the last two decades, and you'll find not one but several different types of boots on hand—all of which are kept in my constant rotation, worn until the soles fall off and the heels are so run-down that they are beyond repair.
Shopping for such an essential piece of your shoe wardrobe should not be taken lightly. In the best-case scenario, these are boots that you'll rely on year-round and for a multitude of occasions. Ankle boots, heeled or otherwise, are perfect for wearing to the office or daily life. Combat boots add edge to any look. Knee-high boots pair seamlessly with dresses and skirts no matter the length, a sentiment that Norstrom's Women's Fashion Director, Rickie De Sole, echoes: "Whether worn with a dress or jeans, knee-high boots are an essential shape that I live in. Flat knee-high boots are best paired with a mini or jeans, while a heeled version is perfect for adding polish to any outfit." Even a Western-style boot has surprising versatility these days.
Searching for black boots online can bring back hundreds, if not thousands, of results. The playing field is crowded, and with so many options, it's time to break down exactly what you should look for when shopping for a pair based on the expertise of women who wear and buy them the most. Here's your official guide to the essential styles for this year and the most essential silhouettes to keep in your rotation.
Deals on The Best Black Boots
How to Shop for Black Boots
You should approach shopping for black boots like any other essential part of your wardrobe—by trying pairs on and seeing how you feel. "Black boots are like the jeans of footwear," says Lakyn Carlton, a virtual personal stylist from Los Angeles, California. "They match pretty much anything, and once you have them on, half the work of coming up with a great look is pretty much done." You may go into your boots shopping experience with an exact pair in mind, but testing out a variety of brands is the way to go.
Start by examining your closet. See where you have gaps. Are your ankle boots on their last leg? Do you keep wishing that you had a funkier pair of boots to add a spark to your workwear ensembles? Do you need something with a heel? Would thigh-high boots take your going-out outfits to the next level? Going into a store (or browsing online) with a plan helps you discern what you like from what you don't and will stop you from making a hasty purchase that you might regret. Ahead, Carlton lays out a few key details to consider:
Shaft Height: The boot shaft is essentially how much of the leg the boot is covering. This is "especially key when styling boots with skirts," says Carlton. "With longer skirts, you want the boot to extend above the hem of the skirt or "disappear" up into it both for warmth and a harmonious, sleek look," she says.
The Material of the Boot: Leather and faux leather are not created equally. "Real leather is more breathable than fake, which is why you can get away with a leather boot in the summer without overheating," she says.
The Material of the Sole: This might sound self-explanatory, but think about where you walk most. Soles are most commonly made from either leather or rubber. "Leather soles are easiest to get repaired and replaced, but a rubber sole is often more comfortable for those that do a lot of city walking," says Carlton.
The Sturdiness of the Boot: Aside from shaft height, consider the sturdiness of your preferred boots. As their name suggests, slouchy boots will sit lower on your leg and fall throughout the day. Boots that hold their shape are made from stiffer leather material and might be more prone to rubbing where they hit the leg, so wearing thicker socks or tights will be helpful for your first few wears.
How You Get Them On: Some styles, slouchier ones, in particular, don't come with zippers. Carlton recommends, "If you have wider calves, especially, you may want to avoid pull-on styles."
With that in mind, keep scrolling to shop all of the best black boots as hand-selected by our team of experts and editors alike. This list is the perfect place to find your favorite pair, from under-$500 winners from brands like Franco Sarto and Sam Edelman to splurges from Prada.
The Best Black Boots