The Summer 2020 Fashion Trends All Your Friends Will Be Wearing
Starting now.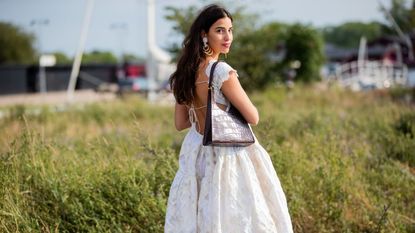 (Image credit: Christian Vierig / Getty Images)
When thinking about trends for summer, there are two major indicators for what styles we can expect: The fashion from the runways, and the fashion from the streets. The spring/summer 2020 runways give us a good indication on what new pieces will be popular, while the street style showcases what people are actually wearing from said runways. The two aren't mutually exclusive, and oftentimes what's popular on the runway for one season can extend beyond that as people continue to rock the trend IRL (for example: bucket hats). That said, we have a good idea of what the fashion trends of summer 2020 will look like, so we put together this guide for you of covetable pieces for summer inspired by our favorite It-girl outfits. Here's what you can expect your fashion-forward friends to be wearing this summer, and what to invest in to be among them.
Linen
Stay cool in the summer heat with linen pieces. Though this fabric has always been an obvious choice for combating sweltering temps, retailers this season have been quick to offer even more variations of linen or linen mix clothing. Prepare to find linen versions of your favorite garments, from lightweight bottoms to one-and-done dresses.
---
Sweat Shorts
It might be too hot to wear the sweatpants you've been in since quarantine, so swap them for a pair of sweat shorts. These athleisure bottoms offer the same level of comfort without leaving you perspiring heavily. Wear them while running your weekend errands or when you're just hanging out with a glass of rosé on the couch.
---
Baby Doll Dresses
For summer, minidresses in the form of baby doll styles akin to the designs made popular by Cecilie Bahnsen will rule the streets. Expect to find the style in pastel summer hues and with variations in volume. These playful minidresses will keep the vibe of your ensembles light and breezy.
---
Neon Colors
Neon colors will have a strong presence this summer, moving from the runways of Marni and Jacquemus to the streets. This is the time to wear your brightest brights and choose poppy colors that reflect the clear change in weather. The style lesson here? Don't be afraid to stand out.
---
Bucket Hats
The bucket hat trend isn't over yet, which is great because I still have my eyes on a few more to add to my collection. The hat offerings reflect the diverse trends in ready to wear, from neon colors to PVC designs. Top off any outfit this summer with a bucket hat for that casual-cool fashion girl look.
---
Bralettes
Bralettes under blazers were one of the biggest trends to hit the spring/summer 2020 runways, and street style stars eagerly adopted this casual-sexy look. Retailers are already offering a ton of cute bralette options for the season, whether you decide to wear one over a t-shirt or under a cardigan, so rest assured you'll find one you love. This look is definitely NSFW, so keep it to the weekends.