The Best Places to Buy Glasses Online
Take your Zoom game up a notch with a new pair.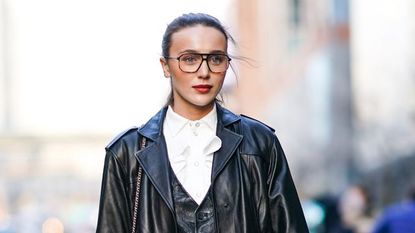 (Image credit: Getty Images)
Why trek to the optician when you can try on, customize, and purchase your next favorite pair of eyeglasses from the comfort of your couch? Whether you're looking for your new pair of prescription, blue light-blocking work glasses or a cheap, cool accessory for summer, there are a ton of online retailers that offer more options than you'd ever be able to find in-store. Plus, there are a ton of great deals to be had, and many brands will send you frames to try on at home free of cost. (And did I mention the sheer amount of "buy one, get one free" offers?) When you want to treat yourself to a new look or some summer-friendly shades, try one of these beloved online retailers.
1. Zenni
Zenni makes buying glasses online easy and, dare we say, fun. They have plenty of styles under $20 and "Blokz by Zenni" lenses to help protect your eyes from harmful UV and blue light. Shop by price, style, face shape or color frames. They even show you how to pair your favorite frames with complementary clothing colors.
Our pick: Tortoiseshell cat-eye glasses, $13
2. Firmoo
Firmoo optical offers new customers their first pair of glasses for only $4.95. They keep customers coming back with their virtual try on feature, tutorials to walk you through the entire process of buying glasses and a ton of stylish options in frames!
Our pick: Gold tortoise, $24
3. Warby Parker
Try on five pairs of glasses in the comfort of your home for five days, risk-free. Warby Parker has a huge variety of frames online, as well as brick-and-mortar stores if you want to purchase a pair immediately. Besides having a quality product, Warby Parker believes in giving back. For every pair purchased, a pair is distributed to someone in need; over 7 million pairs in 50 countries have been part of their give-back program.
Our pick: Shea eyeglasses, peacock green, $95
4. EyeBuyDirect
EyeBuyDirect has over 1,200 frames to choose from, plus an easy-to-use "Eye Try" feature and a 14-day fit and style guarantee, not to mention a 12-month overall guarantee. Get cozy on the couch and watch their video guides on how to read your prescription, understand your pupillary distance, and determine your face shape.
Our pick: Movement, square golden eyeglasses, $32
5. Lenscrafters
Lenscrafters offers an online shopping platform, as well as the ability to walk into any of their IRL locations for an eye doctor visit. You can also shop luxury brands like Tiffany, Coach, and Burberry. Offers include a great value package where you can shop a complete pair of glasses and frames starting at $99.
Our pick: Michael Kors, $128
6. Frames Direct
At Frames Direct you can choose from over 250 designers' brands and over 100,000 styles. Plus, they have a "Price Match Guarantee"—if you find the same pair of glasses somewhere else online for less, they'll match that price. Frames Direct also has a "buy one give one" program, and you can choose a specific region of the world that you'd like your donation to benefit.
Our pick: Kate Spade, $103
7. Glasses USA
Look your best for less with designer frames on sale from Prada, Gucci & Versace from Glasses USA. Edit down your favorites by using the virtual mirror to "try on" frames. They offer a money-back guarantee and 24/7 support for any tough optical queries.
Our pick: Prada, $280
8. LENSABL
Lensabl makes shopping for frames and lenses as easy as it gets with a step-by-step program that makes the process simple. Plus, shoppers get a case and cleaning kit as a bonus with their order. You have the option of sending Lensabl your frames just for new lenses, or buying new lenses and new frames directly from them. They also promise 50-70 percent lower prices than if you went to your local eye doctor.
Our pick: Sunset Opticals, $77
9. Diff Eyewear
DIFF believes in fashion as a "force of good." They say they focus on being socially conscious and that the core of their business model to being charitable. DIFF collaborates with celebs and influencers, and always has various offers and sales going on, plus BOGO offers.
Our pick: Sawyer, pink clear frames, $95
10. Felix and Iris
Felix and Iris say they believe that "people matter most." Shoppers have the option of picking four frames to be shipped to them for free to try on. Fit and quality are this brand's top priority, they say, plus they have a ton of fashionable frames to choose from.
Our pick: Avery Tortoise, $118
11. Eyeconic
In just five steps, you can find your perfect fashion spectacles. Choose from DVF, Ferragamo or Saint Laurent, just to name a few. Eyeconic is constantly offering sales and perks for their customers, not to mention their "Price Match" guarantee.
Our pick: Saint Laurent, $405
...
For more stories like this, including celebrity news, beauty and fashion advice, savvy political commentary, and fascinating features, sign up for the Marie Claire newsletter (subscribe here).