Editors handpick every product that we feature. We may earn commission from the links on this page.
The 33 Best Pairs of Sunglasses Right Now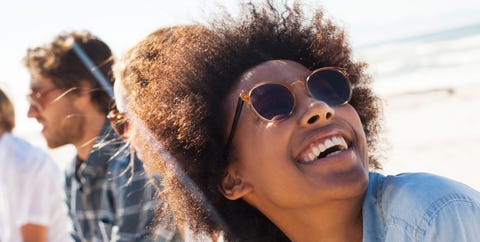 Before you start your sunglasses hunt, you should first determine the right style for your face. Once you know what you're looking for, you can consider more trend-driven pairs in similar shapes, from Kardashian-esque ski-inspired sunglasses to angular cat-eye shades. But no matter what you're looking for this season, your favorite brands have you covered with both stylish new designs and fresh updates to the classics. Tortoiseshell continues to dominate, as do mirrored lenses, subtle gradients, and all the angles.
Of course, because sunglasses are 1) small and 2) often inexpensive, you should feel free to have fun with them. Want to try wacky Instagram-only styles? Do it up. Heart-shaped sweet shades calling your name? Add to cart. Sunglasses are not meant to be serious, no matter how much they cost. But that's not to say that sunglasses can't be sophisticated. In fact, a handful of pairs on this list will take the simplest outfit from snooze to stunning.
We're big believers in there being no such thing as too many pairs of sunglasses. If you so choose, you can and should own everyday sunglasses, pool-day sunglasses, early-evening sunglasses, special-occasion sunglasses, and so many more. We found the best new shades to shield your face for summer (and potentially the rest of the year, too). Check out 33 pairs that are oh-so-easy on the eyes.
This content is created and maintained by a third party, and imported onto this page to help users provide their email addresses. You may be able to find more information about this and similar content at piano.io