Cargo Pants Outfits to Inspire You When You're Tired of Jeans
These pocket-clad pants will be your new fave.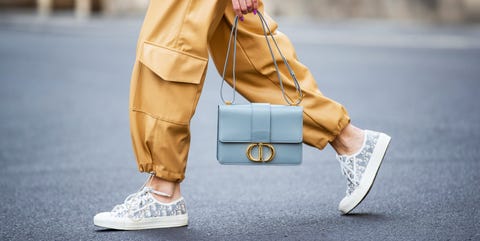 Christian Vierig
Getty Images
You've likely sported a pair of cargo pants before. You've also likely tried to forget those years, which were filled with cringe-worthy fashion choices. The baggy cargo pants silhouettes of the aughts were undoubtedly comfy, but were they flattering? Not so much. Historically worn as military fatigues and later, as one of dad's bad sartorial choices, cargos are now straying from their strictly functional roots. The cargo pants of the runways are made to flatter the female form: Designed with higher waists, slimmer side pockets, and tapered hems, these fashion-forward options are made for pairing with your delicate ruffle tops and playful summer heels. Officially It-girl approved, the pants that were once synonymous with bad fashion have been given their second chance. Ahead, you'll find five new, no regrets, cargo pants options to shop right now.
This content is created and maintained by a third party, and imported onto this page to help users provide their email addresses. You may be able to find more information about this and similar content at piano.io