The Evolution of Maternity Style
See how pregnancy fashion has changed over the years.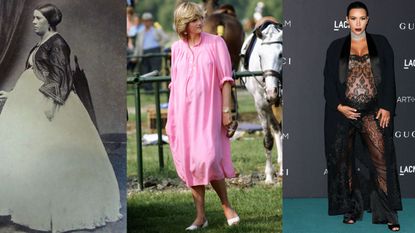 (Image credit: Getty Images)
Marie Claire Newsletter
Celebrity news, beauty, fashion advice, and fascinating features, delivered straight to your inbox!
Thank you for signing up to Marie Claire. You will receive a verification email shortly.
There was a problem. Please refresh the page and try again.
From billowing dresses and maternity corsets intended to conceal a woman's baby bump to the formfitting trend seen on expectant mothers today, ahead we take a look at how pregnancy fashion has changed over the years.
1/119
1339
Back in the Middle Ages in Europe, women's everyday dresses were typically full and forgiving enough to readily double as maternity wear. It wasn't until the early 14th century, when silhouettes started to follow the female form a bit more, that specific design elements were introduced to make clothing more pregnancy-friendly.
2/119
1434
Here's another look at modest maternity style in the 13th century. Heavy materials like velvet became popular for dressing gowns at this time, which helped further conceal bumps.
3/119
1460
No seams to take in or let out, just lace-up panels that could be loosened to accommodate a growing baby bump.
4/119
1500
Aprons, too, were commonly used to help hide a pregnant belly.
5/119
1551
Overcoats had lace-up vents in the back, making them adjustable to fit.
6/119
1560s
One of the reasons maternity wear was not as important during the Renaissance era was that during a woman's later stages of pregnancy, she usually stayed home—meaning she would dress in robes and dressing gowns and had no need for clothing adjustments.
7/119
1595
The first recorded maternity gown came about in the Baroque period and was called the "Adrienne," which featured an empire waist.
8/119
1615
The Adrienne style dress also consisted of folds under the waistline and flowing fabric that helped with a growing bump.
9/119
1650
By the time we were approaching the Georgian period, the Adrienne dress had evolved to include a bib around the bust to make breastfeeding easier.
10/119
1776
As the fashion in the 16th century required petticoats and corsets to attain the ideal figure, many women continued to wear corsets while pregnant.
11/119
1786
This dress features slits in the bust to permit women to more easily breastfeed their baby—a duty which was, for most of the 18th century, been delegated to a hired "wet nurse."
12/119
1803
Many women could not afford new clothes while expecting and had to make due with their previous wardrobe. In these cases, when their bump grew so big that letting out their back laces didn't work anymore, they would wear a shawl or scarf to hide the opening in the back of their dress.
13/119
1860
In the thick of the Victorian era, pregnancy was considered a condition to be concealed. Enter: the maternity corset. This cringe-worthy garment was structured with whalebones and intended to restrict and minimize the appearance of a baby bump. And doctors endorsed them...
14/119
1876
The Gossard maternity corset's slogan promised "Better Babies," as women were convinced that the contraption would provide exercise that was necessary during pregnancy–while also promising to keep the figure looking trim.
15/119
1904
It's worth noting that most of the maternity style developments to this point were more or less exclusive to wealthy women. Women in poor or working class families typically just wore baggy, oversized dresses during their pregnancies.
16/119
1909
"Clothes of Prospective Mothers Should Have Quality of Beauty as Well as of Comfort." A novel concept, indeed.
17/119
1913
Sadly, the maternity corset was still a mainstay for expectant mothers well into the early 1900s.
18/119
1920
Benito Mussolini's pregnant wife sporting the popular empire waist.
19/119
1920s
Progressing into the 1920s, maternity style relaxed a tad. Softer silhouettes with draped and belted waistlines were the early signs that confining garb was on its way out.
20/119
1920s
But not quickly enough. The mindset of the times was still to hide away any signs of pregnancy. "Be entirely free from embarrassment of a noticeable appearance during a trying period," said one 1923 maternity wear ad in Good Housekeeping.
21/119
1925
And women across America breathed a (literal) sigh of relief.
22/119
1928
Those drop-waist dresses were the perfect amount of slouchy to accommodate the early stages of a belly.
23/119
1930s
The 1930s saw a return of a more conservative standard in mom-to-be style. Feminine waistlines and slim figures were very much in vogue, meaning pregnant women relied on small prints and adjustable waistbands to camouflage their "condition."
24/119
1930s
Flounced necklines, capes, and oversized bows and embellishments helped women hide a bump for a little bit longer.
25/119
1930s
Instead of dresses, separates started coming into play in the '30s. Pleated trapeze tops could be cinched during early months and worn more loosely once a bump started to show.
26/119
1940s
For the most part, the 1940s saw similar maternity fashions to the '30s.
27/119
1940s
Long, billowy button-downs were a sure tell sign that a woman in the 1940s was expecting.
28/119
1940s
Shirtdresses and wrap styles also became popular. A wraparound cut allowed the dress to grow with a woman's changing body, while the button-down silhouettes provided an easier solution for breastfeeding mothers.
29/119
1941
Separates that could accommodate a woman's bump at any stage in her pregnancy continued to be popular throughout the decade.
30/119
1948
Queen Elizabeth stayed true to the style of the decade in an A-line dress suit at four months pregnant with Prince Charles.
31/119
1952
Fashion leaned into maternity wear in the 1950s....thank goodness.
32/119
1952
Separates really took off by mid-century. And finally, PANTS!
33/119
1952
Lucille Ball was a pioneer for all moms-to-be. She was the first woman to appear pregnant on-screen, publicly and openly celebrating her burgeoning bump.
34/119
1953
Ball popularized the maternity style of the '50s, appearing on her hit show I Love Lucy in demure smock tops and voluminous separates.
35/119
1956
A wide, tent-like top over a slim-fitting skirt or capris was a signature of the decade.
36/119
1957
Grace Kelly no doubt inspired women to look chic while pregnant, with her maternity ensembles.
37/119
1957
Elizabeth Taylor adopted the combination of a pencil skirt and dress-like tunic as her maternity uniform.
38/119
1957
And continued to maintain her iconic glamour throughout her expecting months.
39/119
1958
A Nautical theme for the mother-to-be
40/119
1960
Elegant simplicity was the name of the maternity game with the onset of the 1960s. And no one embodied it better than Jackie Kennedy. The style icon opted for chic shift dresses and boxy separates while pregnant with her son.
41/119
1963
While pregnant with Prince Edward, Queen Elizabeth wore a sleek velvet dress and matching jacket to conceal her bump.
42/119
1964
In order to make room for an expectant mother's belly, some dresses featured inverted pleats.
43/119
1964
Princess Margaret uses a loose overcoat to accommodate her growing bump.
44/119
1967
Mia Farrow filming "Rosemary's Baby", put pixie perfect maternity fashion on the big screen.
45/119
1969
46/119
1970
Peasant tops and bohemian maxis were a pregnant woman's best friend.
47/119
1971
Hemlines were at an all-time high throughout the country and pregnant women made no exception with their maternity wear.
48/119
1971
Jane Birkin epitomizes comfort and ease in a cotton sun dress that compliments her bump.
49/119
1971
Participants in the "Mother-to-Be of the Year" competition are seen here being judged on their maternity fashion and beauty.
50/119
1972
Behold: Winner of the 1972 "Mother-to-Be of the Year" competition.
51/119
1973
Carly Simon kept it disco glam during her pregnancy by throwing on an ultra-luxe fur coat. (Side note: Let's hope that's water in her glass.)
52/119
1975
Yoko Ono throws a fashionable kimono robe on over her expectant bump.
53/119
1977
Tiered maxis were a popular style of the decade in general, but proved especially useful in covering a blossoming baby bump.
54/119
1977
Cher looks perfectly bohemian in her floral maxi dress and vest that extenuates her bump.
55/119
1977
Bebe Buell pregnant with daughter Liv Tyler in a graphic print that has serious '70s vibes.
56/119
1979
A pregnant Cybill Shepherd (left) wears a sheer flowing gown that was quite daring for the time to meet Queen Elizabeth II.
57/119
1981
Enter the 1980s when everything was taken to extremes: extreme volume, extreme proportions, extreme shapelessness. Princess Anne managed to avoid the common pitfalls of the decade's style in an elegant, oversized cape.
58/119
1982
All eyes were on Princess Diana during her highly-publicized pregnancy. Everyone's favorite royal made oversized shirt dresses in baby pastels an instant trend with moms-to-be around the world.
59/119
1982
Princess Diana continued to rock oversized dresses throughout her first pregnancy.
60/119
1982
Diana even managed to mix in the trend for more formal occasions by topping her dress off with a cardigan and pearl choker.
61/119
1983
Meryl Streep was a vision in gold as she took home an Oscar for her performance in Sophie's Choice while six months pregnant with her second child. The actress opted for a flowing beaded gown for the moment.
62/119
1987
As women were moving out of the domestic domain and into the career world more and more, finding workplace-appropriate maternity wear became a thing to consider for the first time.
63/119
1987
These mixed graphic prints have '80s written all over them—but they do look comfortable.
64/119
1987
The proportions during this decade were a bit odd, to say the least.
65/119
1988
Even Sarah, Duchess of York, couldn't escape the crazy '80s trends during one of her pregnancies.
66/119
1988
In 1988, Juicy Couture creators Gela Taylor and Pamela Skaist-Levy designed a line of maternity denim called "Travis Jeans" to fill a void they noticed in stylish clothes for expectant moms. Soon after, Melanie Griffith (pictured here with a very pregnant Demi Moore) wore them while pregnant with daughter Dakota Johnson, which helped propel the line, and maternity jeans in general, to popularity.
67/119
1991
The '90s generated an unprecedented level of maternity style consciousness, as the public and media interest in pregnant celebrities skyrocketed. Demi Moore famously posed nude on the cover of Vanity Fair while pregnant, sparking a trend among famous moms-to-be that's still seen today. "It did seem to give a little bit more permission to feel sexy and attractive when you're pregnant," she expressed in her interview with the magazine.
68/119
1995
Overalls, like the ones being rocked here by a pregnant Kim Basinger, took over maternity trends in the mid-'90s.
69/119
1997
Ah, Kris Jenner. The ultimate #ProudMom.
70/119
1997
Julia Louis-Dreyfus harkens back to the middle ages with her empire waist dress, although this one looks far more comfortable.
71/119
1997
Pregnant bodies were celebrated in the '90s like never before. With so many high profile celeb moms-to-be, designers took note and the maternity fashion market boomed accordingly. Models like Elle Macpherson, shown here, eschewed baggy, oversized garb for more slim-fitting silhouettes that highlighted their changing shape.
72/119
1998
Jada Pinkett Smith proudly shows off her bump on the red carpet in a hugging column dress.
73/119
1998
Maternity wear had never been as stylish as it was in the 1990s, as proven by a pregnant Kate Beckinsale.
74/119
1999
Victoria Beckham barely had to change her "Posh Spice" look while pregnant in 1999.
75/119
2001
Once we hit the early aughts, pregnant women everywhere were showing off their baby bumps without hesitation. Stretchy dresses and belly-baring tops, like the one Jennifer Aniston wore as Rachel Green on Friends, were the norm for expectant moms in the new millennium.
76/119
2001
Bodycon dresses, like this one on Cindy Crawford, became a go-to look for women wanting to show off their bumps.
77/119
2002
Sarah Jessica Parker channeled her on-screen character Carrie Bradshaw when outfitting her baby bump. Empire waist babydoll dresses made a comeback with pregnant women in the 2000s.
78/119
2002
Finally, comfort was key for pregnancy style, as demonstrated by an expecting Kate Moss.
79/119
2003
Kate Hudson gave the crop top maternity trend a go while pregnant with her son Ryder.
80/119
2003
Reese Witherspoon wore a sweet empire waist dress while pregnant in 2003.
81/119
2005
Another look-at-me mom-to-be: pop princess Britney Spears. She drew attention to her baby bump with an arrow on a graphic tank.
82/119
2006
Gwyneth Paltrow didn't let a growing bump stop her from sporting couture on the Golden Globes red carpet.
83/119
2006
Heidi Klum was a fan of the drop waist while pregnant with her third child in 2006.
84/119
2006
Gwen Stefani's maternity style brought out her rocker-chic vibes in full force.
85/119
2007
Isla Fisher proudly showed off her bump in a formfitting empire waist dress.
86/119
2008
Few celebrities have mastered red carpet maternity style quite like Angelina Jolie. The actress was the picture of elegance in a flowing olive gown in Cannes.
87/119
2008
Jennifer Lopez channeled vintage vibes in this shift dress while pregnant with her twins.
88/119
2008
Nicole Kidman covered her bump with flowing fabrics and pleats in 2008.
89/119
2009
It doesn't get more bump-baring and body-hugging than M.I.A.'s sheer-paneled, polka dot get-up at the 2009 Grammy Awards.
90/119
2010
Claudia Schiffer's horizontal stripes minimize the size of her bump while the model lets her bump breathe in a stretchy sweater dress.
91/119
2010
There was a wave of models that gave birth in the early 2010s, which did a lot to bring together the worlds of high fashion and maternity style. Miranda Kerr famously walked the runway at Balenciaga's Spring/Summer 2011 show while six months pregnant.
92/119
2011
Entering into the second decade of the 21st century, maternity style took a turn for the romantic. Long, flowing, feminine gowns were a favorite amongst pregnant A-listers, like Natalie Portman.
93/119
2011
Jessica Alba keeps her bohemian spirit going strong in a gauzy printed maxi skirt.
94/119
2011
January Jones belts her bump in a maxi sundress.
95/119
2011
Beyoncé takes the floor-length maternity trend to glamorous territory (naturally), opting for an orange one-shoulder gown that made her look like a brilliant Grecian goddess at the 2011 MTV Video Music Awards.
96/119
2012
Sienna Miller places her belt beneath her bump for a bohemian look.
97/119
2012
Alessandra Ambrosio's silk sheath dress is formfitting yet comfortable.
98/119
2012
Adriana Lima rocks a super short bodycon dress while pregnant in 2012.
99/119
2013
Kim Kardashian's first pregnancy saw its share of surprise fashion moments. Among them was this floral Givenchy number she wore to the Met Gala in 2013.
100/119
2013
Halle Berry's flowing dress was able to accommodate her bump, even towards the end of her pregnancy.
101/119
2013
Kate Middleton took her fair share of cues from Princess Diana when it came to dressing her first baby bump. Polka dots and pastels were staples in her royal maternity wardrobe.
102/119
2013
When in doubt, throw on an overcoat. Kate Middleton's maternity style was simple and timeless.
103/119
2014
Blake Lively's pregnancy with daughter James was smack-dab in the middle of her Preserve phase, which means she wore lots of Lindsey Thornburg cloaks and otherwise artisanal apparel.
104/119
2014
Kourtney Kardashian was a pro at pregnancy dressing by the time she was expecting her third child with Scott Disick.
105/119
2015
Not long after the birth of Prince George, Kate Middleton was pregnant again with Princess Charlotte. The Duchess' maternity style while carrying her daughter was much the same as the first time, but slightly more polished with tailored, ladylike coats sprinkled into the mix.
106/119
2015
The flouncy structure of Kate Middleton's coat dress minimized her bump, much like the styles of the 1940s.
107/119
2015
The Duchess sported a belted coat dress for an appearance while pregnant with Princess Charlotte.
108/119
2016
Megan Fox opted for a monochromatic look that appears to be as comfortable as it is stylish.
109/119
2016
Candice Swanepoel kept things simple in a maxi sundress.
110/119
2016
Blake Lively settled rumors of a second baby on the way when she hit the Cannes red carpet with her bump on display in an icy blue Atelier Versace gown.
111/119
2018
Meghan Markle announced her pregnancy just before her first royal tour in 2018. The Duchess opted for a combination of high waisted and structured dresses that gave us a peak at her tiny bump.
112/119
2018
A favorite of Meghan Markle's while pregnant? Her HATCH maternity jeans. The brand experienced some serious "Markle Sparkle" after the Duchess wore them throughout her royal tour.
113/119
2018
Khloé Kardashian kept her bump covered in a monochromatic look while pregnant with her daughter, True Thompson.
114/119
2018
Meghan Markle hugs her bump in a one-shoulder black gown at the British Fashion Awards.
115/119
2018
A pregnant Cardi B turned heads when she arrived in a bejeweled gown for the Heavenly Bodies: Fashion and the Catholic Imagination-themed Met Gala.
116/119
2019
Blake Lively is not one to play it safe with pregnancy fashion, and that was made clear when she announced her third pregnancy wearing a bright yellow sequin dress the premiere of Detective Pikachu.
117/119
2019
Meghan Markle led the way in revolutionizing postpartum fashion by re-wearing several of her maternity outfits, like this Martin Grant maxi dress.
118/119
2019
Model Ashley Graham shrugged off the idea that you can't be sexy while pregnant by wearing this formfitting dress.
119/119
2019
Anne Hathaway opted for pants and a ruffled top that showed off her gorgeous bump at the premiere of Modern Love.
•••
For more celebrity news, beauty and fashion advice, savvy political commentary, and fascinating features, sign up for the Marie Claire newsletter.
Celebrity news, beauty, fashion advice, and fascinating features, delivered straight to your inbox!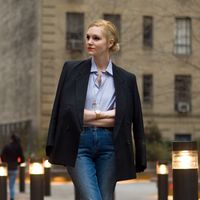 I am an experienced editor, writer, and creative strategist, specializing in fashion, beauty, and lifestyle content for digital media outlets, as well as video and social platforms. While I currently operate as a freelance contributor/consultant, with such clients as The Zoe Report, my 10+-year background in the industry was cultivated at the dot-coms of elite publications, including Harper's BAZAAR, ELLE, and Marie Claire.