The Jewelry Trends to Invest In for Fall 2020
You're going to want to wear these in sweater weather.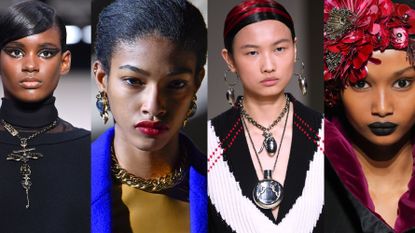 (Image credit: GETTY)
It always feels good to refresh your wardrobe for fall, especially after months of wearing practically nothing in the summer heat. The temperature starts to drop and then it's time for real clothes (see ya next year, denim cut-offs). This may mean snagging a great new pair of boots and a fab sweater to wear with short skirts now and trousers later. We suggest you give the same treatment to your jewelry wardrobe. It's time to leave behind summer baubles like wooden bangles and friendship bracelets and deck yourself out with bolder pieces that feel less like a vacation souvenir. We're talkin' big sparkling crystals, statement art pieces around the neck, and jewelry for your jeans. Intrigued? Click through for a solid roundup of the top fall jewelry trends seen on the runways this February and March and where to buy these right now. And don't panic: Runway trends can seem a little intimidating, but these are simple enough to master on the daily and evergreen enough to justify a little splurge here and there.
1/44
'80s Statement Earrings
Go big or don't bother. Big statement earrings were shown as big sphere buttons (like at Dries Van Noten, left) or sculptural shapes (at Y Project, right). Either way, swap your layered dainty earrings and give them something to talk about.
2/44
We Dream in Colour - Gold Comet Studs
These earrings will look as amazing with a sweater dress as they will with a slim black suit for evening.
3/44
Gas Bijoux - Trapani Earrings
These button earrings definitely have a retro vibe about them but will look just as good with a white tee and jeans or a mini slip dress for date night.
4/44
Lelia + Mae - Tati Silver Hoops
Turn heads in these thick silver earrings by women-run company Lelia + Mae.
5/44
Alessandra Rich - Oversized Gold-Plated Crystal Clip Earrings
For some Dynasty-inspired (Google it) glamour, try these clip earrings to make even sweats feel special.
6/44
Heavy Gold Chokers
The choker trend looks a little different this time around. Instead of ribbons or tight beaded strands, opt for a heavy metal version that sits right at the collarbone like these from Proenza Schouler (left) and Chloe (right). It looks chic with basically everything and can be the one piece of jewelry you need to finish the look.
7/44
Soko - Sayo Collar Necklace
This choker with a knot detail looks as chic on its own as it will with a few layered chains.
8/44
Jennifer Fisher - Warped Tube Choker
This choker serves a heavy metal vibe but is actually insanely lightweight.
9/44
Alexander McQueen - Tubular Crystal-Embellished Choker
A little subtle sparkle takes this bold choker style straight into evening.
10/44
Kenneth Jay Lane - Golden Collar Necklace
The costume jeweler of all costume jewelers, Kenneth Jay Lane, nailed the gold collar trend with this bold style.
11/44
Sculptural Pendants
There's something so timeless about a Calder-esque sculptural necklace that fashion houses like Givenchy (left) and Valentino (right) have made part of the brand DNA. It looks great with turtlenecks shown here, but can really pull together a jeans/tee/blazer combo too.
12/44
Mahnal - Janan Collar
This necklace would be fab with a black turtleneck to really show off the sculptural squiggles of the pendant.
13/44
Tohum - Dunya Calusa Necklace in Gold
Even the clasp on this necklace is stunning, making this a "hair up" kind of piece in order to show it off from the back.
14/44
Azizah HandCrafted - Fatin Cyrstal Choker
Nothing short of special, this piece is begging to be worn with a caftan gown for evening.
15/44
Chains with Charms
No other piece of jewelry feels as sweet and nostalgic as a classic charm bracelet. On the runway they were shown on bracelets, necklaces (like Alexander McQueen, left, and Dior, right) and earrings. While accumulating charms for birthdays and milestones has great sentimental value, jewelry designers have made some stylish shortcuts.
16/44
Ettika - Shell Charm Bracelet
Who says shells are just for summer? Natural elements are always in style, so take these charms right into fall.
17/44
Chan Luu - White Pearl Mix Necklace
Pearls, glass, shells and a touch of gold make for an irresistible mix.
18/44
Urban Outfitters - Maisie Mini Charm Hoop Earring Set
Mix, match and layer on a slew of charms with this super affordable set.
19/44
Givenchy - Charming Earrings
A fun play on a logo, these textured charms carry each letter of the word G-I-V-E-N-C-H-Y. Bonus points if you can pronounce it correctly.
20/44
Chain Belts
It's like a necklace...for your waist! Take a cue from the runways of Celine (left) and Ferragamo (right) and try a chain belt on with just about anything, from jeans to an LBD to a breezy summer maxi. It will look like you made a big effort, for very little effort.
21/44
Epifene - Garbo Chain Belt
The circle links on this chain belt give it a '70s feel that will look amazing cinching the waist of a printed maxi.
22/44
Cult Gaia - Jasmin Chain Belt
Lucite and gold is the combo you didn't know you needed in a belt.
23/44
B Low The Belt - Miri Belt
The mix of gold and pearls on this belt will dress up any pair of jeans with ease.
24/44
8 Other Reasons - Nelly Chain Belt
This layered chain belt adds some extra "oomph" and will look fab on a sweater dress for day or night.
25/44