Lizzo's Best Fashion Moments Ever
Twenty-five reasons why she's 100 percent that bitch.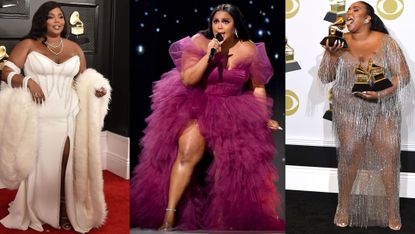 (Image credit: Getty Images)
When Lizzo first splashed onto the music scene in 2017, she became well-known for her poppy songs that preached the powers of self-love. (opens in new tab) Now, with three Grammys, a movie and a number of accolades under her belt, she still holds true to those values. To her many fans, the songstress is a breath of fresh-air in a Kardashian-crazed, surgery-obsessed Hollywood.
On the red carpet, Lizzo is no different, taking center stage in a mix of flamboyant looks. From sheer dresses to XL marabou hats (à la Pam Anderson), to lingerie and boas, she doesn't play it subtle. The singer has fun with fashion and never sticks to a particular color or silhouette. Instead, she experiments with new looks and designers; she is constantly reinventing herself. Below, in an ode to self-love, we round up some of Lizzo's best looks, both on and off the red carpet.
1/25
Jan 26, 2020
It's rumored that this Atelier Versace dress was hand-embellished with Swarovski crystals, and took two months to make. She topped it off with a faux-fur stole and almost $2 million dollars in jewels from Lorraine Schwartz.
2/25
Jan 26, 2020
The singer with her Grammys in another custom Versace dress and stunning Lorraine Schwartz earrings.
3/25
Jan 26, 2020
Performing at the 2020 Grammys in a custom gown by Christian Siriano and more jewels by Lorraine Schwartz.
4/25
Feb 22, 2020
Lizzo won "entertainer of the year" at the 51st NAACP Image Awards in a custom Mary Katrantzou dress.
5/25
Feb 19, 2020
The starlet paired a black sheer off-the-shoulder number with ankle booties at the Warner Music & CIROC BRIT Awards house party.
6/25
February 18, 2020
At the 2020 Britt Awards in a custom Dundas dress and layered necklaces by Lorraine Schwartz.
7/25
Jan 23, 2020
The artists donned a short black dress with marabou feathers and strappy sandals at the Spotify Hosts "Best New Artist" event.
8/25
Jan 23, 2020
Attending a pre-Grammy party in a leotard and sneakers.
9/25
December 30, 2019
The songstress before her performance at a Las Vegas nightclub in a glittery black number.
10/25
December 3, 2019
Lizzo taps into her fun personal style with this full Gucci look topped off with a cowboy hat.
11/25
November 24, 2019
The bag heard around the world. Lizzo put minibags on the map with this one from Valentino and statement jewels from Lorraine Schwartz.
12/25
November 24, 2019
Looking like a goddess at her AMA performance in a gown by Dauxilly.
13/25
Aug 26, 2019
This fun "siren" look and matching boa was by Moschino.
14/25
August 26, 2019
Performing at the 2019 MTV Video Music Awards in a bright yellow bodysuit and matching eyeshadow.
15/25
July 23, 2019
Lizzo performs during Lovebox 2019 in London, England.
16/25
July 6, 2019
Performing at Day 8 Roskilde Festival in this striped number.
17/25
June 26, 2019
In a black dress with matching yellow accessories at a Pride kickoff party in NYC.
18/25
June 15, 2019
At the 2019 MTV Movie Awards in custom Christopher John Rogers.
19/25
May 6, 2019
Think pink! Lizzo attended the 2019 MET Gala in custom Marc Jacobs.
20/25
May 6, 2019
Posing at the Met Gala After Party at the top of the Standard in NYC.
21/25
February 10, 2019
At a Grammys party in a white marabou look paired with socks and sneakers.
22/25
September 23, 2018
Lizzo gives us Western vibes in a fringe bodysuit during a performance.
23/25
September 5, 2018
Attending a NYFW kickoff party in in boa, crystal choker and lace-up belt.
24/25
November 1, 2017
At Spotify's inaugural Secret Genius Awards, Lizzo wore a black and white graphic dress with a thick crystal choker.
25/25
September 9, 2017
The budding starlet posed backstage at the Christian Siriano fashion show during New York Fashion Week.
For more stories like this, including celebrity news, beauty and fashion advice, savvy political commentary, and fascinating features, sign up for the Marie Claire newsletter (subscribe here (opens in new tab)).
Katie Attardo is the Accessories Editor at Marie Claire, covering all things fashion and jewelry-related.