The Decade of Lizzo Is Just Getting Started
Also, she wants you to stop drinking whiskey.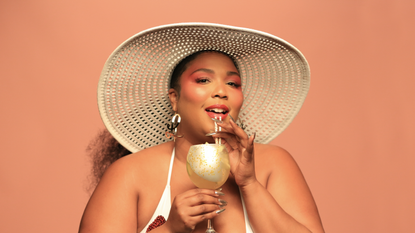 (Image credit: ABSOLUT )
Marie Claire Newsletter
Celebrity news, beauty, fashion advice, and fascinating features, delivered straight to your inbox!
Thank you for signing up to Marie Claire. You will receive a verification email shortly.
There was a problem. Please refresh the page and try again.
If you ever get the feeling listening to Lizzo is akin to a religious experience, you're not wrong. The Detroit native and pop music powerhouse grew up in the church, and brings just a dash of holiness to the listening experience. There's inspiration, lots of emotion, and a powerful positivity that seems to come from something bigger than all of us. The 31-year-old has been on the scene for a minute—she even used to sing at Paisley Park for Prince's parties—but with summer's release of her debut full-length, Cuz I Love You, Lizzo has single-handedly started a revolution of body positivity, self-love, and an unapologetic that bitch-ness.
It's no surprise her star is rising at a time when women are tired of the bullshit. Lizzo preaches about being your own soulmate, having great sex, and maintaining a boss bitch life. Need to feel sexy? Confident? Want to get over your ex-boyfriend? Need a positive outlook? There's a Lizzo song for it all.
As it happens, it's her song "Jerome" that's playing as my phone rings for our interview. When we talk, we chat about her new success, self-love, and her new collab with Absolut Juice, #GetJuicyWithLizzo. Read on and prepare to fall deeper in love with Lizzo—oh, and if you aren't already following Sasha the Flute on Instagram, you will be soon.
"Um, it's been pretty cool [laughs]. Nothing really changes, though. Like, let me tell ya. Nothing really changes. For me at least, I'm accepting it and I embrace it every single second. I'm really grateful. The thing that actually feels incredible is everything else that happens around me. The live shows have been so incredible, and performing at the BET Awards or the MTV Movie Awards has been incredible. The Absolut Juice deal has been incredible. My publishing deal has been incredible. Like, these are the moments that feel like, 'Oh shit, this is like my year. This is like the beginning of my decade.'
"But having a song on the charts makes me proud of the music and it makes me proud that people are sharing it, but your life don't really change that much. And it feels kind of nice that it doesn't really change your life."
On Keeping Positive on Tough Days
"There's two things I like to do. I like to reach out now, because I know that when I go to that dark place it gets really, really hard to reach out to people. And my friends will hit me up and I won't respond. Or my mom will try to talk to me and I just won't talk to her and it gets really, really dark. So, at first, I like to reach out and let people know how I'm feeling. I'm like, 'Yo I'm not feeling good today. I'm not with it.' Communicating is so hard to do, but once you learn how to do it, it changes everything.
"And then, secondly, I like to just kind of treat myself like a baby. Think about it, babies sit in a swaddle, they sit in a blanket you know what I'm saying. They eat when they feel like eating. They cry and they giggle and look at silly things. So I like to cover myself in a blanket and wear a little, wear my panties so my adult diaper [laughs]. I eat when I feel like eating. I cry and I watch something silly on television and laugh at it."
On Giving Sasha the Flute Her Time to Shine
"It feels great. I've been through it with that damn flute. We've been through a lot of shit. I've been teased for being in band and I felt so lame. I've missed out on a lot because I was either rehearsing, practicing by myself, or at f**king band camp [laughs]. There's just… I've sacrificed a lot for this damn flute, and she is finally giving back to me.
"Me and this bitch fight all the time, though. Sasha's a diva, I don't know if you've noticed, but she's got kind of a big personality. She's the worst. Like, she's so jealous right now that I have a deal with Absolut Juice and she doesn't. She's now trying to get her own liquor deal and I'm just like, shut up, you f**king bitch, you can't have everything that I have, you know what I mean.She's like 'I'm a flute, so I'm gonna get a champagne deal so I can be the champagne flute.' And I was like, 'You know what, that's clever.'"

On Advice She'd Give Her Younger Self
"You know, 25-year-old me drank a lot of whiskey and if I could talk to her again I'd say, you know, just drink Absolut Juice. I would say, stop drinking Jameson, girl. Uh-huh, cause you gonna stop anyway. Just stop now, cause the hangover, honey. I'm just kidding. I'm kidding, I'm f**king with you. I don't know man, I'm silly. You know I like to crack jokes. I don't really have nothing serious I would say to 25-year-old me. It wasn't that long ago, I'm kind of the same bitch, except I just have better hair."
On the Power of Manifestation
"I'm a huge manifester. Everything in my life has been a manifestation. Like, you really have to speak it. But on the flipside, I'll say some things that I shouldn't have said and it happened. So manifestation is not just about like bringing fame and fortune into your life. Manifestation can also be negative. And from like, "Oh, this is going to be a terrible day, ugh," you're gonna have a terrible day. I've had that happen to me where I've already set myself up for failure. And I learned that my words are so powerful that I have to stop doing that. But you also have to believe in the power of your words to give them power, so it's a crazy cycle."
On Making Time for Herself and Self-Care
"Well, I don't [laughs]. I don't, help me God. I was able to last year, but ever since January started it's just been so damn juicy. Ever since "Juice" came out. Ever since the juiciest year of our Lord and Savior. So I don't know, girl, I'm really working on it. Maybe I'll talk about it on the next album."

On Her Collab With Absolut Juice
"It was called Absolut Juice and when I saw that, that immediately attracted me to what they were doing. And then after seeing the creatives and really seeing myself in it...like, this is the shit.
"This is what I was talking about when I was talking about representation and like seeing yourself. And being that person that I wanted to see in magazines. And being that artist that I wanted to see on television, and see on a billboard. This is that moment for me, and it was really surreal and full circle growing up wanting to be an artist. Because I couldn't see a big black girl in a magazine, and I didn't see big black girls in commercials or getting deals and brand ambassadors. Like, this was that opportunity to do that and really be myself and really not have the brand overshadow me. Like, I feel like we're walking hand in hand in this partnership, and the product is good. It's delicious."
How She Likes to Enjoy Absolut Juice
"I like the strawberry with some champagne cause I feel like I'm having strawberries and champagne. Cause, you know, it's real fruit juice. And I like the apple one with cider. Don't that sound fire, like, especially in the fall? I don't even know how it would taste warm, but it might be good warm, and you could do a hot apple cider and throw some Apple Absolut Juice to that and kind of just sit by the fireplace and sip on it. You know what I'm saying, stir your little cinnamon stick in it. You know, look into the eyes of someone you love or you know, yourself. Just look at your reflection."
Lizzo's Co-Created Absolut Juice Cocktail
Absolut Juice Apple Caramel Punch
2 parts Absolut Juice Apple
¾ parts caramel syrup
¾ parts lemon juice
Build in tin, add ice, shake, strain.

Garnish with apple slices, edible star glitter and silver pastry spray.
Lizzo ends our interview as if we've known each other for years, with a simple "Alright girl love you, bye." And you know what, I love you too, girl.

For more stories like this, including celebrity news, beauty and fashion advice, savvy political commentary, and fascinating features, sign up for the Marie Claire newsletter.
RELATED STORY
Celebrity news, beauty, fashion advice, and fascinating features, delivered straight to your inbox!
Krystyna was the former Social Media Editor of Marie Claire where she oversaw all things social media and connected with MarieClaire.com readers. She came to Marie Claire from Racked.com, where she was the Community Manager. Before that, Krystyna was at Latina Mag and Cosmo for Latinas. She graduated with a Marketing major from Fordham University.