The Transgender Models Reshaping the Fashion Industry
Remember these names.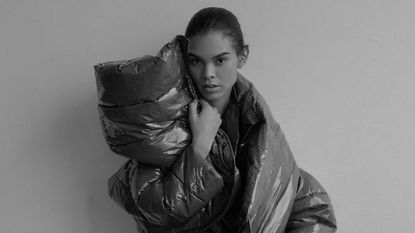 (Image credit: Christopher Horne )
The first mainstream transgender model, Tracey "Africa" Norman, was hand-picked in 1971 by Irving Penn at a casting call for Italian Vogue. From there, Norman walked for houses like Balenciaga and signed contracts with brands like Clairol and Avon. Her future in fashion seemed boundless—but when she was outed as a transgender woman, the work disappeared. Despite the prejudice shown against Norman at the height of her career, the fashion world has long maintained close ties with the LGBTQ+ community. Some of the industry's biggest leaders have had transgender muses: Stephen Sprouse worked closely with Teri Toye in the '80s, Thierry Mugler with Connie Fleming in the '90s, and Jean Paul Gaultier with Roberta Close, also in the '90s.
Today, trans models grace the runways without anyone blinking an eye. Hunter Schafer, originally a runway model, now boasts a starring role on the hit HBO show Euphoria. This summer, Valentina Sampaio became the first transgender model to grace the cover of Sports Illustrated. Andreja Pejić, who walked catwalks in Paris as early as 2011, helped pave the way for them both. Ahead, some of the trans models poised to become household names—if they're not already.
1/9
Valentina Sampaio
To grace the cover of Sports Illustrated's swimsuit issue is an honor. To be the first trans model to do so is historic. The Brazilian model has walked for Victoria's Secret and been featured on the covers of magazines like Vogue Paris and L'officel. She has also been the face of beauty brands including L'Oreal, Marc Jacobs, and Dior.
2/9
Lea T
Having graced the covers of the Italian editions of Vogue, Grazia, and Glamour, this Brazilian-born beauty who calls Riccardo Tisci her BFF is one of the most well-known trans models out there. When speaking with Love in 2011, the model said, "When I first started taking hormones I remember being in the bathroom crying..I was thinking, No one will give me a job; how am I going to do this?"
3/9
Hunter Schafer
A fan favorite on the hit HBO show Euphoria, the model-turned-actress has been featured on the covers of V, Dazed, and Paper. She has also walked for designers including Dior, Miu Miu, and Rick Owens. When speaking to the New York Times about gender as a concept, she said: "Earlier in my transition, I think I relied on a vantage point of the world that was very close to the gender binary and was only able to be myself in the gender-binary viewpoint. And as I've learned more about my community and come to understand gender as a spectrum, and the gender binary as something that's nonexistent and a construct and a product of colonialism, I have sort of let go of the idea that I need to do the one or the other—and just let myself be."
4/9
Fabiana Gomez
A small-town girl, Gomez has said she was rarely exposed to queer people growing up. In her adolescence, she discovered fashion and began modeling. Now she volunteers at an LGBTQ+ homeless youth center, works with various organizations to support young queers of color, and speaks at conventions about AIDS and trans rights.
5/9
Rue Charlotte
This 5'10", 22-year-old beauty was born in Berkhamsted, England, and currently lives in London. She's walked in shows for Rick Owens and Vivienne Westwood. The budding starlet is passionate about drawing and writing, citing Sylvia Plath and Haruki Murakami as inspirations.
6/9
Jari Jones
The newest face on that famed Houston Street billboard, Jari Jones starred in the 2020 Calvin Klein Pride campaign. On Instagram, she wrote: "It has been such an honor and pleasure to sit in my most authentic self and present imagery of a body that far to often has been demonized, harassed, made to feel ugly and unworthy and even killed."
7/9
Teddy Quinlivan
In 2015, Nicolas Ghesquière discovered Quinlivan. Since then, Quinlivan has walked for Fendi, Chloe, and Marc Jacobs. Speaking to Elle in 2018, the model said, "Transitioning isn't just a matter of growing out your hair, wearing heels, and piercing your ears. Taking hormones affects your mood; it's like being born again. It changes not only the way you look but the way you see the world. While my career was taking off—I was signed when I was 22—I was going through a lot emotionally. All of a sudden, I was acting like a prepubescent girl. And since I was concealing my identity, no one understood. So about a year ago, I decided to come out to my bookers, Michael and Pedja. They had no clue. Telling them opened their eyes and helped them better understand my situation. I realized I was ready to tell the world."
8/9
Nathan Westling
Nathan has walked for designers including Marc Jacobs, Michael Kors, and Helmut Lang. In an interview with Vogue, the model commented on his transition, saying, "It wasn't all sunshine and rainbows in the beginning. My first two months of the transition were tough, and it wasn't until I started to see physical changes that aligned with...my mental state that I finally woke up and [started] living. I'm happy. I can't even imagine going back to how I was before because it's just darkness."
9/9
Laith Ashley
Ashley, who studied psychology at Fairfield University in Connecticut, was the face of a Barney's campaign and has worked with Bruce Weber. When speaking to Vogue Paris about his transition, the model said, "I didn't know what transgender was until I was 19 years old. However, at 4 or 5 years old I just knew there was something different about me."
Marie Claire email subscribers get intel on fashion and beauty trends, hot-off-the-press celebrity news, and more. Sign up here.
Katie Attardo is the Accessories Editor at Marie Claire, covering all things fashion and jewelry-related.