Biker Jackets for Women That Only Get Better With Age
Release your inner rebel.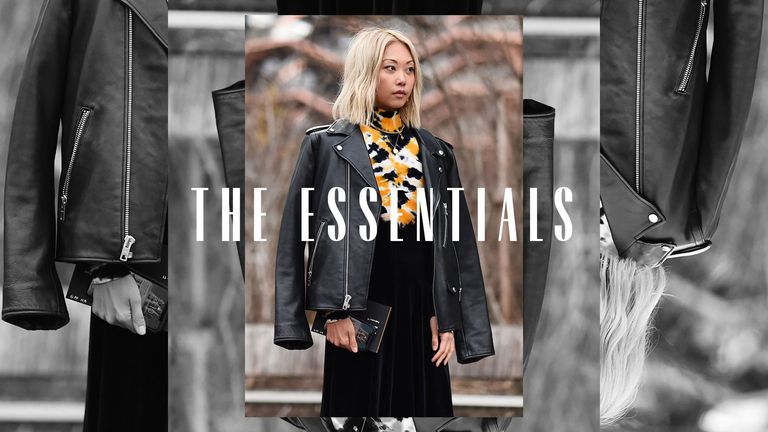 (Image credit: Getty)
Welcome to The Essentials (opens in new tab), our weekly series highlighting a must-have classic, key to building a timeless, pulled-together closet.
There are few pieces as sleek and timeless that give you an instant dose of punk-rock attitude like the biker jacket. This cult item has been around for almost a century and deserves to be a part of every woman's wardrobe. The first of its kind was born in 1928 when Manhattan raincoat maker Irving Schott created the first leather jacket, (opens in new tab) naming it after his favorite cigar, "Perfecto." Over the years, the jacket has evolved: In the early '50s, Hollywood encouraged the rough and rebellious reputation of the jacket with films like The Wild One, and Marlon Brando made it the ultimate bad-boy symbol. The biker jacket was then re-adopted into the punk rock scene, thanks to bands like The Ramones and singers like Joan Jett, who took to the stage in the '70s and '80s sporting Schott's Perfecto leather moto jackets. The jacket has since moved into the fashion world, and designers like Jean Paul Gaultier, Sacai and R13 (opens in new tab) have been incorporating it as parts of their collections each season.
Looking to upgrade? Maybe it's time to invest in a designer version that will last for years to come. Trying to stay on top of the latest trends? Channel your inner Hailey Bieber (opens in new tab) with an oversized moto jacket, or add a pop of color with a bright suede jacket to keep your look edgy and fun. Whatever you're looking for, these are our favorites.
The Original Biker Jacket
Schott NYC Women's Leather Motorcycle Jacket
The OG leather masterpiece. Of course this biker jacket has had a few updates since 1928, but the classic Perfecto from Schott NYC is a now-iconic jacket, thanks to details like soft durable leather, buckle belt, and shoulder epaulets. If taken care of properly, this jacket will last you a lifetime, and with a price tag of under a $1,000 it's truly a steal.
The Jagger Biker Jacket
Babaton Leather Moto Jacket
Who knew a jacket could have such sex appeal? This Aritzia moto jacket has a slim and flattering fit, with a funnel-style neck that mimics a popped collar. Wear yours with a figure-hugging midi dress and tousled hair for a effortless sexy look.
The Cropped Biker Jacket
(opens in new tab)
Petal & Pup Anafi Biker Jacket
Up the cool factor and bring your summer dresses into fall with this cropped biker jacket. Balance out the tough leather jacket with a floral dress and your favorite mules for a date night look.
The Suede Biker Jacket
(opens in new tab)
The Jacket Maker Kelsee Biker Jacket
The blue suede is a relaxed take on the typical black leather moto jacket. Wear yours with all your favorite basics to add some color to your fall wardrobe.
The Oversized Biker Jacket
(opens in new tab)
Asos DESIGN Oversized Washed Leather Biker Jacket
The biggest trend now is oversized everything, and the biker jacket isn't left out. This borrowed-from-the-boys fit is perfect for layering with chunky sweaters all fall and winter.
The Investment Biker Jacket
(opens in new tab)
SAINT LAURENT Leather Biker Jacket
Saint Laurent's biker jacket is nothing short of perfection. The craftsmanship, the Italian buttery leather, the instant edge that is added to any look—it's worth every dime. This is an investment piece that you'll treasure for years, and it will never go out of style.
The White Biker Jacket
(opens in new tab)
AllSaints Zipped Biker Jacket
"No white after Labor Day" is a rule of the past. Whether you're aiming for a monochromatic moment or looking to add some contrast, this white moto jacket will end up being a wardrobe favorite.
Shearling Biker Jacket
(opens in new tab)
Levi's Faux Leather Sherpa Lined Motorcycle Jacket
Winter is around the corner but that doesn't mean you have to hang up our favorite fall jackets. This shearling-lined jacket has got you covered, while keeping the classic moto style that we love.
The Sustainable Biker Jacket
Deadwood Womens River Wine
Stand out in all the right ways with this burgundy Deadwood biker jacket. This sustainable piece is made from recycled leather and the lining is made from 100 percent recycled plastic bottles. Wear this ec0-friendly jacket with your best denim and chunky Chelsea boots for a trendy yet edgy vibe.
The Go-To Biker Jacket
(opens in new tab)
Raey Oversized Tumbled-Leather Biker Jacket
This is the moto jacket you'll reach for time and time again. The slightly oversized fit and tumbled leather gives it a lived-in feel that can bring of sense of edge to an everyday look.
The Wow Factor Biker Jacket
Namesake The Cowhide Cropped-Prince
Turn heads with this cowhide cropped moto jacket. The ethically sourced cowhide paired with Western detailing adds a one-of-a-kind twist to this classic, timeless jacket.
The Authentic Biker Jacket
(opens in new tab)
Harley-Davidson Slim Fit Leather Biker Jacket
The reliable go-to for true biker babes. The quilted shoulders and buttoned neckline will keep you warm when the temps drop, and the classic style is chic whether your on the back on your bike or out raisin' hell.
The Vintage Leather Jacket
Balenciaga Leather Biker Jacket
Secondhand leather that's just as good as brand new? This Balenciaga biker jacket is a staple—snatch it before it's gone!
Taylor Ayers is a fashion editor at Marie Claire, covering the new editorial fashion trends, looks, and contemporary styles.