Editors handpick every product that we feature. We may earn commission from the links on this page.
Biker Jackets for Women That Only Get Better With Age
Release your inner rebel.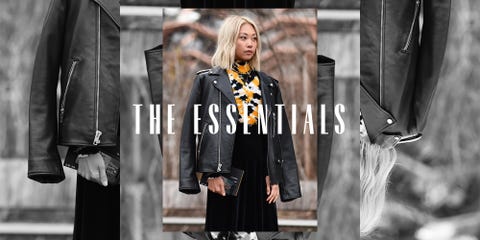 Welcome to The Essentials, our weekly series highlighting a must-have classic, key to building a timeless, pulled-together closet.
There are few pieces as sleek and timeless that give you an instant dose of punk-rock attitude like the biker jacket. This cult item has been around for almost a century and deserves to be a part of every woman's wardrobe. The first of its kind was born in 1928 when Manhattan raincoat maker Irving Schott created the first leather jacket, naming it after his favorite cigar, "Perfecto." Over the years, the jacket has evolved: In the early '50s, Hollywood encouraged the rough and rebellious reputation of the jacket with films like The Wild One, and Marlon Brando made it the ultimate bad-boy symbol. The biker jacket was then re-adopted into the punk rock scene, thanks to bands like The Ramones and singers like Joan Jett, who took to the stage in the '70s and '80s sporting Schott's Perfecto leather moto jackets. The jacket has since moved into the fashion world, and designers like Jean Paul Gaultier, Sacai and R13 have been incorporating it as parts of their collections each season.
Looking to upgrade? Maybe it's time to invest in a designer version that will last for years to come. Trying to stay on top of the latest trends? Channel your inner Hailey Bieber with an oversized moto jacket, or add a pop of color with a bright suede jacket to keep your look edgy and fun. Whatever you're looking for, these are our favorites.

This content is created and maintained by a third party, and imported onto this page to help users provide their email addresses. You may be able to find more information about this and similar content at piano.io