The 9 Best Jeans Brands for Tall Women
All I need in this life of sin...is a 30" inseam.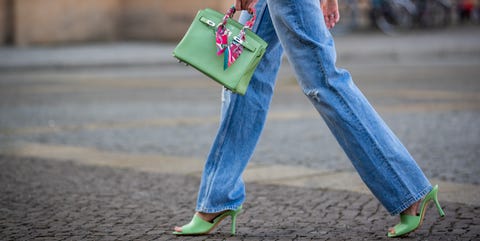 Being tall is a good thing—until it comes to buying denim. At least, that's what I learned from my best friend in high school, who would regularly be brought to tears in the fitting rooms on our mall escapades. You see, back in the early aughts, jeans for tall women were not a thing. (That was particularly tough during the dawn of bootcut era, when grinding your hems under the soles of your Steve Madden flatforms was part of the aesthetic—but I digress.) Today I meet you with my 2021 self, and with some 2021 news, which is this: While jeans for tall people are still hard to come by, things have gotten better for the long-legged among us. To compile this list, I tapped all my tallest and chicest friends, many of who are not riddled with angst anymore. Now, there are a lot of great jeans for tall women!
To determine if a brand carries jeans that will fit, remember that it's all about the inseam, a.k.a. the length of the seam from your crotch to the hem of your jean. If you're average height—or shorter than about 5'9"–most brands think around a 28" inseam will do you just fine. But if you're on the tall side, you'll want to look for inseams 30" or above, especially if you're after wide-leg, bootcut, or slouchy fits. Ahead, nine brands who offer extended inseams for either every single silhouette of denim offered, or enough that we were left thoroughly impressed.
This content is created and maintained by a third party, and imported onto this page to help users provide their email addresses. You may be able to find more information about this and similar content at piano.io