What 57 Celebrities Wore to Meet the President
Also required: Handshakes and toothy grins.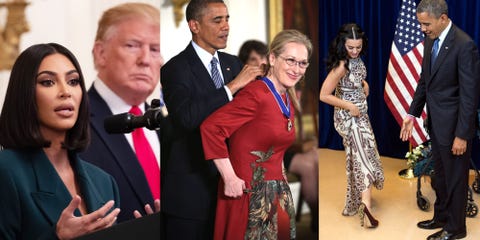 The pressure of what to wear when you meet the president (and possibly the first lady) is tenfolds anxiety-inducing compared to picking out a normal ensemble for work meetings. Most of us mere mortals may never get to experience these nerves (we, for one, don't mind), but we can empathize with celebrities who often have a front row seat or access to meeting the president. When this happens, they are photographed and publicized (we want to know what happened when Barack Obama met The Rock!), which means their outfits have to be on point. And, you know the celebrity's team of stylists have carefully thought out his/her every outfits. Most celebrities appear in modest dresses, suits, and the like, along with giddy smiles and a few tears. Ahead, see what the stars wore while meeting the presidents.
•••

For more stories like this, including celebrity news, beauty and fashion advice, savvy political commentary, and fascinating features, sign up for the Marie Claire newsletter (subscribe here).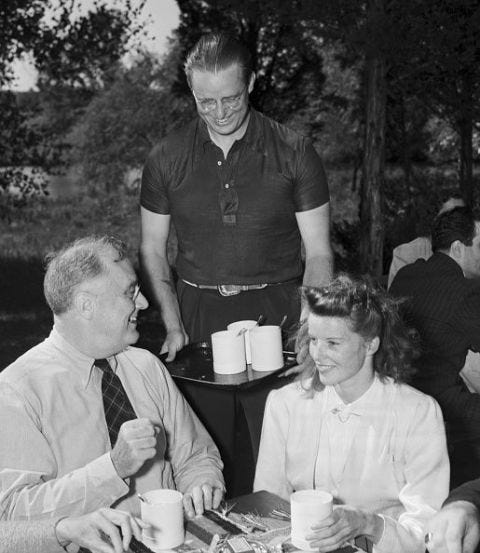 Katharine Hepburn With Franklin D. Roosevelt
Did you know that FDR and Katharine Hepburn were related through a common ancestor on the Mayflower? Well, when the actress joined the president for a luncheon devoted planning a radio show special on behalf of his 1940 presidential election—to which Hepburn wore a signature button down—they probably talked about that and more.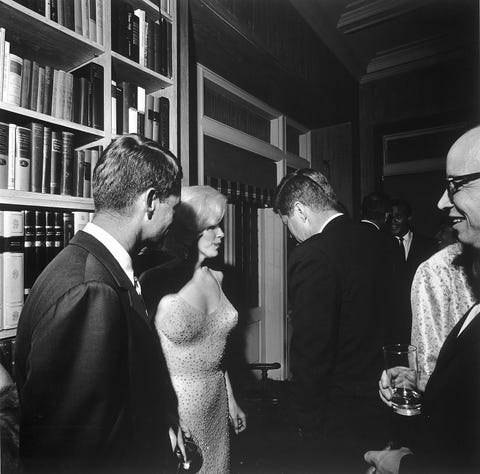 Marilyn Monroe With John F. Kennedy
Hollywood's most iconic blonde bombshell sang a brow-raising rendition of "Happy Birthday" for President Kennedy's 45th birthday in a stunning glittery gown. Fun fact: This is the only known photo of the two rumored lovers.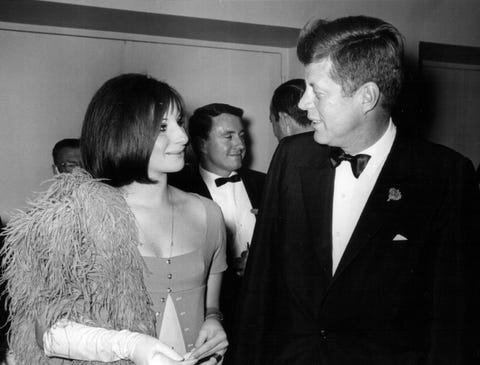 Barbra Streisand With John F. Kennedy
Barbra Streisand is obviously a mega star in her own right, but even this diva looked smitten with JFK when she met him in 1963. Her elbow-length white gloves and feathery boa are fancy and fun. And look at that chic bob!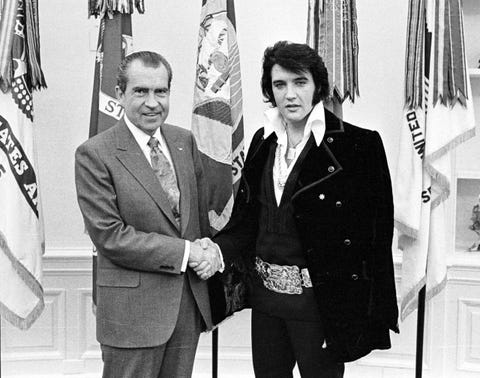 Elvis Presley With Richard Nixon
In 1970, Elvis appeared at the White House in a collar nearly as exaggerated as his belt and was named a "Federal Agent at Large" by President Nixon—he also received an honorary badge.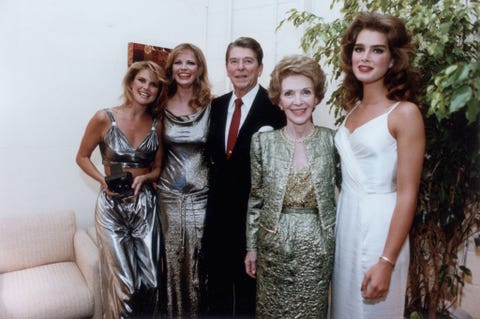 Christie Brinkley, Cheryl Tiegs, and Brooke Shields With Ronald Reagan
President Reagan and his wife Nancy snapped a quick photo with the famous supermodels at a Tribute to Bob Hope's 80th birthday at the Kennedy Center in 1983. All the women were in gowns—Brinkley in a two-piece number (a look that's recently back in style)!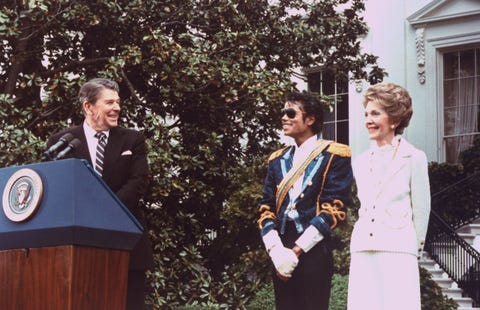 Michael Jackson With Ronald Reagan
President Ronald Reagan awarded Michael Jackson with the Presidential Public Safety Communication Award; the award was the result of MJ's classic song "Beat It" being used as the anthem of Reagan's public service campaign against teen drinking and driving. The King of Pop donned a single glove, naturally.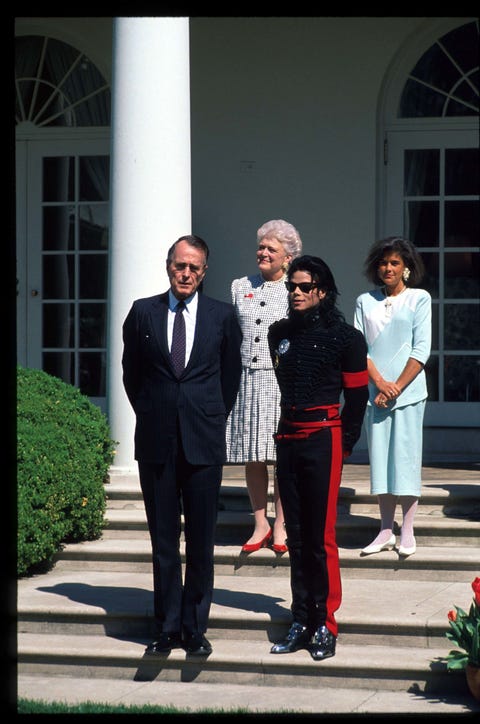 Michael Jackson With George H.W. Bush
Michael Jackson visited the White House in this snazzy black and red military-inspired ensemble in 1990 when he received the "Artist of the Decade" award from the first President Bush. The megastar received this honor more than one time throughout his life.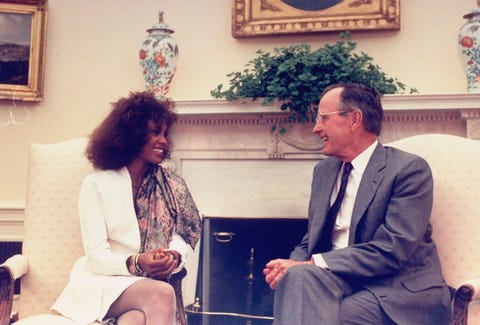 Whitney Houston With George H.W. Bush
Music legend Whitney Houston got a private tour of the White House from the president himself 1990. During that visit, President Bush named the icon a "Point of Light Contributing Leader."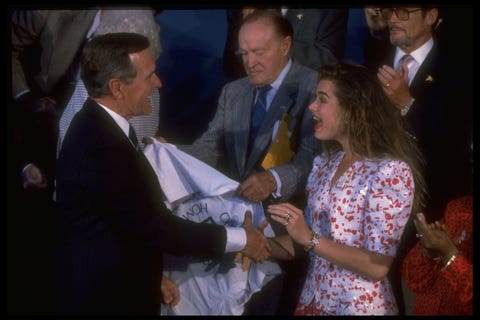 Brooke Shields With George H.W. Bush
In 1991, Brooke Shields joined President Bush and many others at "Welcome Home, America," the United Service Organization's 50th anniversary. (Her sleeves are perfectly turn-of-the-decade.) To the delight of the audience, Frank Sinatra sang the patriotic ballad "What is America to Me?" at the event.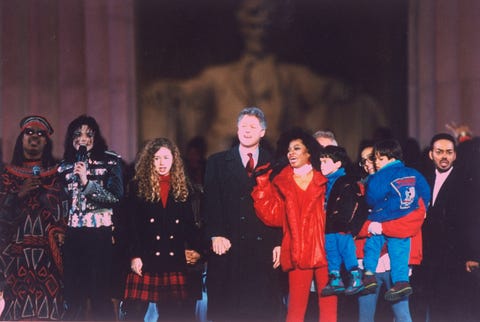 Stevie Wonder, Michael Jackson, and Diana Ross With Bill Clinton
Many celebrities were thrilled when Bill Clinton was elected the 42nd president of the United States. Just before his inauguration, to celebrate cultural diversity, the likes of MJ, Diana Ross, and Stevie Wonder performed in a two-day festival called America's Reunion on the Mall. The monochromatic ensemble Ross chose for the event is truly as iconic as she is.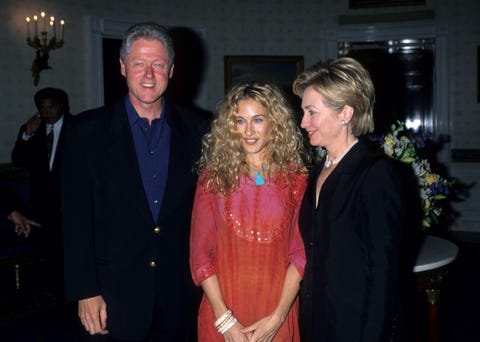 Sarah Jessica Parker With Bill Clinton
The VH1 Save the Music Foundation (founded in 1997) raised funding to maintain and support music programs in public schools across the United States. In 1999, the nonprofit organization held its Concert of the Century, and famous supporters of the arts such as SJP showed love. The star had just begun her role on Sex and the City and we think Carrie would very much approve of this outfit.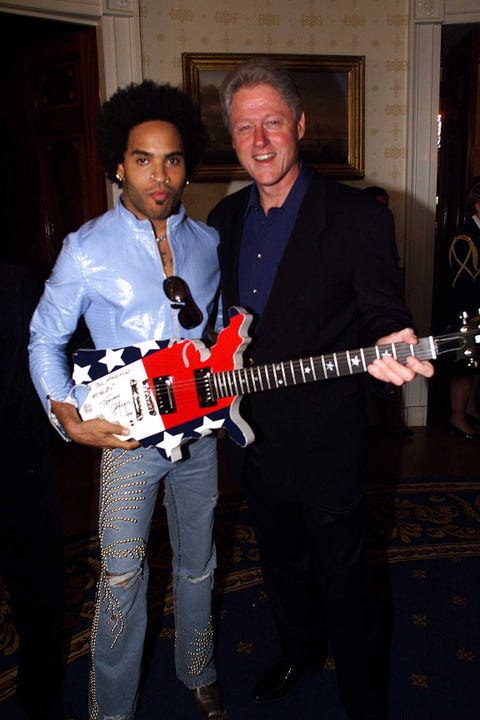 Lenny Kravitz With Bill Clinton
Grammy-winning rocker Leny Kravitz also performed at VH1's Concert of the Century. The "American Woman" singer rocked the mic onstage, showing off his patriotism with his red, white, and blue guitar. 'Merica.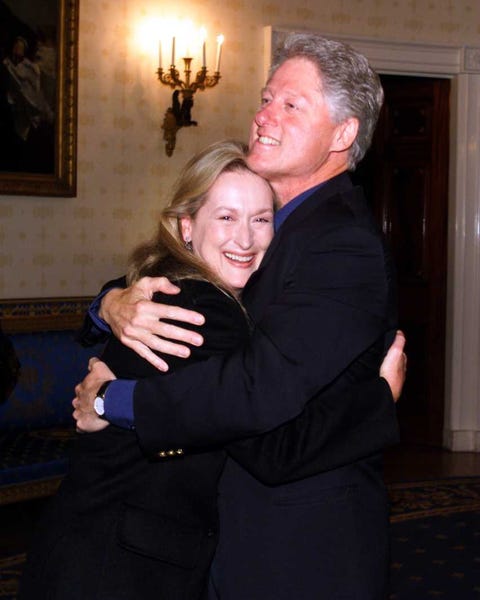 Meryl Streep With Bill Clinton
Meryl Streep got close and personal with President Clinton at the Concert of the Century. The Oscar-winning actress maintained a close relationship with the Clinton family, campaigning for Secretary Hilary Clinton in her 2016 presidential bid and was reportedly considered to play her in a biopic.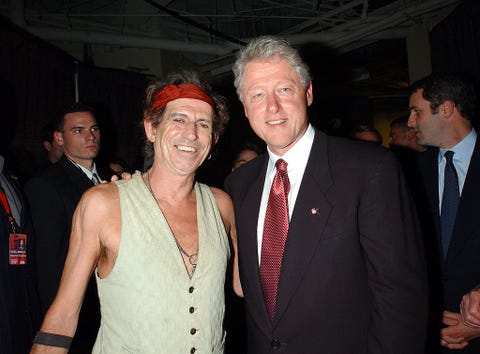 Keith Richards With Bill Clinton
Only a rocker could meet a president in just a vest. Here, the Rolling Stones singer-songwriter poses with the former president backstage at the 2001 Concert for New York City, a benefit concert in response to the 9/11 terrorist attacks.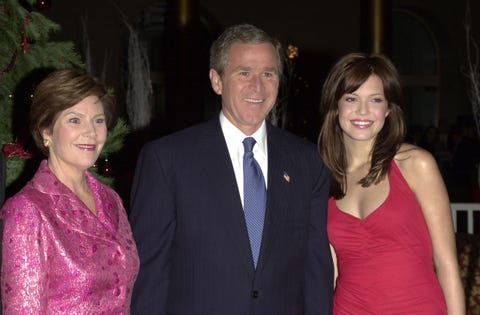 Mandy Moore With George W. Bush
Mandy Moore appeared with President Bush and the FLOTUS at TNT's annual holiday spectacular, "Christmas in Washington," in 2001 (for which she chose an appropriately festive red dress). She starred in the romantic comedy classic The Princess Diaries and released her self-titled third album that same year.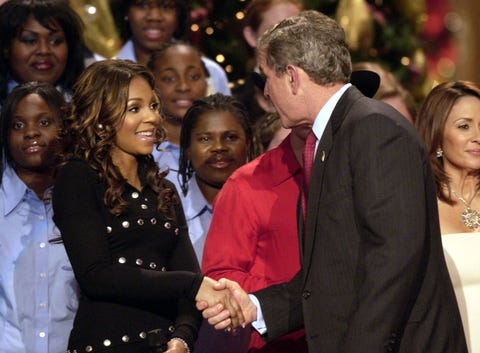 Ashanti With George W. Bush
In 2003, R&B songstress Ashanti joined the president at the same holiday celebration clad in a chic black dress with button details.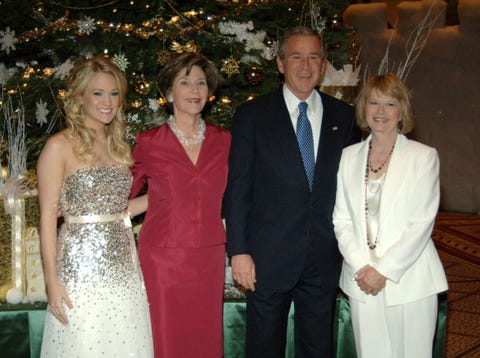 Carrie Underwood With George W. Bush
"Christmas in Washington" continued in 2005, and Carrie Underwood belted out various holiday staples onstage including "Last Christmas" and "O Holy Night." All eyes were on the American Idol winner as she glittered in a sparkled in a white ballgown, reminiscent of holiday tinsel.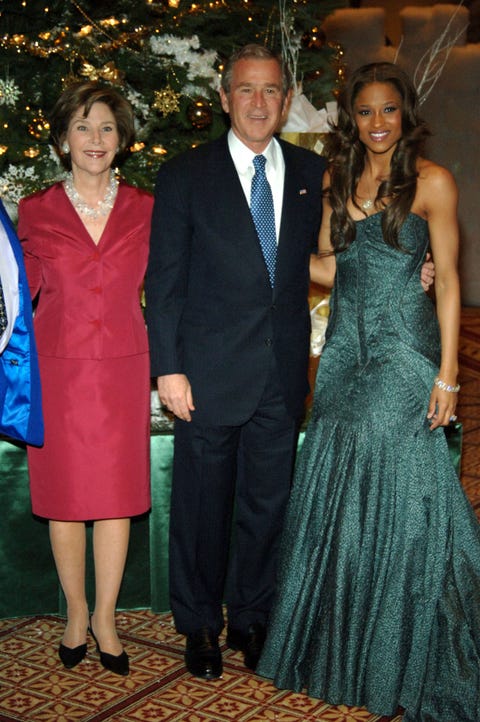 Ciara With George W. Bush
Ciara also scored an invite to the 2005 "Christmas in Washington" special, dressed in a festive emerald gown. The singer's debut album Goodies put her on the map, and Ciara spent much of that year touring the country with fellow R&B and hip hop up-and-comers Bow Wow and Omarion.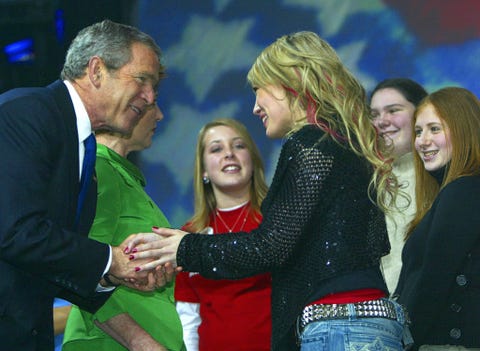 Hilary Duff With George W. Bush
When George W. Bush was elected president for a second time, the 2005 inaugural festivities included a youth concert headlined by Disney darling Hilary Duff (note the totally early 2000s red streaks in her hair) and featuring American Idol winner Reuben Studdard, Jojo, and Ryan Cabrera. The concert, called "America's Future Rocks Today," caused a stir when Brett Scallions of the band Fuel cursed on stage. A totally different time, 2005.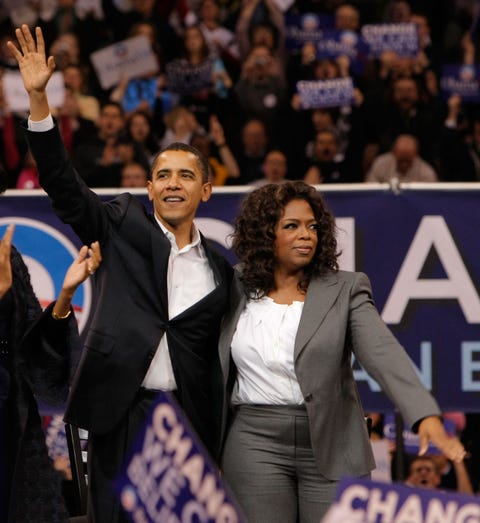 Oprah Winfrey With Barack Obama
Oprah Winfrey stepped out in a grey power suit to offer one of the earliest endorsements of then-Senator Barack Obama's first presidential run in 2007. Passionate about the young senator's cause and drive, the TV mogul even hit the road with the Obamas and joined them on the campaign trail. To this day, Winfrey and the Obamas remain the best of friends.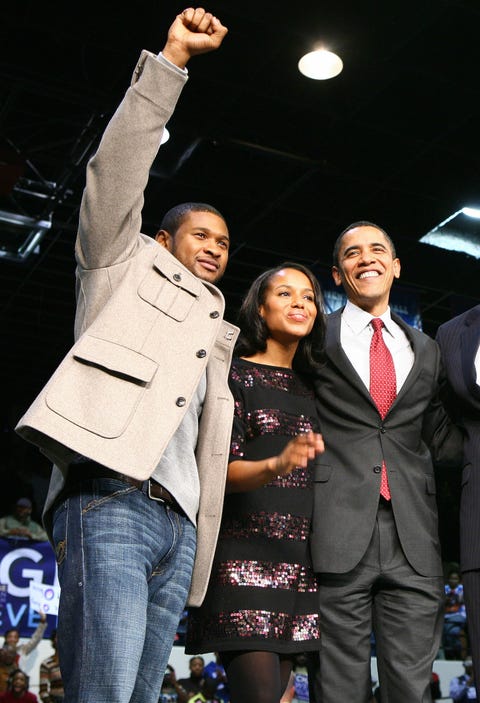 Kerry Washington and Usher With Barack Obama
Kerry Washington and Usher showed some love to the future 44th president as he campaigned for his first election in 2008. The trio reunited once more at President Obama's White House farewell party in 2017, which, apparently, was a total rager—word on the street is that the demure actress was moshing!
Jennifer Lopez and Marc Anthony With Barack Obama
Snazzily dressed in their best black-tie attire, J.Lo and Marc Anthony posed with the First Couple at President Obama's inaugural ball in 2008. The then-married couple also performed together at the big event, singing the romantic duet "No Me Ames" onstage.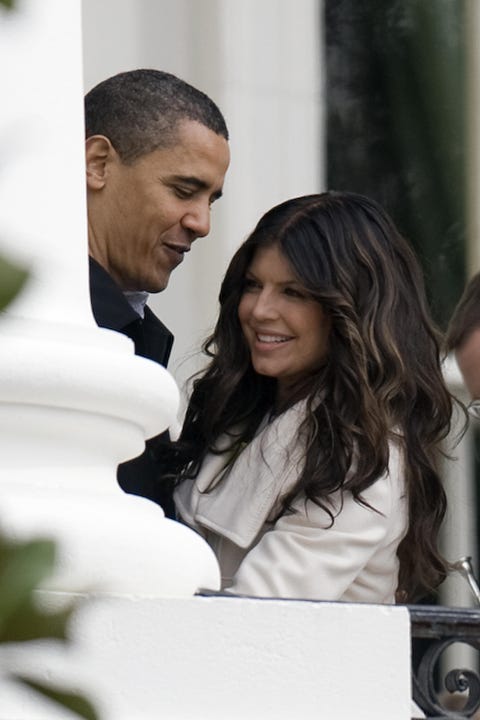 Fergie With Barack Obama
Barack Obama thanks Fergie for performing the national anthem during the 2009 White House Easter Egg Roll on the South Lawn in 2009. The star wore a classic white trench coat.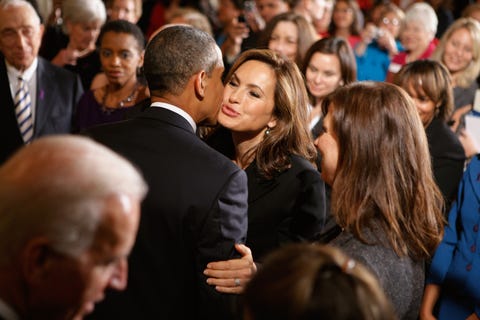 Chip Somodevilla
Getty Images
Mariska Hargitay With Barack Obama
Barack Obama and Law and Order: SVU star Mariska Hargitay shared an air kiss during a Domestic Violence Awareness Month event in the East Room of the White House in 2010. The star kept it classic in black, which also paid homage to her character Olivia Benson's professional wardrobe.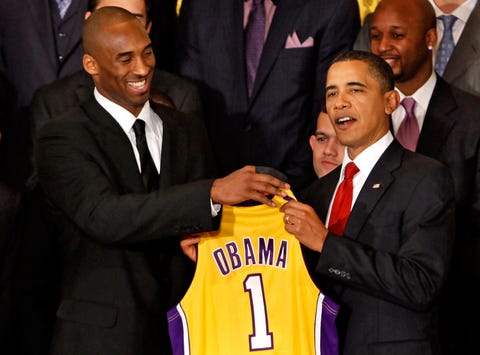 Chip Somodevilla
Getty Images
Kobe Bryant With Barack Obama
The Los Angeles Lakers guard looked so dapper in a suit while presenting a jersey to Barack Obama during an event with the National Basketball Association 2009 champions in the East Room of the White House in 2010.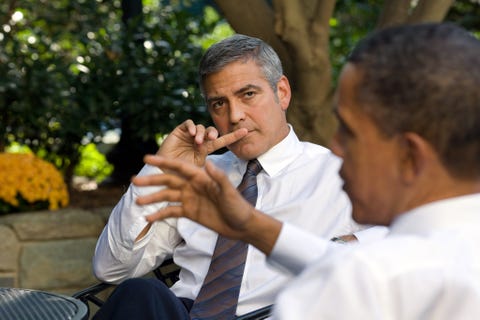 The White House
Getty Images
George Clooney With Barack Obama
The actor dressed up in formal attire and visited Obama to talk about Sudan during a meeting outside the Oval Office in 2010.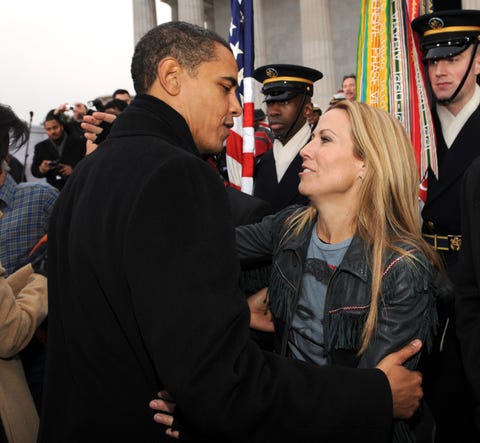 Sheryl Crow With Barack Obama
Sheryl Crow went in for a hug after hitting the stage at the 2009 "We are One: The Obama Inaugural Celebration" in Washington, D.C. (in a T-shirt featuring his visage, no less). The singer-songwriter supported President Obama in both the 2008 and 2012 presidential elections and even performed at a 2015 Democratic primary debate.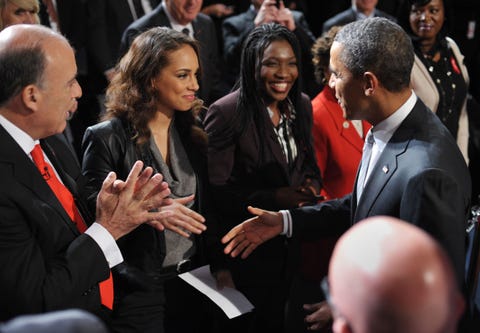 Alicia Keys With Barack Obama
The "Girl on Fire" reconnected with President Obama at a World AIDS Day event at George Washington University. The event, Hosted by ONE and (RED), was attended by politicians (including former presidents George W. Bush and Bill Clinton) and major entertainment influencers like Keys and U2 frontman Bono.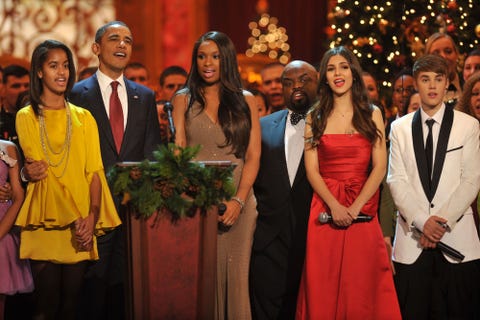 Jennifer Hudson, Victoria Justice, and Justin Bieber With Barack Obama
The celebrities joined the First Family in the capital for the the 2011 "Christmas in Washington" festivities. And all showed up in their formal holiday best (Bieber even went for a white jacket!). It wouldn't be Jennifer Hudson's last time performing in front of the Obamas, however; the Chicago native dazzled the crowd at the president's second inaugural ball with a jazzy rendition of Al Green's "Let's Stay Together."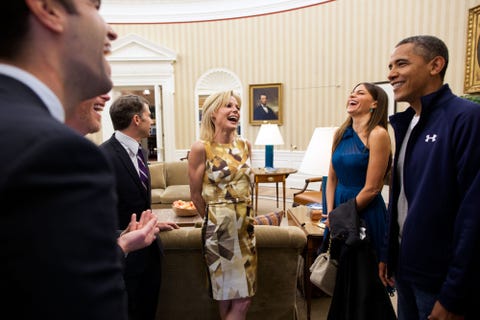 Official White House Photo by Pete Souza
Julie Bowen and Sofia Vergara With Barack Obama
The cast of ABC's family sitcom Modern Family laughed it up with the president during a 2012 visit to the White House. President Obama looked excited to be meeting some of his favorite actors—he is, after all a huge fan of the show and tunes in regularly to watch the Pritchett family's shenanigans. (Unrelated, but can we just take a moment of appreciation for Bowen's biceps?)
This content is created and maintained by a third party, and imported onto this page to help users provide their email addresses. You may be able to find more information about this and similar content at piano.io