Paris Fashion Week 2021: Our Favorite Looks
Fashion month comes to an end in the City of Lights.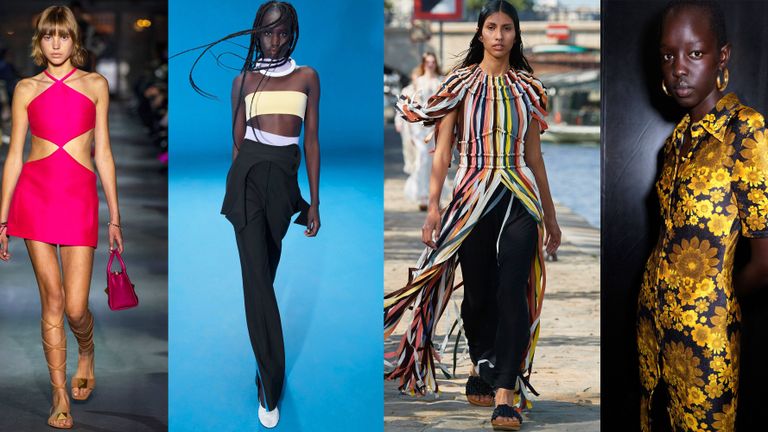 (Image credit: Valentino/Nina Ricci/Chloé/Kwaidan Editions)
The last stop of fashion month is Paris, where designers showcased their creations sprinkled among the historical landmarks and French manicured gardens. The city itself is a source of inspiration for designers and editors, and especially so this fall, as fashion gets back to in-person shows after several seasons of virtual. While vibrant colors and an abundance of skin have been a consistent theme, there was also much talk about what lies beneath. Designers like Nina Ricci and Stella McCartney are looking to the future—way beyond Spring/Summer 2022—by incorporating innovative new vegan fabrics and using clothes to send pertinent messages about climate and ocean preservation. Valentino took their runway to the city streets for everyone to enjoy, while Balenciaga put everyone on display, models and guests alike, via a red carpet and big jumbo screen.
Kenneth Ize
Kenneth Ize
Giambattista Valli
Giambattista Valli
Givenchy
Givenchy
Lanvin
Lanvin
Balenciaga
Balenciaga
Hermès
Hermès
Valentino
Valentino
Nina Ricci
Nina Ricci
Loewe
Loewe
Isabel Marant
Isabel Marant
Chloé
Chloé
Raf Simons
Raf Simons
Rick Owens
Rick Owens
Balmain
Acne Studios
Acne Studios
Patou
Patou
Courreges
Courreges
Kwaidan Editions
Kwaidan Editions
Dries Van Noten
Dries Van Noten
Rochas
Rochas
Longchamp
Longchamp
Thebe Magugu
Thebe Magugu
Saint Laurent
Christian Dior
Christian Dior
Marine Serre
Marine Serre
Koche
Koche
Stella McCartney
Stella McCartney
Schiaparelli
Schiaparelli
Louis Vuitton
Louis Vuitton
Lacoste
Lacoste
Chanel
Chanel
Miu Miu
Miu Miu