Made in America: Domestic Garment Workers Share Their Stories
"At 18 cents a piece, I earn practically nothing. There's no way to get ahead."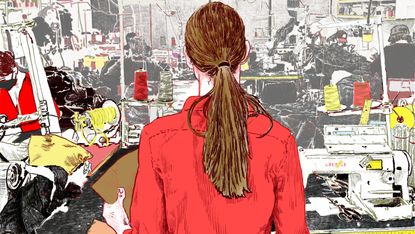 (Image credit: Winnie T. Frick)
Marie Claire Newsletter
Celebrity news, beauty, fashion advice, and fascinating features, delivered straight to your inbox!
Thank you for signing up to Marie Claire. You will receive a verification email shortly.
There was a problem. Please refresh the page and try again.
In 2013, Rana Plaza, an overcrowded and poorly-constructed building that housed several garment factories in Bangladesh, collapsed and killed 1,134 workers. The industry disaster is considered the deadliest in modern history. It ignited labor rights movements demanding safer conditions for garment workers and served as a mass awakening for worldwide consumers, forcing them to consider: Where are my clothes made?
For many American shoppers, wondering about the "where" of garment work reignited calls to bring production back to domestic soil. Factor in former president Donald Trump's unrelenting nationalism and concerns surrounding the global supply chain, and the Made-in-America mentality has only gathered more steam. Nearly 70 percent of U.S. citizens prefer products made in America, and over 46 percent believe domestic manufacturing signifies better quality.
But when you extract patriotic pride from U.S. apparel production, truths that are far less feel-good emerge. The Federal Trade Commission upholds guidelines for what constitutes a "Made in the USA" product, but without strict implementation and follow-through, America's garment industry operates with relative leeway. In some instances, the very promise of red-white-and-blue-blooded production is fraudulent: Some garment workers sew "Made in the USA" labels on clothing that had been brought in from other places, according to one garment worker Marie Claire spoke to.
Then there are the working conditions. In some U.S. apparel factories, they mirror the overseas exploitation that makes headlines. A recent study by the Garment Worker Center (GWC), UCLA's Labor Center and Labor Occupational Safety and Health Program, found that in Los Angeles, America's biggest apparel manufacturing hub, 60 percent of workers are immigrant women (the majority from Latin America, followed by Asia), and the city abuses their immigrant status for low-wage labor. Sixty percent of those surveyed also reported "excessive heat and dust accumulation due to poor ventilation that rendered it difficult to work and breathe," and 42 percent shared that the exit doors to their factories were obstructed and inaccessible. A recent New York Times investigation found middle-schoolers making Fruit of the Loom socks in Alabama. (In a statement to the Times, Fruit of the Loom said it ended its contract with the supplier.)
Legislation to improve conditions for workers in the garment industry exists but is not sufficient and is often not enforced. Senator Kirsten Gillibrand (D-NY) introduced the Fashioning Accountability and Building Real Institutional Change (The Fabric Act) in 2022, which pledges to eliminate wage theft and establish transparency measures. But without robust enforcement, rulings fall by the wayside, allowing exploitative practices to carry on behind closed factory doors. Take California's Garment Worker Protection Act which took effect last year: It prohibits manufacturers from paying workers per piece and mandates an hourly rate not less than the minimum wage. That same year, the Wage and Hour Division found that 80 percent of randomly selected Southern California sewing facilities violated federal wage laws, with 32 percent continuing to pay piece rates. One contractor paid an hourly rate of $1.58.
When workers are treated fairly, a different story emerges. One where working in the garment industry can be a source of pride. It's a specialized craft that is sometimes passed down from generation to generation. There's health insurance, retirement plans, reliable hours, and even the opportunity to start a business of one's own.
To better understand the realities, Marie Claire spoke to six women working in America's garment industry. These are their experiences.
---
Isabel, 54; Los Angeles, California
I was born in El Salvador and came to the United States when I was 22. When I arrived in America, I started working for somebody who gave me my first job in the garment industry. They taught me how to work. They showed me what garments are and how to make them. I've been working for many years now and know various positions—a checker doing quality control on finished garments, a trimmer cutting excess fabric and threads, and a presser ironing and steaming out wrinkles—but my rate of pay has always been incredibly low. All of my experience has been working by piece rate, not hourly. My wages have been as low as seven to nine cents a garment. Currently I work in a large sweatshop as a checker and trimmer and make about 18 cents per piece. I earn $20 to $25 a day. I can only afford to rent small living rooms for $150 to $200 a month. That's been my existence over the last five years—living in living rooms.
I've fallen on the job. I've been hit by these big carts in the factory. The manager is always yelling and it feels verbally abusive. I'm not pulled into an office to get reprimanded; I'm yelled at in front of everybody on the factory floor. I'm so angry, too, because I feel that the bosses discriminate against me. They give me the more difficult, time-consuming jobs but for less pay. The simpler styles, like T-shirts, are sent to others, but my job is to check and trim the more complicated styles with more seams and pieces. That takes more time, and at 18 cents a piece, I earn practically nothing.
No one really cares that I'm experiencing these things and earning such low wages. When I discuss it with the manager, she yells and threatens to fire me. There's no way to get ahead. How could I study or go to school? How can I do things I want to do? I can't because they pay us what they want.
---
Mei, 56; New York, New York
I grew up in the countryside in South China in a very poor economy. We didn't have a lot, but I've always liked to create and work with my hands. As a young girl, I would grab someone's leftover fabric scraps and embroider them. I would see somebody in my neighborhood and want to copy what they're wearing, so I'd make it myself.
I've worked in the garment business for over 30 years: making runway samples, fittings, alterations, and patternmaking. In 2019, I started my own pattern and sample-making studio in New York City. I have 12 people working for me—three patternmakers, including me, eight or nine sewers, and one cutter. It's a lot of work. Every day, I work about 15 hours and sometimes 20 hours for bigger jobs. But I'm so proud of myself because I didn't know what I was doing when I started the business and now we're very successful.
My clients are high-end runway designers like Kate Spade, Brandon Maxwell, Mugler, and Tory Burch. We made two dresses for Coach and one for Carolina Herrera this past Met Gala. We worked with Brandon Blackwood to make a dress for Beyoncé. These designers trust me, and I'm so happy to work with them. But other clients don't always respect how much time and energy we put into this. One designer just didn't pay. We made the whole collection, and he ran it on the runway but refused to pay when I sent him the invoice. He owes me $35,000. Some designers want what we do to be a secret—they don't like when I post anything on social media. Occasionally, we have to sign agreements that we'll get no credit, nothing.
It's sad because I want people to see the work we've done and for my team to feel proud of themselves. It's important that fashion is a collaboration. If you're a patternmaker but don't have a sewer, you can only make a pattern. And it's the same thing if you're a designer. You can make a beautiful design, but you need a good team to make beautiful things. I always tell my sewers and patternmakers, 'You guys do really beautiful work. You're the best team in New York. I can't do this without you.' We share the love together.
---
Veronica, 34 and Jerilyn, 57; Easton, Pennsylvania
Jerilyn: I was raised in Wind Gap, Pennsylvania, in the Slate Belt area. It used to be full of garment factories. You could walk from one factory on one side of the street to another one across the way. My uncle was a boss at a factory in Jim Thorpe, Pennsylvania, and my mother, brother, and sister spent most of their whole working life in that blouse mill. But then the North American Free Trade Agreement went through and wiped everything out that was going for the workers. Overnight, their jobs were gone, and all those places closed up. Now there are only two factories still in business—that's all we have left out of hundreds of shops. I work at one of those factories, Fanatics, which makes baseball uniforms, and I've been there for about 21 years.
I do a little bit of this and a little bit of that, but mainly my job is top-stitching around the sleeves and making the side panels of the uniforms. We have a union, which guarantees that we keep our jobs. The company and the union seem to get along well. We negotiated regular raises for about 12 years and got a very big raise this time around. We have healthcare that we don't have to pay as much into. We get a good pension. We have nice working hours, 7 a.m. to 3:30 p.m. And I get along with everyone. I don't miss any work because I like going in and seeing people. It seems wild, but I just like it.
Veronica: Jerilyn is my mother. I got into sewing because of my family; A lot of them have worked in the garment business, so they taught me how to sew. A few years back, I needed health insurance and a good, stable job, so I got a job with my mom at Fanatics. I've worked there for three years now and I enjoy it. It's a good job. My mother and I are on the same shift together. She's in the shirt department and I'm in the pants department. The stations are side by side, and we can see each other through the aisles. It's nice to work together. We go on our breaks together and carpool together sometimes. We have a cousin who works at our facility, too.
Our workforce is getting older and a lot of them are retiring now, so our facility started a program to teach younger people in their twenties and thirties how to sew. It's really tedious hard work, but it's nice to see young people like myself still interested in this kind of craft. When you say you sew, people think, Oh, you're an old lady. But I think it's pretty neat to know how to sew. If you buy something that doesn't fit, instead of paying all that money for a tailor, why not sew it yourself? If you get a tear in your clothes, why don't you fix it? It saves you money to know how to sew. Besides, you won't always have your grandmother or mother to sew something for you. It's a good trade to know.
---
Mayte, 51; Los Angeles, California
I got into garment work because, unfortunately, the person I married left me with our two children. I had to work and provide for them—I had no choice.
I work at a big clothing factory and do a lot of sample-making. You have to be accurate otherwise the manager will throw it back to you if there are any errors. We have a 15-minute food break, but sometimes we can't take it because they put so much pressure on us to work quickly. The factory owner isn't involved—but the manager is, and they're always watching. The bathrooms are near their offices, so they can see how much time you spend in the bathroom, and there are cameras throughout the factory so they can monitor you.
One factory I used to work at had big government contracts to make face masks and military uniforms, and the managers had a competition to see who could produce the most. I was working 12-hour days. This job really hurt me physically; my hands would become so sore and damaged because of how fast-paced and repetitive the work was. But I never had time to recover. My left arm is still injured from being so overworked
---
Dialena, 29; New England Area
I was born and grew up in Cape Verde but came to the USA through the immigration process when I turned 18. I had to adapt to a new country, new reality, and I took every opportunity to grow personally and professionally. My mother came to the U.S. before me and already worked at Joseph Abboud, so she helped me get a job there. I worked at Joseph Abboud for almost eight years. My job was in the pants department, specifically in the loops department working on belt waistbands. But I did a lot more things: I became the shop steward and then got involved with our union as a representative on the e-board.
My mission was to talk with my colleagues and then speak with company representatives in the HR department. I speak six languages, so I helped with translation because, to most of the immigrant workers, the language barrier was a concern. English was not their primary language, so information often didn't get to them. For those who were pregnant, information on the maternity process— taking care of their pregnancy, going home to have the baby—did not get to them. They were afraid the employers wouldn't understand what they had to say and that nothing would change because they couldn't express themselves well. But I got to be the voice of these diverse people when they couldn't understand English or were afraid they weren't being heard. At the end of the day, my coworkers felt they had someone to count on.
When I look back, I thank God I got into the garment industry because now I work as a business agent for the union UNITE HERE. I don't just help my colleagues at Joseph Abboud. Now, I help a lot of union members in different industries as an intermediary between them and their employers. I wake up every morning and am so happy because I know what I do that day will help someone. It could just be translating or giving payroll information, but I know what I do will help change someone's life and future. It's a dream come true because an overwhelming amount of workers need attention and help—especially immigrants. This job means so much to me because I understand what immigrants feel and what they've gone through; I know their struggle and need to adapt to a new reality. So me being there, being in the middle of that, is amazing because I'm helping my own people.
---
The Fashion Changemakers Issue
Celebrity news, beauty, fashion advice, and fascinating features, delivered straight to your inbox!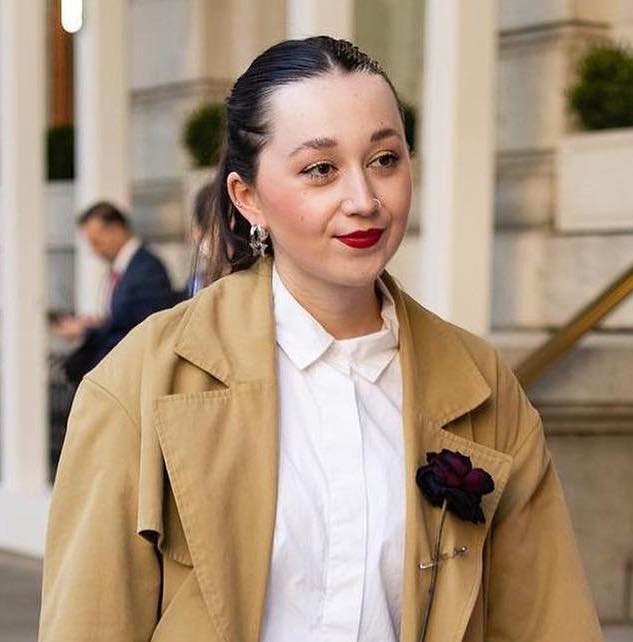 Emma Childs is the Style Editor at Marie Claire, where she researches up-and-coming trends, curates shopping guides, and gushes about the must-buy items she can't stop thinking about. She previously wrote for TZR, Editorialist, Elite Daily, and Mission Magazine and studied Fashion Studies and New Media at Fordham University. When she's not writing up fashion deep-dives or finding the season's best pieces, you'll find her fiddling around in Photoshop and perusing HBO Max for the next show to base her personality on (currently, it's "Succession").