How Sustainability Will Redefine the Future of the Fashion Industry
Marie Claire and Kering brought sustainable fashion center stage at the Fashion Our Future Event in New York City on March 16.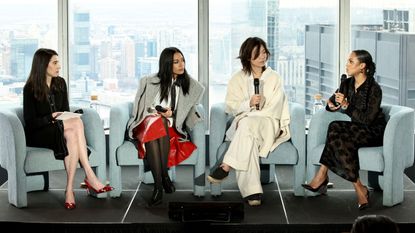 (Image credit: Getty)
Marie Claire Newsletter
Celebrity news, beauty, fashion advice, and fascinating features, delivered straight to your inbox!
Thank you for signing up to Marie Claire. You will receive a verification email shortly.
There was a problem. Please refresh the page and try again.
As the fashion community continues to fight for sustainability, one thing is for certain: without collaborative efforts, achieving goals like reduced carbon emissions, more transparency throughout the supply chain, and protections and fair wages for garment workers is unlikely. "We can't just go at it alone," said Saad Amer, an environmental justice expert, and consultant to the United Nations. "Having conversations and mobilizing communities is how change happens. The one thing that gives me hope is knowing that change is possible," he added encouragingly.
This sentiment echoed throughout the morning as panelists and guests joined together on March 16 in downtown Manhattan for the second Fashion Our Future event, a global initiative between Marie Claire and Kering that brings together passionate experts, activists, and celebrities to raise awareness and encourage actionable change in the fashion industry.
Helping bring the message of sustainability to a global platform through a luxury lens, Kering Chief Sustainability and Institutional Affairs Officer Marie-Claire Daveu spoke with Marie Claire International's Chief Content Officer, Galia Loupan, not only about Kering's progress in the sustainable fashion space, but also about the blind spots and trade-offs that come with lofty, but necessary sustainability goals. "It's a big challenge, but we must push to scale and go quickly. We don't have the time to change the paradigm," said Daveu. Similarly, Kerry Washington, actress, producer, and founder of Simpson Street, noted the importance of taking action now. "This is not a flashbulb moment, this is not a trend, this really has to be a way that we right the ship so that we maintain the health of our planet," she insisted.
Innovating new ways to implement sustainability into the supply chain, retail space, and design processes was a topic brought to the forefront with discussions alongside entrepreneurs Hassan Pierre, the Co-founder of sustainable e-tailer space MAISON DE MODE, and Natasha Franck, the founder of EON, a digital identification technology. "The biggest way to change a system is to identify a leverage point. One small action can change the entire process," said Franck. She explained how a simple digital ID for our clothing could help steward new and existing products through a circular lifespan.
Daveu also noted the importance of innovation and Kering's part via their Italian-based Material Innovation Lab, a library and research hub that aims to bring sustainable new materials and fabrics to their supply chain. "We created the Material Innovation Lab to make a strong proposal to [Kering] designers and their teams to use these raw materials," explained Daveu. The MIL has more than 4,000 sustainable fabrications and samples utilized throughout the Kering group. Gucci's new Demetra sneaker, crafted primarily from animal-free raw materials, and a Saint Laurent tote, crafted from organic cotton yarn fabric that meets the strict Certified Global Organic Textile Standard (GOTS), were some pieces on display for guests to interact with throughout the morning.
The invincible power of community was also a vital pillar in the day's panel discussions. "Every time you empower women, you empower an entire community," said Abrima Erwiah, co-founder of Studio 189 and Director of the Gromek Institute for Fashion Business at Parsons. "When you give women jobs, the first thing they do is give [resources] to their family, and they send their kids to school," said womenswear designer Angel Chang, whose zero carbon designs focus on natural, handmade pieces crafted by indigenous tribes in the mountains of Guizhou, China.
Conversations like these also noted the importance of uniting voices with a 360-degree approach. "Any time you want to try to affect monumental change, you need all ships aligned in the direction of the North Star," said Aurora James, Founder & Creative Director of Brother Vellies, The Fifteen Percent Pledge, and Author of Wildflower: A Memoir. "So much of sustainability is still a conversation because we are all still figuring it out and need to help consumers figure it out. "Real change happens only when the message has been delivered at every stage of the process," added Washington.
A look toward the future and future generations was also a bright spot in the day's programming. Guests got a first listen at the Fashion Our Future podcast and an invitation to visit the interactive exhibition showcasing seven Fashion Institute of Technology design students' work focusing on upcycling techniques, all-natural or sustainable materials, and sustainable innovations. "What gives me hope and optimism are the students and young people that sit with a muse on their shoulder and don't let them forget their mission and purpose," said FIT's President, Dr. Joyce Brown.
While we don't know what the future of fashion will look like five or ten years from now, panelists universally agreed that there are slow shifts happening in the status quo. "You don't work in sustainability if you're not optimistic. It's not easy every day, but it's in our DNA." said Daveu.
---
Fashion our Future is also the name of a new podcast that explores solutions to make the fashion and luxury industries more sustainable and circular.
Over the course of five episodes, French journalist and host of the Podcast Laurianne Melierre met with passionate industry insiders, scientists, entrepreneurs, and researchers that will empower you with knowledge and hope for the future.
You can get a taste of this new project with the same sound experience offered to guests of the Fashion our Future event in New York City on March 16. Delve deeper into the issues by checking out the Podcast, available now.
Celebrity news, beauty, fashion advice, and fascinating features, delivered straight to your inbox!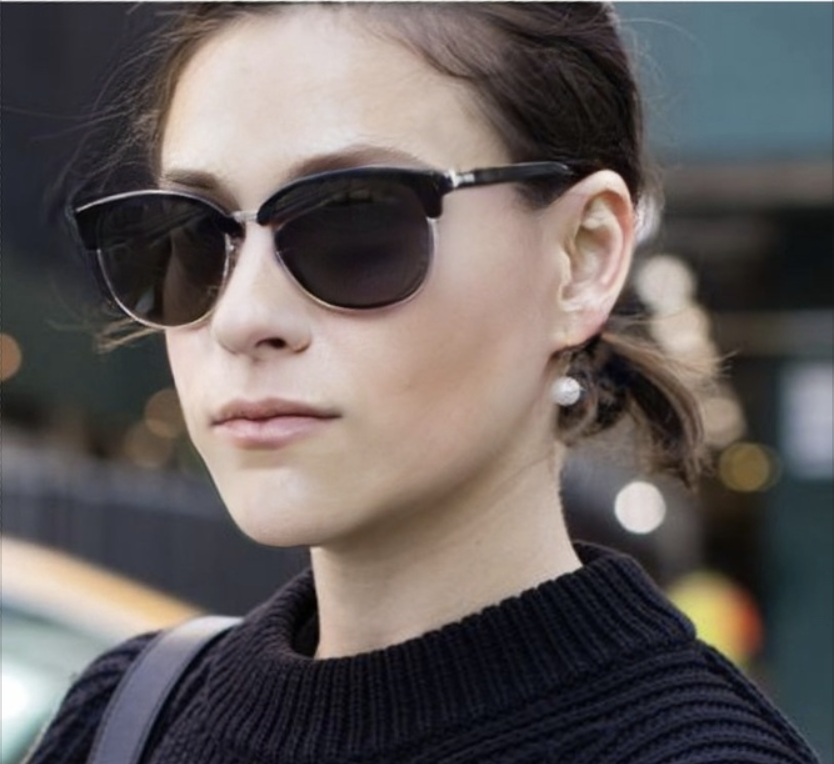 Sara Holzman is the Style Director at Marie Claire, covering runway trends and tracking down the latest finds to buy and wear. When she's not writing about fashion, she pens about the best places to jet-off to. Over her six years with Marie Claire, Sara has reported on the ever-evolving world of fashion— covering both established and emerging designers within the industry. Sara has held fashion positions at Lucky and SELF Magazine and was a regular contributor to Equinox's Furthermore website, where she wrote across their style, wellness, and travel verticals. She holds a degree in Journalism from the University of Missouri, Columbia, and currently resides in Manhattan. Follow her along at @sarajonewyork.