This Groundbreaking Fashion Show Featured Models with Disabilities
Including the first male amputee to ever walk the NYFW runway.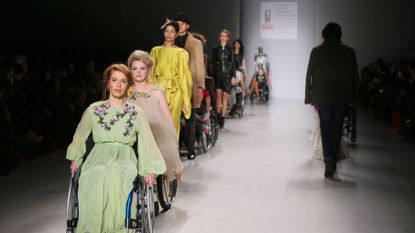 (Image credit: Kommersant)
Marie Claire Newsletter
Celebrity news, beauty, fashion advice, and fascinating features, delivered straight to your inbox!
Thank you for signing up to Marie Claire. You will receive a verification email shortly.
There was a problem. Please refresh the page and try again.
Fashion Week has drawn criticism in the past for its lack of diversity on the runway, and this year, it seems the people in charge have heard you loud and clear.
Last week, Jamie Brewer became the first woman with Down Syndrome to strut down the New York Fashion Week runway. And on Sunday, the FTL Moda runway show at Lincoln Center featured an incredible group of disabled models from all over the world.
The show, which was entitled "FTL Moda Loving You," was held in collaboration with Fondazione Vertical, an Italian research foundation for spinal cord injuries.
Within the awesome lineup of models, of particular note is Jack Eyers, the world's first male amputee to walk the NYFW runway.
Eyers, whose leg was amputated when he was 16 because of a birth defect, was handpicked by designer Antonio Urzi, the man behind some of the signature looks of super-celebs like Beyoncé and Lady Gaga.
"It all feels so surreal—I can't believe this is actually happening,'' Eyers told Caters News in a release. "To be the first male amputee model on a New York Fashion Week runway feels amazing—it feels like such a big deal. I just want to show that having a disability doesn't need to hold you back. I want people to see me, and to realize that there needs to be more disabled models walking the runway."
The show has been praised for empowering people with disabilities and further diversifying the Fashion Week runways.
"It is a very significant moment in my fashion career, this opportunity to finally open the most recognized runways in the world to these beautiful talents, ready to show that disability is very often just a mental state by performing on the runway next to some of the best models on the scene," producer Ilaria Niccolini told Ticker Report.
"Working with Fabrizio Bartoccioni at Vertical Foundation has been a thoughtful and extremely motivating experience, that opened my mind completely and showed me that the wheelchairs or prosthetics are not more than 'accessories', extensions of the dress, as Fabrizio often says."
Now that's what we call fashion-forward.
Watch the whole show here:
[youtube align='center']https://www.youtube.com/watch?v=c41yXqFQcHs[/youtube]
You should also check out:
Jamie Brewer Will Be the First Model with Down Syndrome to Walk at Fashion Week
The Real-Girl Take on NYFW Street Style
Celebrity news, beauty, fashion advice, and fascinating features, delivered straight to your inbox!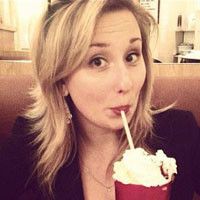 My writing has regularly appeared in The New York Times, The Paris Review, Salon, VICE, Guernica, The New York Observer, BuzzFeed, Cosmopolitan, Seventeen, Esquire, Elle, Harper's Bazaar, and many more publications.

I was previously the Senior News Editor at Best Life Online and the Viral Content Editor in the Newsroom of Hearst Digital Media. My portfolio consists of a vast and diverse body of work that includes personal essays, lifestyle articles, breaking news posts, and viral content. My areas of expertise, however, are Russia, sex and relationships, and mental wellness.