How Longtime Fendi Accessories Designer Marco de Vincenzo Continues to Make His Own Way in Fashion
With his namesake label debuting a menswear line and bag, the designer chats with Nina Garcia about balance, passion, and keeping it personal.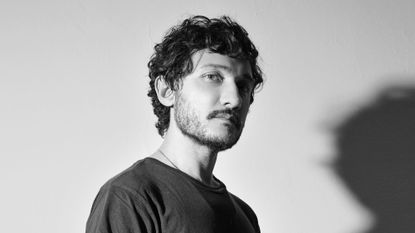 (Image credit: Courtesy of Designer)
Nina Garcia: What was your childhood like?
Marco de Vincenzo: Growing up in Messina, Sicily, I dreamed of becoming a designer. The Internet didn't exist then, and fashion, for a Sicilian boy—where we had only one store in town—felt like a dream. I would close my eyes with paper and a pencil and just escape and imagine my future.
NG: What's your relationship like with Silvia Venturini Fendi?
MDV: Fendi was my first job after graduating from design school. Everything I know about fashion I learned from Silvia. She has such an interesting life. She was the first person I talked to about wanting to launch my own ready-to-wear line. I invited her to lunch, and she said, "You have to do it, because I understand how important freedom and creative expression is for a designer." But she also said, "I hope you stay with us and can find a balance, because I need you."
NG: Is it hard balancing two jobs?
MDV: I travel a lot because I have a double life working for Fendi in Rome and running my own brand out of Milan. It's a hurricane, but I enjoy it. I think fashion needs new names. When a customer chooses you because she likes what you're doing and it doesn't matter if you aren't Gucci, Fendi, or Valentino, it's the best feeling—because she was free to choose anything, and she chose you.
NG: What was your inspiration for Spring?
MDV: I thought about vacation, starting from a 1950s postcard print I found at a shop in Italy. It was very joyful—this day at the beach with the sea, a villa, and a boat—and I thought, What if the landscape changed color? I tried to think about the moment when you are in the same place and the light changes from morning to night, and how that, in turn, makes your mood change.
NG: Your favorite thing to see a woman wear?
MDV: A skirt. But what is elegant and cool today would be to pair it with a sneaker.
NG: How did you go about designing your first bag?
MDV: I always thought if I couldn't be a designer, I would be a cartoonist. I love Disney World. The little paw shape on the flap reminds me of my childhood, which is exactly the part of me I channeled while designing it. I wanted a strong shape, because I think that's important to be recognizable in a world full of bags—something very fun and very "pop," but with a luxurious silhouette that's beautiful even if it's just a solid color with nothing else. If my woman wears something very colorful and maximalist, I want her bag to be the inverse: very plain.
NG: What about you might surprise people?
MDV: I sometimes give off an impression of being very serious. I am not serious ever! For example, I play a lot with shoes. Women don't joke around about shoes—it's like an obsession for them. So every season, to be sure every one I design is perfect, I try them on and wear them around the office for an hour. At work, my eccentric side comes out and surprises even me!
This article appears in the January issue of Marie Claire, on newsstands now.
Marie Claire email subscribers get intel on fashion and beauty trends, hot-off-the-press celebrity news, and more. Sign up here.