Need to Meet: Big Girl in a Skinny World's Nicolette Mason
Get to know our new blogger as she fills us in on her fashion must-haves and favorite plus-size style tips.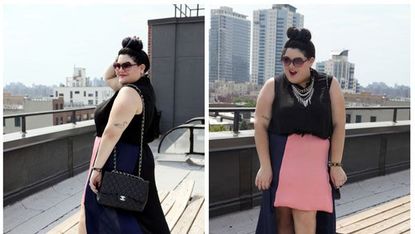 (Image credit: Courtesy Nicolette Mason)
One part fashion writer, two parts style expert, and a touch of sass, Nicolette Mason is Marie Claire's newest "Big Girl in a Skinny World" columnist and blogger. Mason, an L.A. native, landed in New York with a keen eye for chic, flattering trends. We caught up with her at the MC offices to talk about her plus-size style advice — and to try to absorb some of her enviable personal style!
As our newest go-to expert, what's your top tip for plus-sized women when it comes to style?

Remember that rules are meant to be broken! It's so important to wear what you like and to wear it confidently. It really shows when you're excited about your outfit, as opposed to just wearing what you're "supposed" to wear!
What is the one basic fashion rule everyone should follow?

Quality over quantity, always! It's a simple cliche for a reason: It's true.
You have such a great attitude. Where does your confidence come from?
I'd say I can give a lot of credit to my very supportive and loving family and friends.
Can you share your newest fashion obsession?

Miu Miu's FW11 glitter heels... I'm pretty sure I wake up every morning having just dreamt about them, (if anyone feels like sending them my way, they can be sent to Marie Claire HQ, Attn: Nicolette Mason)! Online, The Coveteur is a total feast for the eyes and a good reminder to save my pennies (or Benjamins) for statement pieces. Modelizing is another daily destination. I can window shop between writing styling tips.
What is it about fashion that's so important to you?

A lot of people write off fashion as being frivolous, but fashion is actually an incredibly important visual art and chronicle of culture. Fashion has the ability to communicate so much about an individual or an entire population.
When did you know you wanted to work in the industry?

My mom likes to remind me that as a tween, I'd tell her that I wanted to be a certain Vogue editor when I grew up. Subconsciously, I've always known — but I didn't seriously pursue fashion until after I graduated from Parsons.
Any favorite neighborhood spots?

Bird for shopping. They have a great selection of designers like Tsumori Chisato, Thakoon, and the T line from Alexander Wang. Blue Bottle for coffee, Fire Leaves for dinner, Hotel Delmano for cocktails, and Nitehawk Cinema for a combination of the aforementioned with an art-house flick thrown in! I'm unabashedly in love with Williamsburg.
What's your favorite movie?

It's a tie between Annie Hall and Clueless. Both have greatly influenced me on a personal and stylistic level!
Who's your celebrity crush?

Dita von Teese. She's flawless and inspires me to inject a bit of glamour in my life! I follow her on Twitter to make sure I get a daily dose and also to guarantee I don't miss the release of her upcoming lingerie line and dress collection with Australia's Lime Door Brands.
What's one fashion faux pas you just can't forgive?
Kitten heels... I know Prada made them "cool" again, but it just feels like a cop-out. Sorry, ladies!
So, then, flats or heels?

In New York City, it depends entirely on my commute! If my day is filled with subways, I opt for my favorite ballet flats. If it's a taxi day, heels all the way! Especially when I spend days around towering models, I appreciate the extra bit of height.