Are Jennifer Lawrence and Chris Martin Back On?
Who knows at this point?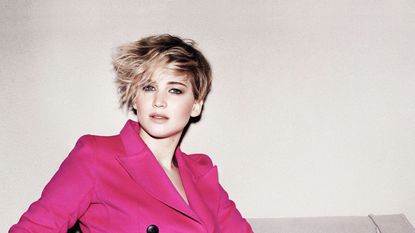 (Image credit: Jan Welters)
Update, 1/8: What was reportedly an innocent pre-New-Year's sushi dinner between Jennifer Lawrence and Chris Martin might actually have been a date in a string of romantic outings that was never actually broken, People reports.
The "solid" twosome, last seen together Dec. 30, "are still dating and have been dating," a source tells the mag, despite rumors of their separation and the presence of a bearded pizza enthusiast in Lawrence's life.
We suppose we'll take this as our cue to fire up the ol' couple-name generator—you can never be too prepared when it comes to portmanteaux, right?
Update, 11/4: Jennifer Lawrence and Chris Martin may have rekindled their short-lived romance. The pair were seen together at Martin's house on Oct. 27 (the same day that sources confirmed the split) and then again three nights later, People reports. There may just be hope for the unlikely duo yet.
Original post: Gasp: Jennifer Lawrence and Chris Martin have called it quits, E! News confirms.
Their unexpected romance started in June after Lawrence ended her four-year relationship with Nicholas Hoult and Chris Martin and Gwyneth Paltrow "consciously uncoupled." Though it seemed like a classic case of hot celebrity blondes on the rebound, we had started to grow fond of the new duo. She'd go see him in concert, he'd do a bunch of crazy things to get her attention, and she even met his grandparents!
Oh well, folks. Another celebrity couple bites the dust. At least we didn't waste our time on clever names for their relationship. Like Chennifer. Or C. Lawr.
You should also check out:
Sorry, Chris Martin! Looks Like Jennifer Lawrence Has a New Man
Here's How Chris Martin Is "Woo-ing" Jennifer Lawrence