Lollipuff's CEO Gives Us Her Expert Tips to Authenticate Designer Items
Check out our luxury authenticating guide from Fei Deyle of Lollipuff.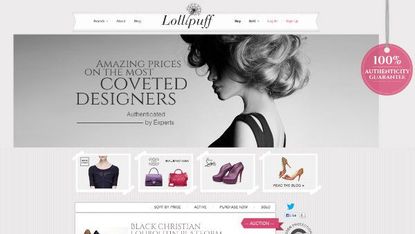 (Image credit: Archives)
Marie Claire Newsletter
Celebrity news, beauty, fashion advice, and fascinating features, delivered straight to your inbox!
Thank you for signing up to Marie Claire. You will receive a verification email shortly.
There was a problem. Please refresh the page and try again.
Don't want to splurge on a new designer bag in the store but also don't want to risk buying a fake online? Many retailers claim to sell inexpensive, pre-owned luxury items but often these products turn out to be counterfeit. If you are a vendor, many times you will be whopped with a large listing fee. Fei Deyle was obsessed Hervè Lèger and became an expert authenticator, eventually starting a blog selling the designer's clothing. Soon, she was sought out to authenticate her readers' items. This lead her to create Lollipuff, the only online auction site that pre-screens items to guarantee the authenticity of high-end, pre-owned designer goods. Combining beauty and brains (a MC must) Lollipuff uses a patent-pending authentication process and software to screen luxury goods. Even better, they charge a low, flat rate for you to list your Louboutin pumps, Balenciaga bags, and Chanel clutches, compared with other sites that charge 30 - 60 percent. That means more bang for your buck.
We spoke with Fei about some authenticating tips that we can use for our favorite items. See if you can spot the differences.
Photo: Courtesy of Fei Deyle
Hervè Lèger:
• The Hervè Lèger dress on the left is authentic.
• On the fake gray Hervè Lèger dress, you can see that all bands used for construction are the same width.
• Real Hervè Lèger has bands of varying widths strategically placed to flatter a woman's body.
• Most counterfeit Hervè Lèger have a thick heavy fabric like real Hervè Lèger, but the fit and stretch is very different.
• Tags should inspected as well as the overall design of the Hervè Lèger dress.
• People may attach authentic Hervè Lèger tags to a fake dress.


Photo: Courtesy of Fei Deyle
Christian Louboutin:
• The Christian Louboutin shoes on the left are counterfit.
• First, Christian Louboutin boxes are made of a dense hard cardboard. The box in the background of the left photograph looks flimsy and is creased in several spots. This is not common for authentic Louboutins.
• The lining on the inside of the fake shoe is crude and thick.
• It is common for counterfeiters to place heel taps in a plastic zip bag.
• For authentic Louboutins, heel taps will come in a tiny red Christian Louboutin draw-string bag.
• Louboutin bottoms are made of leather covered with a beautiful red lacquer. The counterfeit on the left does not look like leather.
• The Louboutin stamp should look like it was imprinted in the leather.


Photo: Courtesy of Fei Deyle
Chanel:
• The Chanel bag on the left is authentic.
• The most obvious differences to the untrained eye is located on the last image of the Chanel serial card in the right photograph.
• Chanel serial cards never have holographic numbers or bordering.
• On the fake, the card has multi-color reflections.
• On an authentic, it should always be plain gold.
• 11127595 is a commonly used number for counterfeit Chanel.
• While it may be possible that an authentic has this number, the chances of coming across that number and the item being authentic is vanishingly small as each serial number is unique to each bag.
• The serial number also suggests that the item was produced sometime in 2006-2008; this is not possible for this bag.
• Finally, the font for the serial number is totally incorrect.
Celebrity news, beauty, fashion advice, and fascinating features, delivered straight to your inbox!