Exclusive: Q&A with Model Kel Markey
Our Fashion Features Editor, Jessica Minkoff, sat down with 22-year-old model and fashion star on the rise Kel Markey to get the dish on the start of her career, her model friends (and romance!) and her favorite foods.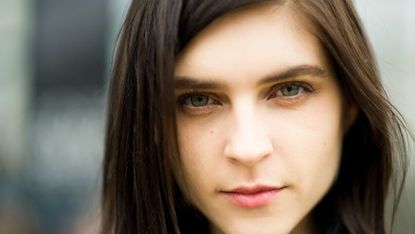 (Image credit: Le 21-eme)
Name: Kel Markey
Agency: Supreme
Age: 22
From: Gainsville, Florida
Where do you live now: Brooklyn
MC: Do you have any siblings?
KM: Yes, I have a younger sister. She is a sorority girl.
MC: Is she tall like you?
KM: No, she is 5'5". I am the black sheep in the family.
MC: How were you discovered?
KM: I wasn't really discovered, I made it happen on my own. I was going to college at the University of Florida and I got bored and dropped out. I moved to New York and met with some agents. I always knew that I wanted to get out of Gainsville.
MC: Had you modeled at all before coming to New York?
KM: I "modeled" a little in Florida, but that just means I did a runway show in a mall for $100.
MC: So how long have you been in New York now?
KM: Three and a half years.
MC: What was your first job?
KM: It was a Calvin Klein lookbook. I only worked for Calvin Klein when I first started, which was awesome. Then I started to do more things like Urban Outfitters.
MC: What was your first runway show?
KM: I started doing runway about 6 months after I began modeling but it wasn't a success at first. I did smaller shows like Rachel Comey, A Detacher, and some other cool New York brands.
MC: When did you start booking the bigger shows?
KM: I took a break from modeling to go to NYU because at the time my schedule wasn't too crazy and I thought it was the perfect time to transition and finish my degree. After a semester at school I got cast in a few shows in New York. I was pulled out of my normal shows to do Proenza Schouler and Marc Jacobs.
MC: Did you change anything about your look that may have got your more attention from the bigger labels?
KM: Not really. I think there are just so few casting directors that when one of them likes you, you automatically get 8 or 10 shows.
MC: What season was it when you started doing more of the bigger shows?
KM: It was in February, so it was Spring/Summer 2012.
MC: What was your first editorial?
KM: It was for Dazed and Confused. It was before I started walking in all the bigger shows, about 6 months after I started modeling. My agent had sent me to Europe. I was in Paris or Milan and I got a call saying that I had to fly back to shoot Dazed and Confused. It was a group shoot.
MC: What has been your most memorable modeling moment?
KM: That's a tough question. I would say my first Louis Vuitton show. It was the one with the train and I remember thinking to myself, this is a joke, it's not real life. We were all rehearsing at 6am, dead tired and starving (since it was the end of Fashion Month) but it was ridiculously memorable.
MC: Have you ever had any embarrassing modeling moments? Falls?
KM: Actually I have never fallen but I had my first mess up at the Dior show in Monaco. We had to wear sling backs and mine were way too big on me. Both of them came off at the same time so I drudged awkwardly to the end of the runway so that the photographers could get their picture and then I took them off to walk back. The funny thing about that was that Raf sent me three dozen white beautiful roses with a hand written note apologizing for the shoes. He said that I was so professional. I couldn't believe it. He is so nice.
MC: Do you have a lot of friends who are models?
KM: It's half and half. I have friends who model because when you travel and do shows together you develop a bond. There was a group of cool girls that emerged a few seasons ago that I was part of. We all had an edgy look so we were booking the same jobs, like Tilda Lindstam. I became close with her. Nimue Smit, who isn't modeling as much anymore is another one of my closest friends.
MC: You are dating model Miles Garber. How did you meet?
KM: We met at an Urban Outfitters job three years ago.
MC: Does he have a lot of model friends?
KM: He is close with a lot of people from LA where he grew up. He recently became good friends with Jamie Strachan.
MC: What is your favorite food?
KM: I am a complete foodie. I like minimalist Japanese food. Actually I like all ethnic foods. My favorite restaurant is Five Leaves. I eat out a lot because Miles eats out for every meal - he is like a 13 year old. I think he has cooked at home once. I cook more when we are not hanging out.
MC: Do you have a favorite photographer or one that you like working with?
KM: Paolo Roversi. He is one of the coolest photographers. I didn't get to know him personally but shooting with him was a great experience. He has a beautiful studio in Paris and takes incredible pictures.
MC: Who are some of your favorite designers?
KM: Proenza Schouler - clothing wise and who they are as people. They are the coolest dudes in the world. I like them a lot.
MC: You seem like a very Proenza Girl. How did you get to know them?
KM: I went to a Proenza Schouler casting when I was at NYU after having gone a few times before. This time they liked me and they asked me to dye my hair darker. I ended up staying and doing a lot of stuff with them.
MC: Why do you think they liked you that time?
KM: I am not sure. It's not like I was any skinnier or taller than I had been in the past. I kind of grew into myself when I was at NYU and I turned 20 years old. I think I was also less nervous about modeling while I was at school.
MC: Do you have any style icons?
KM: No not really. I don't personally know any editors or celebrities so I can't really say that their style influences me. As models we are around so many stylists and photographers daily so I think I am influenced by so many things.
MC: Do you like shopping?
KM: No not really. I go shopping every couple of months. Tilda loves vintage shopping so when we are in Paris I will go with her. I am no the type of girl who will just pay a visit to Saint Laurent on a random day. I am too frugal for that.
MC: What is the most worn item in your closet?
KM: I don't buy bags very often but when I find one that I love I use it over and over and over again. Proenza Schouler gave out mini bags a few seasons ago and I got a cute tan one that I wore to shit. I did the same thing with a Celine bag that I got when I walked in the show.
MC: What are your wearing today?
KM: A black Proenza Schouler dress over a Barneys dress with booties.
MC: What do you like to do in your free time?
KM: I go to a lot of concerts and I see a lot of movies, stupid movies too. I also like to go to restaurants. I really like traveling so I go upstate a lot or back to Florida to see my family.
MC: Did you have any hobbies as a kid that you continue to do today?
KM: Not really. As a kid I did a lot of drama but I got tired of that in high school. I played double bass. I am thinking of taking that up again, or maybe learning how to play the cello.
MC: If you learn to play the cello you can play with Julia Nobis backstage.
KM: (laughs) Yes, Julia is always playing her guitar. She is really good and she actually has a pretty good voice too. She is really cool.
MC: I am sure you get to travel a lot. What has your summer been like?
KM: I was just in London. I was in Florida before that and London and Paris before that. I also went to Spain and I visited where Salvatore Dali used to live. On my day off I took a tour of his house. It is just like his paintings.
MC: What are the pros and cons of modeling?
KM: The pros are traveling (if you like it), money if you are a lucky, and working in the fashion industry. Fashion is a bubble and getting to experience it is very awesome because not many people get that opportunity. You also meet a lot of interesting people that you may not have met anywhere else. The cons are also traveling because it can be difficult at times to always be on the go, and jobs where they don't treat you like a person.
MC: You recently walked in your first Couture show (Atelier Versace). What was that like?
KM: Yes, Atelier Versace was my first couture show. I had been working with them on other things and they asked me if I wanted to walk in the couture show. I had never done couture before. I always thought it was for the very tall, very thin girls. Ready to wear is slightly easier. But the experience was amazing and unreal, terrifying at the same time.
MC: You are 5'9", has your height ever been an issue?
KM: No it has never been a problem, I guess I just always thought you had to be one of the super tall girls to do couture. Maybe the only thing that it affects is what I wear in certain shows. Usually I don't wear the long straight dresses.
MC: Is there any modeling job that you are dying to book?
KM: I feel really lucky when I get to do cool things so I don't really think about what I haven't done. Every girl wants to be in Vogue and that is definitely something that I would be stoked about. I would really like to work with Tim Walker. I would probably look so out of place in his photographs but I would be curious to see what he would do.
MC: What would you do if you weren't a model?
KM: Environmental science.
MC: Where would you travel if you could go anywhere right now?
KM: Greece or Hawaii.
MC: Will you be walking in the Spring 2014 shows?
KM: Yes.
MC: Do you like runway?
KM: Yes, it is really awesome to see a whole collection apart from just the one look that you get to wear. I like to find the element that ties everything together and of course having a garment fitted to you is cool. You also get to take on a character, but the whole month can be really difficult.