Kim Kardashian Rocks a Gucci Pantsuit Without a Top in L.A.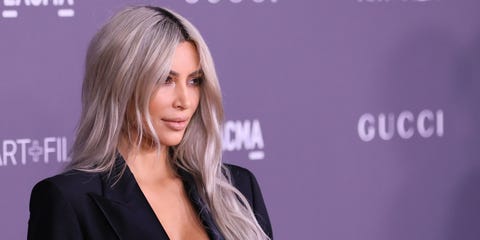 Roll your eyes all you like, but Kim Kardashian is schooling us all when it comes to street style. The globe-strutting reality star never steps out without immaculate tailoring and head-to-toe styling that hits every trend on the head—no small feat when time is money (and lots of it). Here, find every instance when Kardashian takes to the streets as if it's Paris Fashion Week year-round.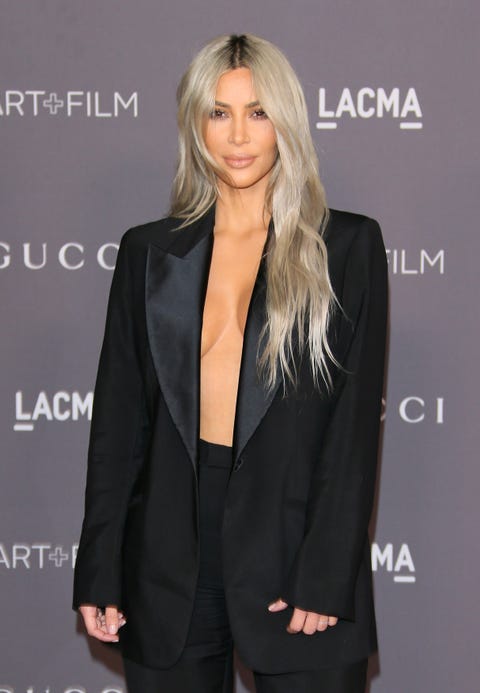 November 4, 2017
Kim rocked a black Gucci pantsuit, foregoing a top underneath, at the 2017 LACMA Art + Film Gala in L.A.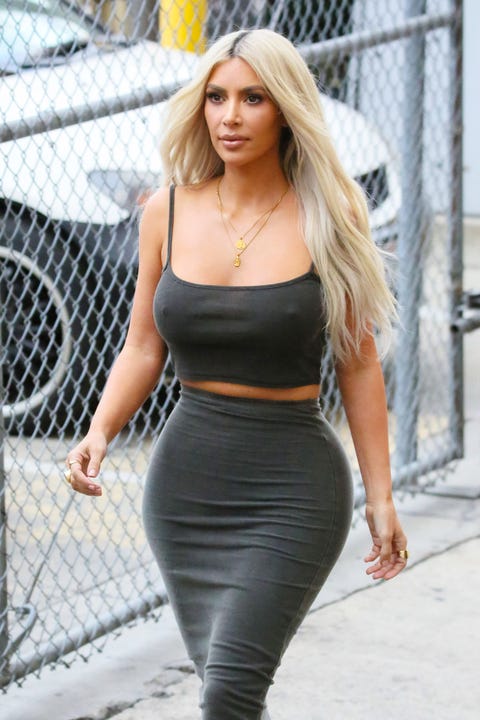 November 2, 2017
Kardashian shows off her curves in a crop top and skin-tight midi skirt at Jimmy Kimmel Live in L.A.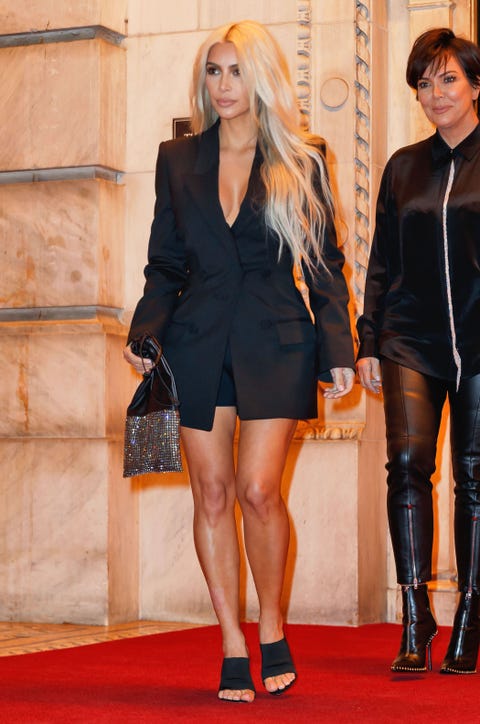 September 9, 2017
Kim spotted in a blazer and shorts in NYC.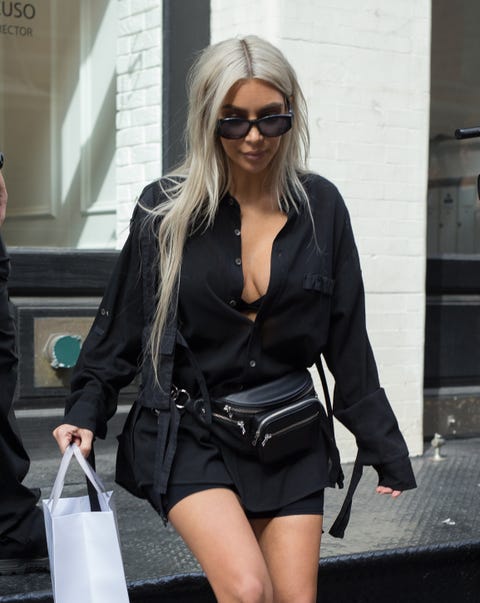 September 9, 2017
Kim wears a button-down, shorts, and fanny pack in NYC.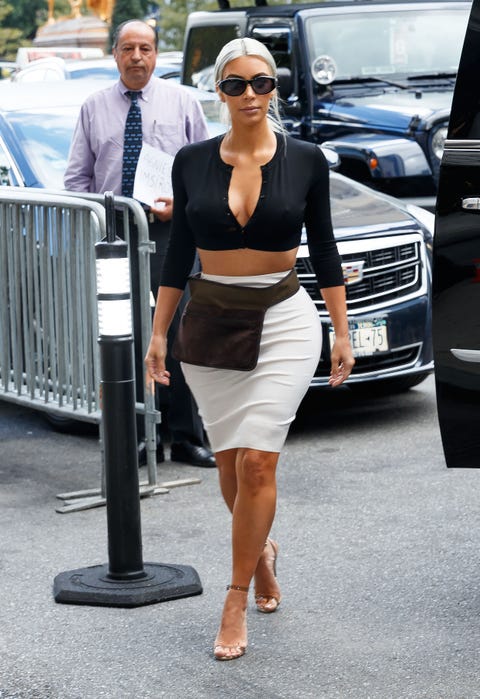 September 8, 2017
Kim seen in a three quarter sleeve crop top with a white midi skirt and fanny pack in NYC.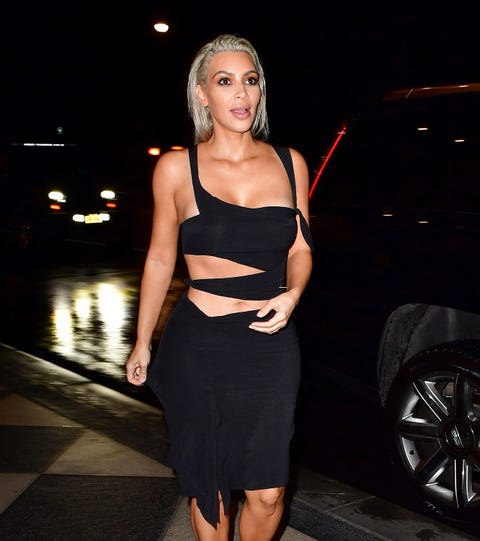 September 7, 2017
Kardashian rocks a bodycon cut-out dress in NYC.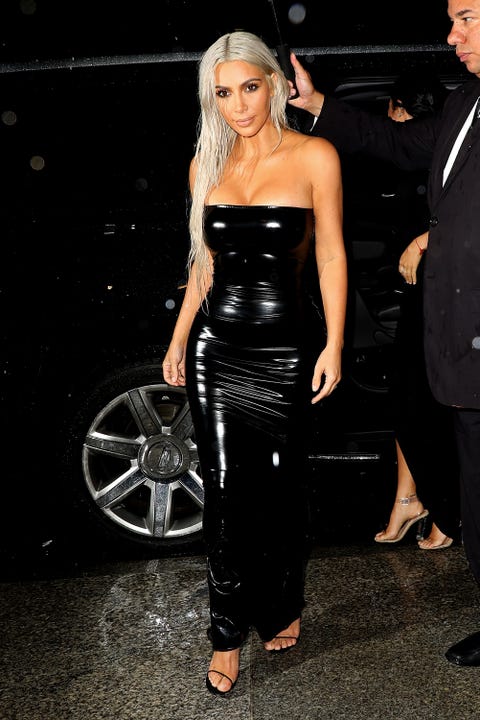 September 6, 2017
Kim wears a strapless leather dress during NYFW in NYC.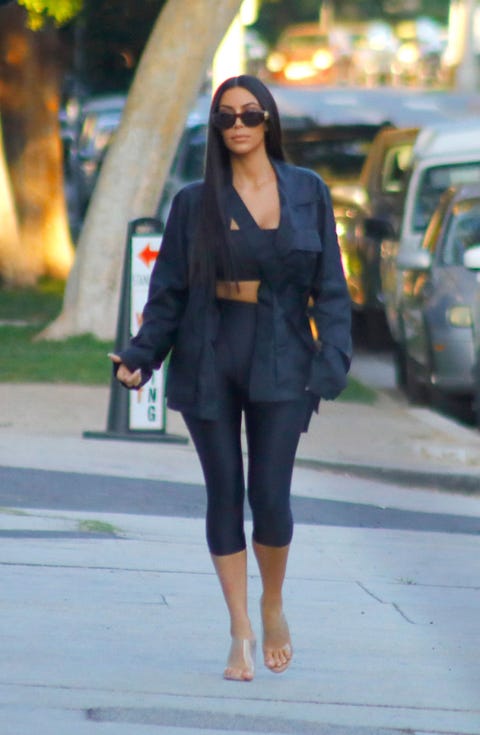 August 4, 2017
Kim bared her midriff while running errands. She picked up food from Stanley's restaurant in L.A.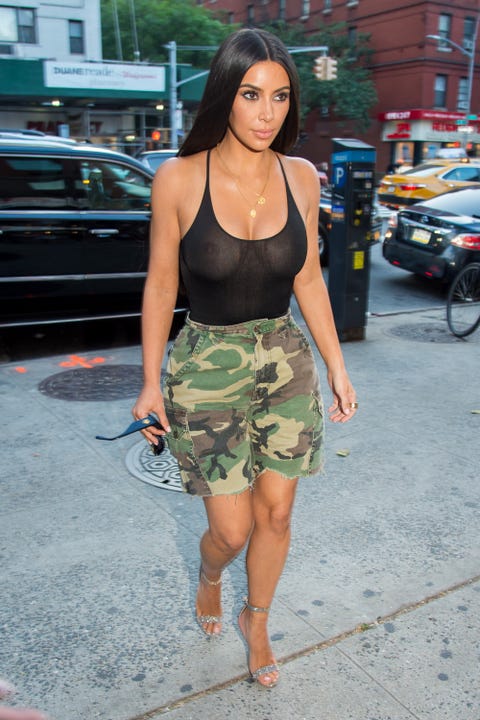 August 1, 2017
Kim ditched her bra while wearing a mesh tank top during an outing in NYC.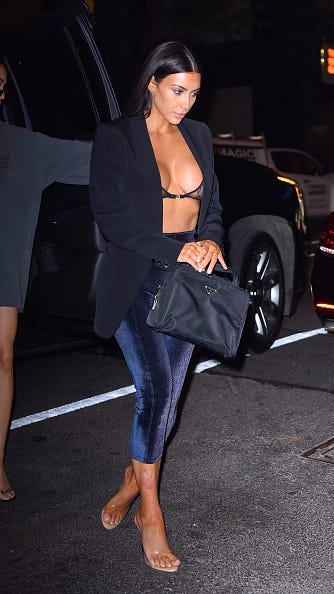 July 11, 2017
Kim wore a sheer bra, blue velvet leggings, and a blazer while out in NYC.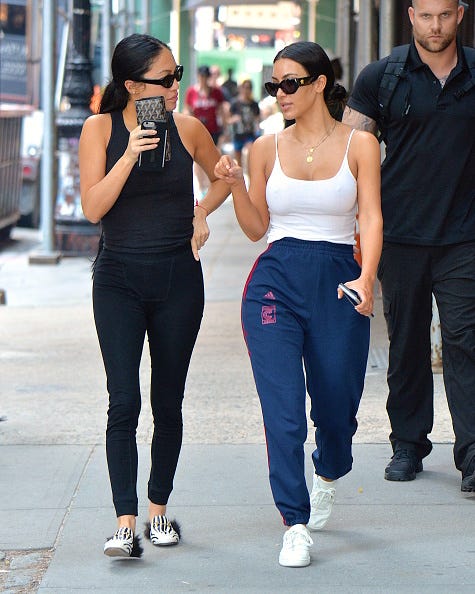 June 13, 2017
Kim sports (pun fully intended) sweatpants, a white cami, and matching white sneakers while walking around NYC.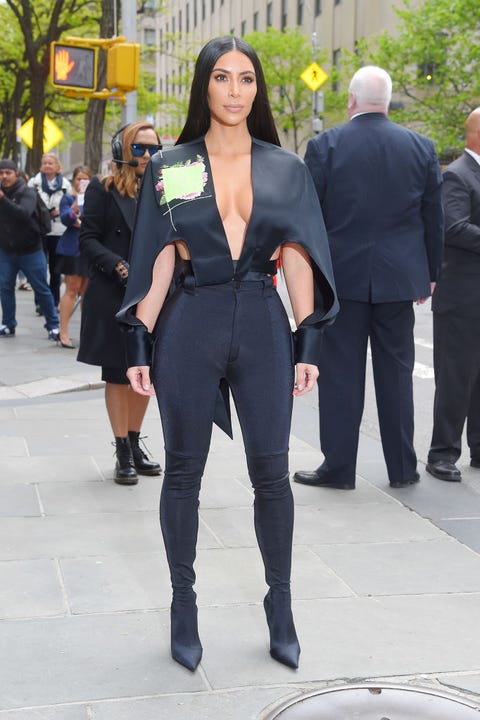 May 15, 2017
She stepped out in a Chalayan jumpsuit and tall boots for an NBC Universal event with sister Khloé.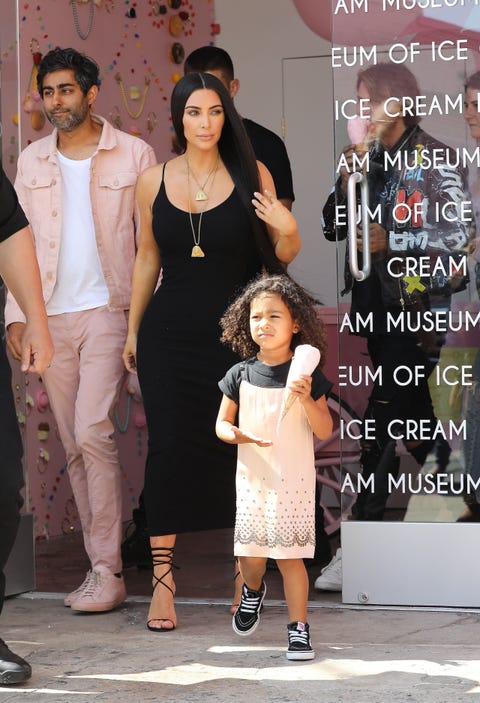 May 11, 2017
With color-coordinated entourage in tow, she and North West visited the Museum of Ice Cream, both wearing slip dresses: hers body-con and accessorized with layered necklaces and strappy heels, North's over a black T-shirt.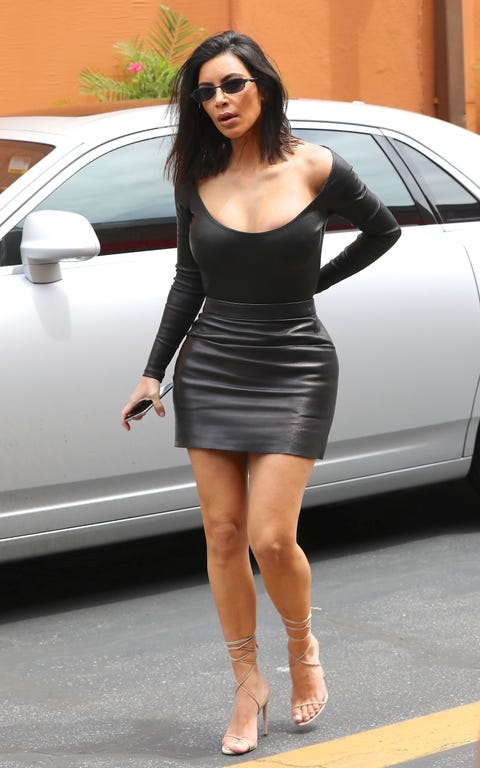 May 8, 2017
For lunch with Jonathan Cheban, she paired a leather off-the-shoulder top with a leather mini. Nude strappy sandals and those tiny sunglasses (THEY'RE COMING) completed the look.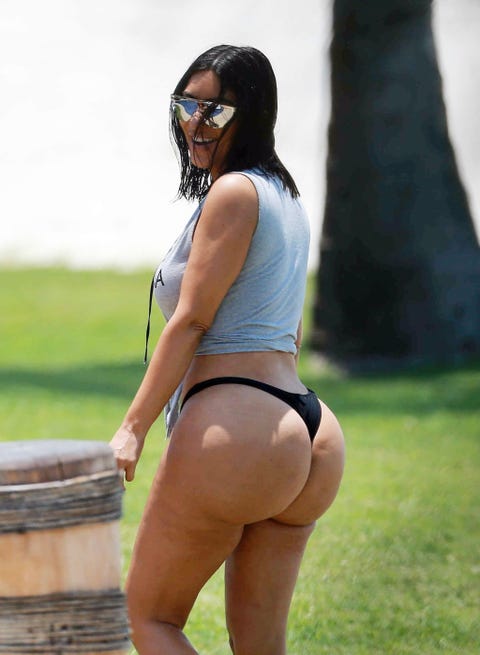 April 26, 2017
Kim K was spotted on her girls' vacation in Mexico baring her ASSets in a black thong and cropped muscle tee. She flashed the photogs a smile behind a pair of mirrored silver sunnies. All we can say is—dang.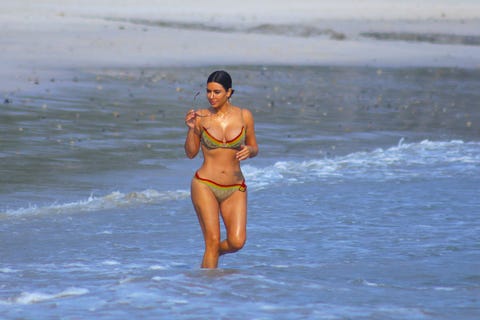 April 24, 2017
Kim spent some quality gal time on the beach in Mexico, donning this incredible bikini from Dior that showed off her we-can't-believe-it curves. She paired the two-piece with oversized gold hoops and a pair of funky shades.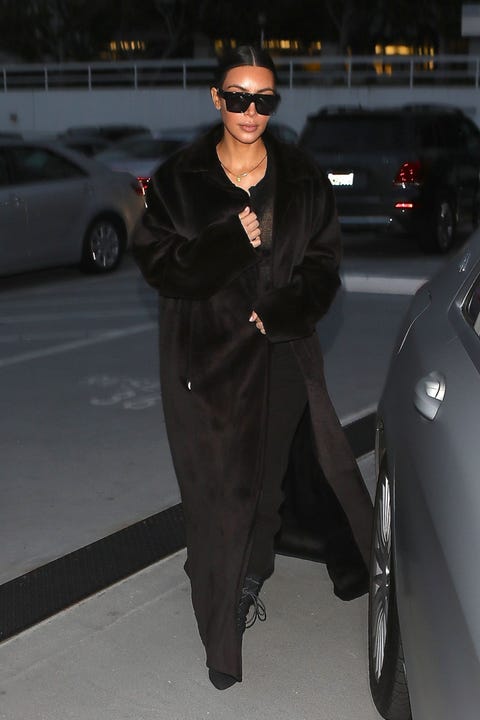 March 26, 2017
For a dinner date with Kanye, she bundled up in a full-length velvet coat, sheer top, trousers, and Yeezy boots.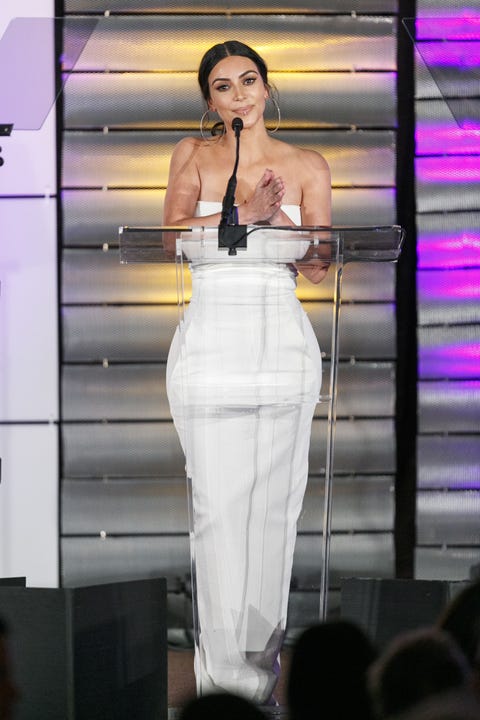 March 11, 2017
Onstage at the Family Equality Council's Impact Awards at the Beverly Wilshire Hotel in Beverly Hills, California, Kim wore this form-fitting white dress and a lip ring.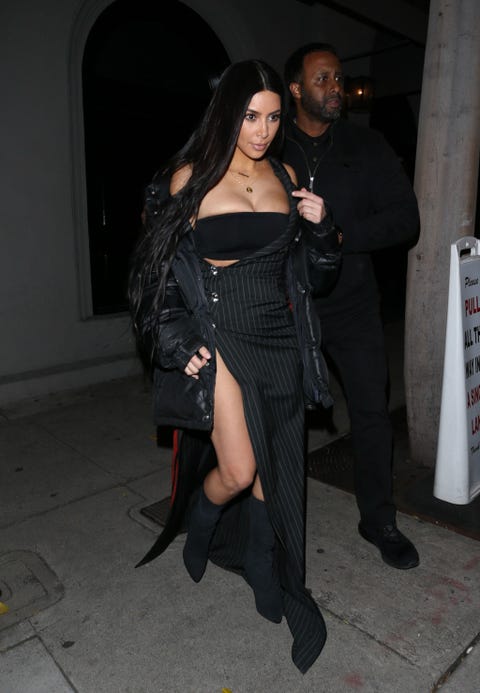 March 2, 2017
Leaving a dinner with friends at the Hollywood restaurant Craigs, Kim steps out in this daring pinstripe dress with a black bandeau underneath. She threw on a oversized clack puffy coat and pointed-toe boots to complete the look.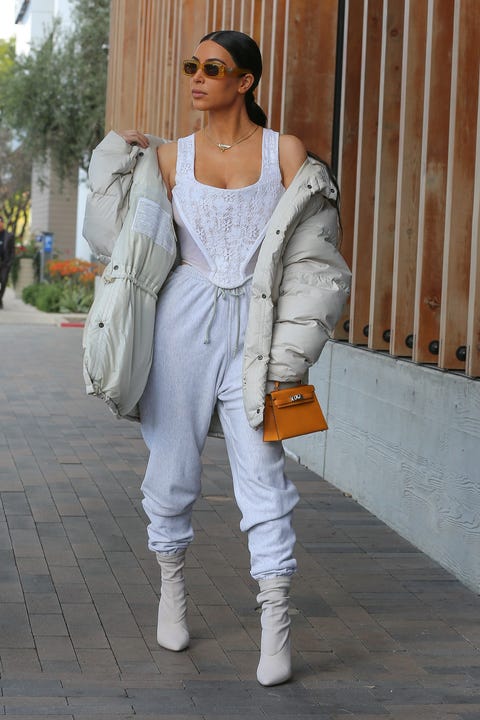 February 22, 2017
For lunch in L.A., she combines a corset top with Yeezy Season 4 sweats, boots, a puffer coat, and an Hermès Kelly bag.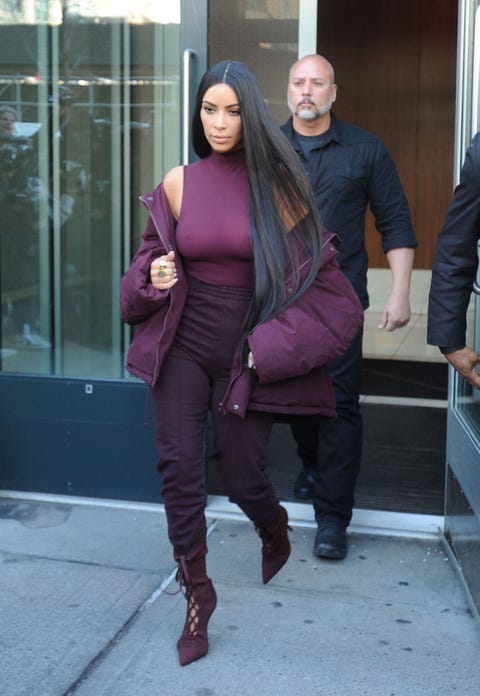 February 15, 2017
Kim heads out to her husband Kanye West's Yeezy show at New York Fashion Week decked head-to-toe in eggplant purple.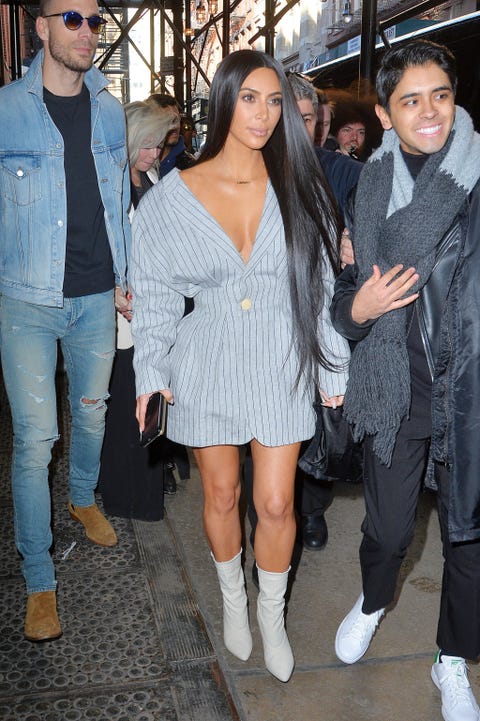 February 14, 2017
She heads out for the day in New York city wearing a Jacquemus blazer dress and patent boots.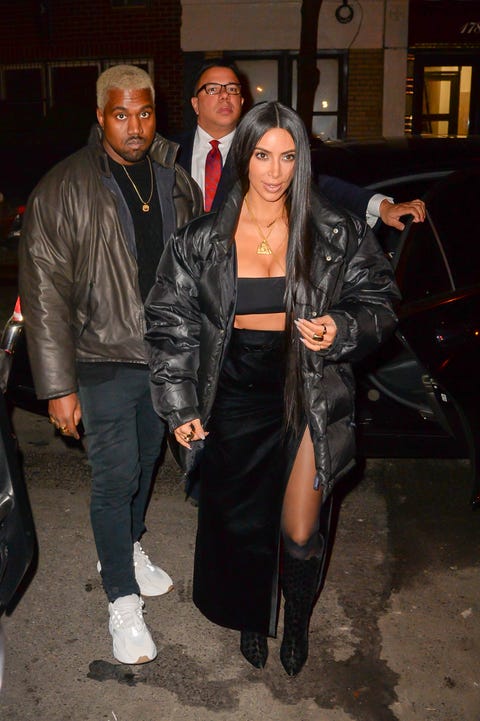 February 14, 2017
Then, for a Valentine's Day dinner at Carbone with husband Kanye West, she changes into a velvet slit skirt, bandeau, and moto-detail puffer jacket that coordinates with his casual, muted look.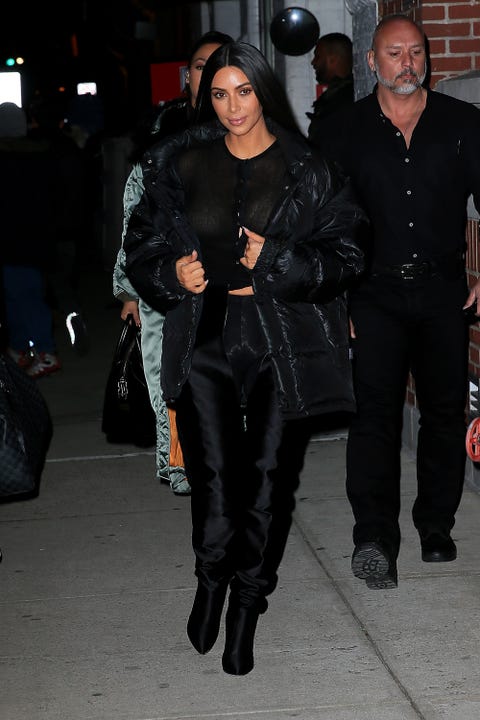 February 13, 2017
After a quick change, Kardashian heads out for the night in satin-finish trousers, cropped cardigan, and puffer jacket worn the fashion-girl way.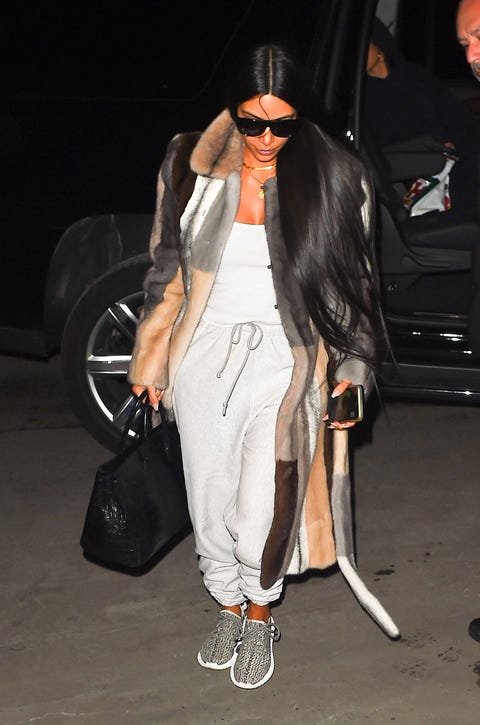 February 13, 2017
She arrives at her New York apartment in sweats, Yeezys, and a full-length fur coat.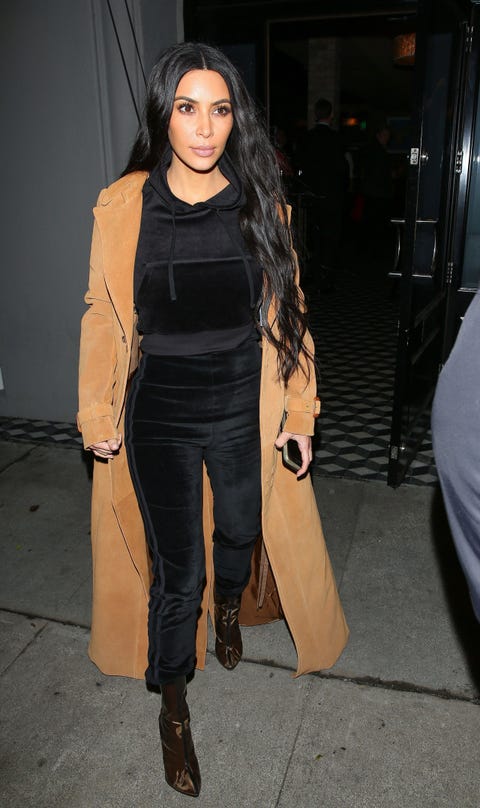 February 6, 2017
For dinner with sister Kourtney, she wore an all-black tracksuit (fit is key) topped with a beige duster and pointy boots.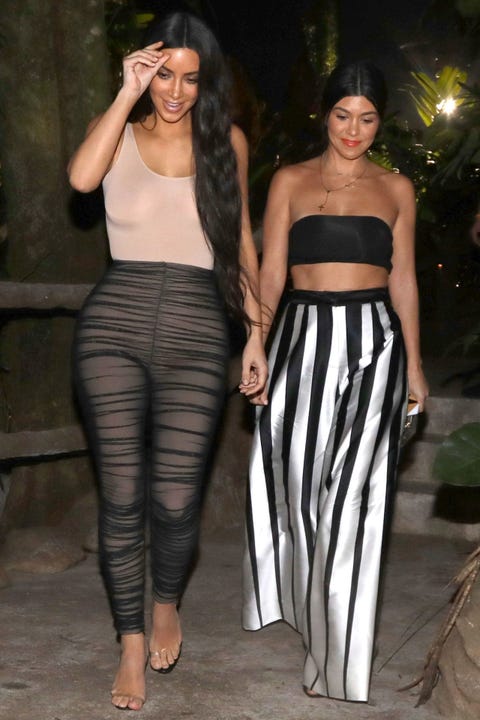 January 29, 2017
Kim wore an entirely sheer outfit—a nude tank, sheer striped pants, and nude heels—while heading to dinner with Kourtney in Costa Rica.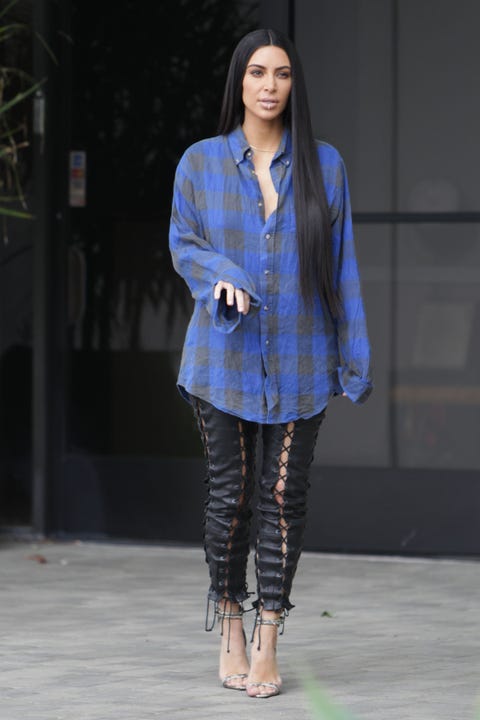 January 26, 2017
Engulfed by another oversize plaid shirt, she made her way to a Hollywood studio, also wearing a pair of lace-up Unravel leather leggings from the depths of her closet.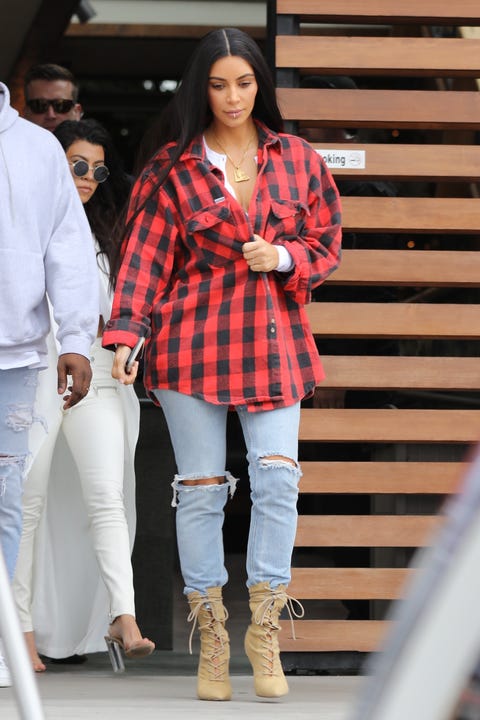 January 18, 2017
Kim stepped out for lunch date with Kanye in Los Angeles wearing ripped jeans and a plaid flannel over a white tee. Her new lip ring was on display, as was a gold necklace and a pair of lace up ankle booties.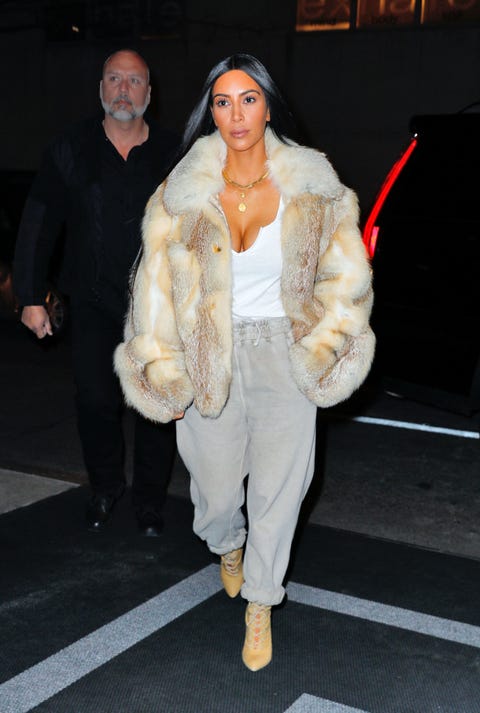 January 16, 2017
Kim's off-duty look includes sweats cuffed at the ankle, a low-cut white tank, and a fur coat. She accessorized with thin gold necklaces and a pair of nude lace up booties while out in New York.
This content is created and maintained by a third party, and imported onto this page to help users provide their email addresses. You may be able to find more information about this and similar content at piano.io