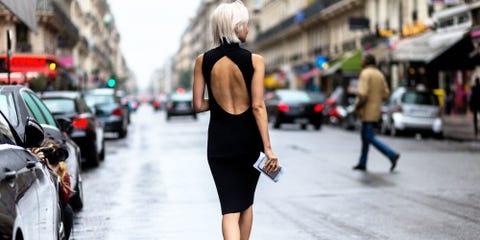 To free-boob it or not free-boob it? That is the question every girl who fears bra show-age but also losing a nipple to industrial-strength adhesive asks herself. No more—here, five receptacles for your chesticles, whatever silhouette you're wearing.
This two-pack of straps (considerately in nude and black) attaches to any bra if you want to get low, low, low, low.
Aerie Adjustable Low-Back Strap, $15.50, ae.com.
2
The Long-Line Strapless Bra
Regular strapless bras make you do the shimmy, but with this one, more fabric = more skin contact = more grip, so everything stays in place.
Cosabella Strapless Plunge Bra, $132.50, cosabella.com.
3
The How-Low-Can-You-Go Plunge
Padded cups sculpt, while the extreme U shape lets you get away with a sternum-exposing neckline, minus the flapping and underboob sweat.
Fashion Forms Seamless U-Plunge Bra, $30, net-a-porter.com.
4
The Goes-Under-Practically Anything Stick-On
Trade secret: Some of us keep a spare in our file cabinets for emergency black-tie events. (Like, who knows?) Stick on securely, squish, and clasp for the most insane cleavage of your life.
3-D NuBra, $65, nubra.com.
For the barest looks—imagine Grammys J.Lo *with* sideboob—there are these adhesive pasties. The good news: You just slap on and pull up, and there's no sticky stuff on the nipple bit. The bad news: You're outta luck if you're bigger than a C cup, sorry.
Pure Style Pick-Me-Ups, $17, purestylegirlfriends.com.