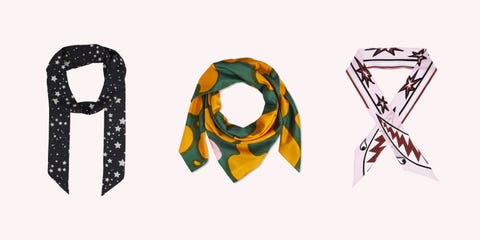 Vampire Weekend and JFK might disagree, but wool has no business on the beach. (At least the non Cape Cod-y type.) That's why we've not rounded up infinity scarves-cum-blankets but jaunty neckerchiefs in cheeky fruit prints and lightweight foulards that can double as sarongs—or a jerry-rigged champagne carrier, if you must.
+1 for being from an Altuzarra and Rosie Assoulin alumna. +1 for the color combo. +29 for the name.
Little Knotty, $120, elysemaguire.com.
Build your Glasto lewk around this star-print skinny scarf.
Kate Moss for Equipment, $78, equipmentfr.com.
Part of the fun is exploring the forest scene. Spot the naughty monkey. (P.S. Technically over budget, but TOO GOOD not to include.)
Olivia Wendel, $325, oliviawendel.com.
Splashy and Gauguin-y with tassels for even more flair.
J.Crew, $49.50, jcrew.com.
Fancy! Dress! Cats!
Karen Mabon, $140, bando.com.
Get the Gucci look—without the price tag, yes, but also without having to attempt a DIY.
Mango, $26, shop.mango.com.
Are you even truly nostalgic for the heyday of glamorous beach style if you don't own a piece of Missoni?
Missoni, $120, net-a-porter.com.
Who wore a shark motif best: you or a WWI fighter plane?
Rockins, $145, fwrd.com.
Poisonous botanicals lose a bit of their menace in doodle form.
Zara, $23, zara.com.