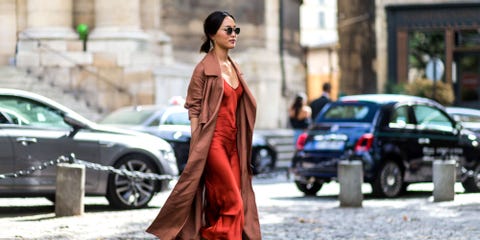 There are relationships built on less commitment than some girls have to keeping their jackets on, even in 90-percent humidity, because "It's my look." Fair enough. But for offices and other sexist climes, here, 10 fine examples of summer-appropriate outerwear.
Take a pointer from the on-model shot, and pair with a hemline that hits above that of this longline jacket.
Boohoo, $70
BUY IT: us.boohoo.com.
Add cutoffs and big gold earrings, and you've got a summer suit.
Front Row Shop, $63
BUY IT: frontrowshop.com.
Its affordability depends on your definition, of course, but perhaps you might be in the market for a tawny silk robe to swish around in. Plus, think of all the money you'll save not having to worry about what to wear underneath.
Aritzia, $288
BUY IT: aritzia.com.
Cropped, the color of a strawberry marshmallow. Nice.
J.Crew, $84
BUY IT: jcrew.com.
Okay, kind of cher (as in trop cher), BUT counterarguments: the print, the cut, that designer-y boxiness.
H&M, $399
BUY IT: hm.com.
Alternatively, Get the Look with this guy, which comes in at 10 percent of the price.
Mango, $40
BUY IT: shop.mango.com.
A perfect workman silhouette made even better with an embroidered panel on the back.
& Other Stories, $125
BUY IT: stories.com.
Calling all festival sprites.

Topshop, $95
BUY IT: topshop.com.

When you're a Scandinavian fashion girl who wouldn't be caught dead in a drugstore plastic poncho.
Stutterheim, $295

BUY IT: needsupply.com.