What I Wear to Work: Poppy Harlow
The CNN host's key to a great wardrobe? Borrowing from her stylish friends.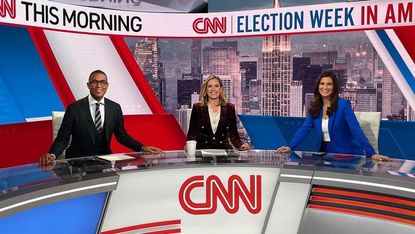 (Image credit: Poppy Harlow)
In our bi-weekly series, we highlight dynamic women—from entrepreneurs and small business founders to CEOs and celebrities—discussing their style ethos, the pieces that empower them, and how they balance life alongside whirlwind careers.
---
"I may have toddlers run in and interrupt this," says Poppy Harlow over the phone. Harlow, an inherent early bird, co-hosts CNN This Morning from 6 to 9 a.m. ET alongside Kaitlan Collins and Don Lemon. "You may also hear hammering above my apartment," she says as a disclaimer. "But this is New York, and this is mom life— so there you go," she laughs.
Staying on her toes is nothing new for Harlow, but uncovering breaking news, Emmy-nominated business reporting, and hosting on national television were not always in the cards for the reporter, who had originally set her sights on law school. "Oh well, I never thought I would be a journalist, let alone an anchor at CNN," Harlow explains. "I was going to be a litigator like my father. But sometimes, as they say, the side door is the best door." Instead, an internship at a media outlet landed her a role in front of the camera for NY1 and Forbes Video Network covering business. There, she was discovered and hired by CNN just before the financial crisis in 2008, thrusting her in front of the live news camera (a first for Harlow, who had only taped her segments), where she's been ever since, aside from a one-year hiatus in 2021 to pursue her Master of Studies in Law at Yale School.
So what do a workday and on-air wardrobe look like for someone who starts their day in the middle of the night? Ahead, we chat with Harlow about prioritizing sleep, dressing for breaking news, and how her friend group (and some co-hosts) continue to inspire what she wears to work.
On Her Morning Routine:
My morning is dark (very literally, dark). It's 2:30 or 3:00 a.m. So no matter how deep we get into summer, sadly, it will always be dark—but I love getting up early. I try to pick out what I wear the night before to make it speedy in the morning. Inevitably, one of my kids wakes up as I walk out the door to ask if they can sleep in our bed. Of course, I tuck them in, and then I'm always rushing. I get to work, cram for two hours, get into hair and makeup, and then head to the CNN This Morning set.
I've always been a morning person, so that's lucky [with a morning show], but I am trying to prioritize sleep— I know it's essential for my health and well-being; I go to bed early, around eight o'clock. Someone called me at eight-thirty the other night, and I was like—what is happening?!
On Getting Dressed:
Even though I try to lay things out the day before, I might not feel it in the morning—I'm definitely a mood-based dresser— those four-inch heels might be just too aggressive for how I'm feeling that day. But I also consider the weather in New York and try to dress for that even though I'm usually on set inside. When we started the show, I worked with a great stylist, Beverly Osemwenkhae from Project Bee NYC—she's awesome. She helped me find some great, more casual things. The aesthetic of CNN This Morning is more relaxed.
Beverly found this great pair of velvet pants I want to sleep in. Your body changes after kids—not in a bad way— but I always used to wear dresses, and now I'm really into high-waisted three-quarter leg pants that show a little bit of ankle— they're comfortable and flattering. My other go-tos are longer shirt dresses and longer skirts. I belt them around the waist with a fitted, tucked-in sweater. It's really what works for me.
I love when I'm covering the NBA All-Star weekend, and I can wear a blazer, leather pants, and a pair of Nikes— which actually feels like me—but there I wouldn't be covering breaking news. On set, you have to be ready for anything to happen and look appropriate.
On Style Inspirations:
My friends are some of my biggest fashion inspirations. They're are always putting pieces together in such a confident and comfortable way—also, Kaitlan [Collins]. She always looks great in her awesome turtlenecks, killer pantsuits, and hoops. Today I was like, I have a pink suit to send you, and she was like, do not send me any more clothes to buy! On the show's first day, I wore this pink corduroy suit. I had complimented my friend Amy Griffin on it at lunch the week before, and I asked her where it was from, and she was like you can't buy it because it's already on its way over to you. I wore it, cleaned it, and sent it back to her. I do that with some of my other friends in the business, too— especially if I have an event. Or I'll rent something. I rented a dress from Albright Fashion Library for the TIME 100 dinner last year. I don't need to go buy a ball gown.
On Empowering Pieces:
I wear a little necklace with my kids and my husband's initials. I've had it for a long time. But you know what, when I was having breakfast with Amy [Griffin] last week, she told me about her friend who says, why do all these people wear their kids around their neck? They should wear their initials around their neck. And I love that, too. So I need to put a "P" on my necklace.
I also love a perfectly fitted blazer. I have one from Scanlan Theodore; when you have a buttoned blazer, you feel pulled together.
On Shopping Philosophies:
I re-wear a lot of my things. You have to be conscious of consumption. It's not great for the environment. I also love vintage shopping around Brooklyn and Manhattan. After a recent breakfast meeting, I popped into a vintage store and bought a red polka-dot dress you might see on the show. Also, buy two pairs if you find great jeans (for me, a great black pair). They fade, and they're hard to find later on. It's my little trick.
Shop Poppy's Favorite Pieces:
Celebrity news, beauty, fashion advice, and fascinating features, delivered straight to your inbox!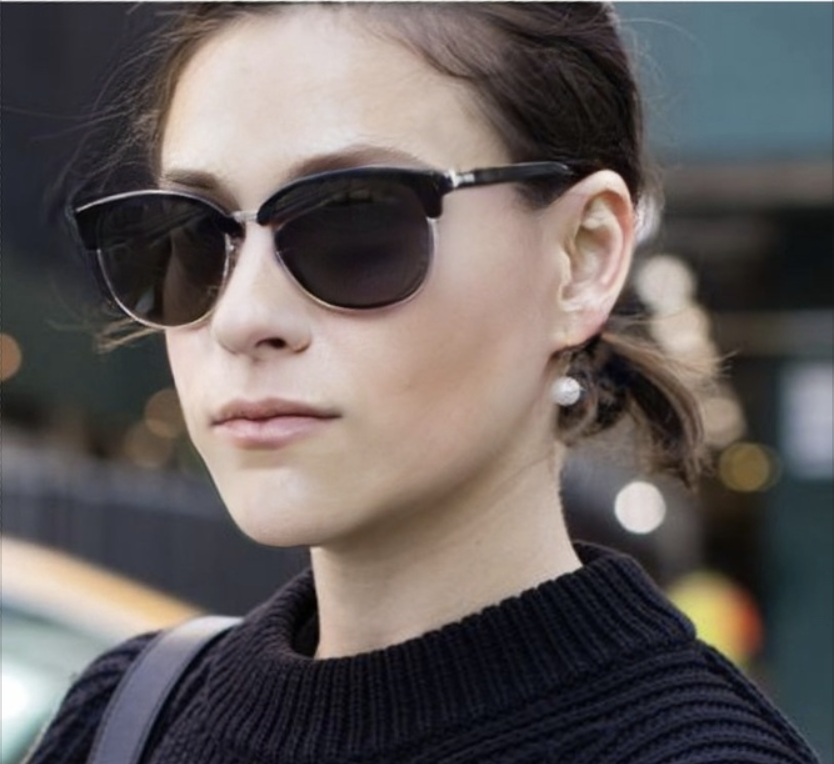 Sara Holzman is the Style Director at Marie Claire, covering runway trends and tracking down the latest finds to buy and wear. When she's not writing about fashion, she pens about the best places to jet-off to. Over her six years with Marie Claire, Sara has reported on the ever-evolving world of fashion— covering both established and emerging designers within the industry. Sara has held fashion positions at Lucky and SELF Magazine and was a regular contributor to Equinox's Furthermore website, where she wrote across their style, wellness, and travel verticals. She holds a degree in Journalism from the University of Missouri, Columbia, and currently resides in Manhattan. Follow her along at @sarajonewyork.