My New Year's Resolution Is to Shop Smarter—These Are the 30 Products That Are Making the Cut
Let the clear-out commence.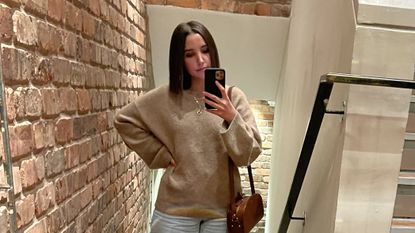 (Image credit: Humaa Hussain)
Most Coveted is a new shopping series sharing our editors' curation of the must-know items they can't stop thinking about.
Happy New Year—it's a new dawn, it's a new day, and I'm feeling like a whole new person. Now, I may sound like a broken record every January, but this year I've decided to really push out of my comfort zone and make some changes. Whether this includes changing small things such as starting fresh with an updated daily journal or bigger moves like incorporating denim back into my wardrobe (I've sworn off jeans for a few seasons now), I've spent the first few weeks of the year literally behind a screen shopping.
If you're also succumbing to the "new year, new me" mantra or just looking for a little change to your everyday routine, take a page from my book with these 30 products I've already bought over the course of the last few weeks.
Toteme Scarf-Neckline Felt Jacket
I finally caved and sent the viral Toteme scarf jacket to checkout as soon as it came back in stock. This, like all the brand's pieces, will be a staple for years to come.
Paula's Choice Clinical 1% Retinol Treatment
The time is now to introduce retinol into my skincare routine.
Melissa Joy Manning 14-Karat Gold Hoop Earrings
These intricate earrings are handcrafted from recycled 14-karat gold in a delicate round
I have now fully converted my entire lingerie collection to Skims. Drastic? Perhaps. But I am done with wires and padding, and you don't have to be part of the #smallboobgang to wear these daily.
One Skin OS-01 Topical Supplement Face (Travel Size)
One Skin's skin longevity face treatment is always one I top up on every year. And the new limited-edition travel size is just what I need to lunge around the city with.
Acne Studios Brown Wool Scarf
A more simplified version of the infamous checked scarf to add to my collection.
Uniqlo Extra Fine Cotton Broadcloth Long-Sleeve Shirt
I love the way the men's Oxford button-down falls on my hourglass figure, so I've ordered this Uniqlo one in multiples.
Buying more consciously is part of my 2023 goal, and Veja's ethos speaks volumes to that. I've just added the Velcro-strap pair to my basket.
Roxanne First Zodiac 9-Karat Gold Moonstone Necklace
Cast from nine-karat gold with a square-shaped moonstone, this Rozanne First pendant is detailed with a zodiac sign in the center.
Hourglass Vanish Blush Stick
I'm taking a more pared-back approach to my everyday glam. This cream blush in a muted brown to also double as a light contour.
Gisou Honey Infused Hair Mask
This mask is enriched with Mirsalehi Honey to repair dry hair and help prevent split ends—need I say more?
A.P.C. Black Demi-Lune Card Holder
Another year, another card holder. This year I've gone for a black leather one from chic Parisian brand A.P.C.
Agolde High-Rise Tapered Organic Jeans
This would be my second pair of jeans. I'm going in slowly with light washes first.
Eyebuydirect Resonance Square Black Eyeglasses
With a minimalist design, these eyeglasses have modern metal frames and are finished with elegant tortoiseshell arms.