The 16 Best Denim Skirts of 2023, According to a Fashion Editor
Give your trusty blue jeans a break.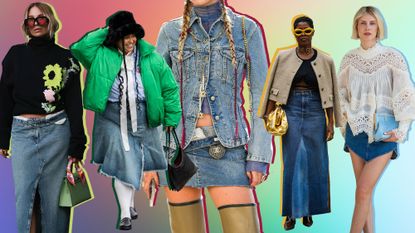 (Image credit: Future)
Marie Claire Newsletter
Celebrity news, beauty, fashion advice, and fascinating features, delivered straight to your inbox!
Thank you for signing up to Marie Claire. You will receive a verification email shortly.
There was a problem. Please refresh the page and try again.
Welcome to The Essentials, our weekly series highlighting a must-have classic, key to building a timeless, pulled-together closet.
There's a reason a trusty pair of jeans is so widely lauded by fashion folks. Comfortable and consistent, the best jeans are those you can reliably, mindlessly turn to in your times of need (a.k.a., when you're rushing out the door and need an easy outfit, stat). But even the hardest-working pieces deserve a rest now and then. So instead of reaching for your favorite blue jeans the next time you're putting together a casual look, try a denim skirt instead. For one reason, Kate Bellman, the managing fashion editor at Nordstrom, co-signs the swap: "Similar to jeans, the best denim skirts offer immense versatility within your wardrobe. And these past few years, we've all come to rely heavily on denim as the workhorse of our wardrobe, so it makes sense we are now searching for new alternatives to our favorite jeans."
The retail expert points out, too, that jean skirts hadn't had the trend cycle's full focus in quite some time—perhaps not since the early 2000s, when your favorite pop stars were all sporting floor-grazing denim maxis. "It's been quite some time since they emerged as a key item," details Bellman, "so the 2023 denim skirt trend also provides a reason to buy something new!" And if a dose of shopping-induced serotonin sounds pretty good, keep scrolling to shop the best denim maxi skirts for women.
Starting at the ground level with long denim skirts and then traipsing up the leg to knee length and scandalous micro-mini territory (the style resurgence of the Hot Aughts isn't going anywhere anytime soon), we curated an edit of our favorite takes on this classic style. Oh, and if you're looking for advice on jean skirt outfit ideas, we have you covered there too.
Denim Maxi Skirts
Just as the Y2K style revival heralded the return of teeny-tiny micro skirts (more on that ahead), it also prompted the resurgence of long denim skirts. But 2023 does offer its own take on the elongated silhouette: from front-split styles to asymmetric hems, non-blue washes to dainty bow detailing, these aren't exactly the denim maxi skirts you remember on Christina Aguilera. As for styling one, take Bellman's cue: "A denim maxi skirt pairs easily with a bomber jacket and sneakers," she tells Marie Claire over email.
Denim Midi Skirts
Not quite as modest as maxi but certainly not as flirty as a mini—acquaint yourself with the denim midi, the more coy middle sister of the skirt family. As the Nordstrom fashion expert points out, the shin-length piece is endlessly versatile due to its in-between length. "They can seamlessly be dressed up with a soft ruffled top for date night, or a refined blazer for return to office," she offers.
Denim Mini Skirts
Now onto the more sultry denim styles, starting with the not-so-humble mini skirt. And just when you think you know what to expect from the mid-thigh silhouette, fashion throws a curveball your way. "Denim mini skirts feel particularly modern this season with new and innovative design elements such as quilting, pieced, and patchworked applications," describes Bellman.
Denim Micro Mini Skirts
Bellman points out that one of the ways 2023 has breathed new life into the denim skirt is via "new and novel shapes and silhouettes"—which brings us here to the micro mini skirt in all of its controversial glory. Admittedly not a universally crowd-pleasing option, the denim micro mini skirt is for adventurous dressers with a Gen Z-slanting fashion perspective. And believe it or not, there is a way of toning down the style's sex appeal—but it means calling on yet another highly contentious trend from the 2000s. Enter: the skirts over pants combo.
Meet the Expert
Kate Bellman is the Managing Fashion Editor at Nordstrom.
Celebrity news, beauty, fashion advice, and fascinating features, delivered straight to your inbox!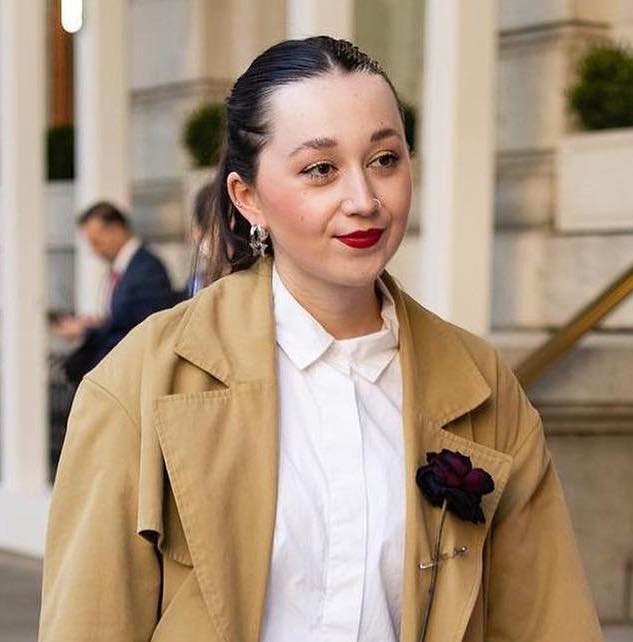 Emma Childs is the Style Editor at Marie Claire, where she researches up-and-coming trends, curates shopping guides, and gushes about the must-buy items she can't stop thinking about. She previously wrote for TZR, Editorialist, Elite Daily, and Mission Magazine and studied Fashion Studies and New Media at Fordham University. When she's not writing up fashion deep-dives or finding the season's best pieces, you'll find her fiddling around in Photoshop and perusing HBO Max for the next show to base her personality on (currently, it's "Succession").