The 13 Best Mini Skirts, According to Stylists
And did you know the style has played a powerful role in feminist history?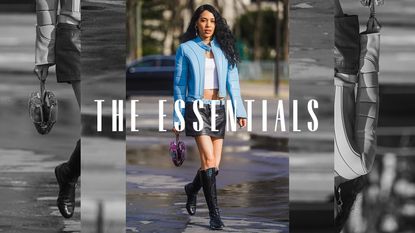 (Image credit: Getty)
Welcome to The Essentials, our weekly series highlighting a must-have classic, key to building a timeless, pulled-together closet.
The mini skirt has always been a contentious fashion trend. Look to the viral micro-mini from Miu Miu, for instance, which sparked a ferocious online debate within days of its Fall/Winter 2022 debut and left many perplexed on how to style the skirt in real life without getting ticketed for public indecency. And while some buzzy mini moments are mere flashes in the sartorial pan, the best mini skirts stand the test of time and serve a much more profound purpose than just being a clickbait gimmick.
An abridged history lesson on the controversial piece: "The mini skirt is associated with designer Mary Quant, who was the first to show it on the runway in the '60s. However, this was not so much a high-fashion trend but one that began in the streets," explains fashion historian Einav Rabinovitch-Fox. "Popularized by young women who sought to change the political and cultural discourse, the mini was connected to the 1960s sexual revolution and the rise of youth culture. As such, it was conceived as a radical fashion, symbolizing women's growing public visibility and their insistence on claiming a space for themselves."
"In the '70s," the historian details, "the fashion industry sought to push the midi skirt, but women rebelled, organized protests, boycotts, and even 'clip-ins' (where you would cut your midis to a mini length). The industry backed down, and the mini skirt remained a staple in women's wardrobes. It was a reclamation of women's sexiness and bodily autonomy—a statement of more assertive femininity and empowerment."
Rabinovitch-Fox says it's no coincidence that the liberated silhouette is popping up on recent runways and igniting discourse again. "Women feel a need to reclaim their sexuality and body autonomy in the face of attacks on their rights [in 2023], and the mini, with its history and connotations, is a useful way to do it." The historian adds, however, that she perceives another layer of symbolism to be at play with today's mini skirts. "There is more to it than just a response to the current restrictions: I see the return of the mini skirt as part of a broader trend of showing skin and emphasizing the body that is more to do with people feeling safe to appear in public after the pandemic." After years of lockdowns and isolation, of hunkering down indoors and being perceived solely through a screen, there's a collective itch to show up and show out—a 'look at me!' need that perfectly lends itself to the leggy skirt.
Ahead, two fashion stylists round up the best mini skirts for women in 2023 and highlight a few specific details worth keeping in mind while you shop. Honor the style's origins as a symbol of female empowerment and invite a new piece into your wardrobe—a win-win shopping decision!
What to Look for in a Mini Skirt
"If you're shopping for a mini skirt online, knowing your measurements (especially waist and hips) will help determine how it will fit you," says fashion stylist Olivia Rose. "When in doubt, tailoring can help you get the perfect length and fit."
"Knowing what style and cut you feel best in is super helpful," Rose shares. "A-line is a universally flattering style because of how it accentuates the waist. I also often opt for a higher waistline, which is more elongating than anything lower rise."
Fashion stylist Mickey Freeman echoes Rose, pointing out that you want to be mindful of how the skirt can skew quite sultry due to its leg-baring cut. "Whether a first-time buy or another addition to your collection, a mini skirt should be tastefully constructed. For example, in most cases, a skirt having too long of a split could transform an already organically sexy garment into an obvious appearance of overkill," he cautions.
The material of your mini can also dictate your outfit's overall vibe, explains Freeman. If you want a more formal and dressed-up look, "try to find mini skirts made of something other than denim, such as leather, which can be the catalyst needed to bring texture into the overall look."
The Best Mini Skirts
Best Pleated Mini Skirt
"I love a pleated skirt, whether it is a suiting-inspired version or a dark wash denim version," says Rose. This wrap-over mini with accordion and box pleats from COS is an ideal option for spring 2023, says Rose, as preppy style is currently experiencing a cool-girl-approved resurgence. "The A-line shape is super flattering, and the pleats add dimension and movement."
Best Sequin Mini Skirt
J. Crew Natasha Mini Skirt
J. Crew's Natasha Mini Skirt offers an approach to playful glitz and glam that won't turn you completely into a disco ball—unless, of course, that's the desired vibe. In that case, you'll want to team this understated yet shiny tweed skirt with over-the-top shimmer—like a silver camisole top and your best high-shine jewelry. Alternatively, you can also tone down the mini's party-ready energy: all you would need is a roomy tee shirt, an oversized blazer, and your favorite black sneakers.
Best Summer Mini Skirt
Adicolor Classics Poplin Skirt
Calling all sporty girls (or those who don't necessarily have a gym membership but dress predominately in athleisure-adjacent clothes): This breathable cotton seersucker skirt from Adidas is the ideal slip-on-and-go option for summer. It features two spacious side pockets, tapping into that utilitarian and gorpcore vibe that's greatly influencing 2023's trends, and a generous elastic waistband to keep you comfortable all day long. Also to note is that it boasts a tailored hem and A-line silhouette, making it the perfect combination of casual-meets-put-together.
Best Mini Skort
"If you are a more practical dresser, maybe opt for a skort to add more comfort and security," like this Reformation one that's "perfect for all wardrobes," says Rose. "It is super versatile and can be worn across all seasons and styled in many different ways. The white iteration is the perfect spring-summer option to throw on with a tank and flat sandals as an elevated daytime look. I like that the front pockets add an interesting design element with a' 60s-inspired flair."
Best Black Mini Skirt
Topshop Tailored Miniskirt
This is a mini skirt to try if you're fond of an above-the-knee silhouette but want something other than a sultry or sensual vibe. Combining a put-together, preppy feel with subtle yet flirtatious flair, Topshop's Tailored Miniskirt is like ending a professional handshake while batting your eyelashes, perhaps even tossing in a quick wink, too, to round out the deal. Consider styling this polished pair of bottoms with a thin black leather belt, a cropped button-down shirt, and barely-there strappy kitten heels.
Best Micro Mini Skirt
"The mini skirt would keep its youthful and sexy connotations well into the 1990s and 2000s, as it was popularized by celebrities like Britney Spears, Paris Hilton, and Christina Aguilera, who adopted the mini trend, especially the micro-mini skirt," explains Rabinovitch-Fox. H&M's mini skirt, with its digitally-inspired pixel graphic and streamlined silhouette, perfectly encapsulates the sartorial vibes of that era. Plus, It comes in four others colors and prints if green and black aren't in your preferred color palette this summer.
Best Tennis Skirt
Alo Yoga Grand Slam Tennis Skirt
"A tennis skirt is a great option for a comfortable and casual day-to-day outfit," explains Rose. "It can be a great way to elevate any spring or summer athleisure look." Not to mention the hard-working tennis skirt is integral to the tenniscore phenomenon, a TikTok-fueled fashion aesthetic that consists of precisely the court-ready styles you'd expect. Snag this classic white iteration from Alo Yoga, the activewear brand beloved by all your favorite celebrities and fashion folks (Victoria Beckham, Katie Holmes, Jennifer Garner, and Kendall Jenner, to name just a few).
Best Denim Mini Skirt
"Denim maxi skirts are super popular currently, and I think denim mini skirts will be a great alternative for hotter weather," says Rose. "A denim skirt is a super timeless staple wardrobe piece because of how versatile it is"—case in point: this AGOLDE option. Just like your classic pair of black jeans, this dark-wash mini skirt is about to become your go-to summer piece. It's especially great if you hate the feeling of denim shorts (summer thigh chafing—let's talk about it!), and it will go with just about everything.
Best Leather Mini Skirt
Alice + Olivia Carter Vegan Leather Pleated Miniskirt
"Alice + Olivia has managed to bring meaning to the phrase, 'structure in motion' with this brilliant pleated mini that instantly takes its spot as a staple piece," describes Freeman. The stylist shouts out this vegan leather style as an ideal option to wear into the office as part of a summer business casual outfit. Consider trying it with a white button-down and your best loafers for a put-together prepster look. Alternatively, you could lean more causal by teaming this faux leather mini skirt with a well-worn graphic tee and 2023's trendiest sneaker, Adidas' Samba.
Best Cargo Mini Skirt
The Frankie Shop Tan Audrey Miniskirt
You know cargo pants are one of the year's top trends. The multi-pocked bottoms dominated the fashion field with such a force that they inspired a handful of off-shoot trends, like baggy utilitarian and carpenter-style jeans and cargo skirts. The Frankie Shop's fit-and-flare tan mini is a perfect example of the latter in that it does have pockets that, in theory, could serve a purpose, but the overall garment is more cutesy than practical. The vibe is more of a fashion girl bopping around downtown than a handyman keeping his tools within arm's reach.
Best Maximalist Mini
PH5 Black Salem Miniskirt
So you want to turn heads this spring and summer. This quirky-cool PH5 skirt—what you can safely assume to be a piece that'll have masses of people asking you, "Wow—where did you get that?"—is what to add to your cart. The wavy-hemmed style with a freshly graffitied spray paint print will kickstart your maximalist pursuit with a bold bang. As Freeman describes, "in this very unique PH5 mini, avant-garde, athleisure, and street fashion seem to all be in perfect harmony."
Best Corduroy Mini Skirt
AKNVAS Cherry Corduroy A-Line Mini Skirt
"Who said you can't wear corduroy in the summer? Commonly considered a fall and winter staple, this chic corduroy A-line mini skirt by AKNVAS will allow you to maintain your cool factor on those cool summer nights as well," describes Freeman. And to the stylist's point about corduroy being a prominent textile in the colder seasons, this AKNVAS number is an investment piece you can reach year-round—all you need to do is slip into a pair of tights once temperatures take a plunge.
Best Going-Out Skirt
This mini skirt from MIAOU (a favorite of supermodels like Paloma Elsesser) is guaranteed to become a hero player in your going-out rotation. Team it with one of the cult favorite brand's fitted corset tops—how about this long-sleeved one in a matching brown polka-dotted print?—and prepare to look like a Renaissance painting in the best way this summer. Also, another element to love about this magical mini: the front ruching adds visual intrigue, giving this piece a bit more fashion-y flair than a traditional straight-lined skirt.
Meet the Fashion Experts
A historian and public scholar, Einav writes about the intersections between fashion, politics, and modernity, particularly the role of visual and material culture in social movements. Her new book is Dressed For Freedom: The Fashionable Politics of American Feminism, and she also appeared in The Washington Post, New York Times, Elle, Teen Vogue, and W Magazine.
Olivia got her start as a stylist through assistant celebrity styling in Nashville and New York. After learning from many experienced stylists in the game, she went on to build my business working with musical artists, celebrities, commercial brands and personal styling clients. Whether it's dressing her clients for red carpet events, doing wardrobe on set for music videos or helping her personal clients find their true style, she enjoys being a part of the creative process that is finding self expression through fashion to feel your best.
Mitchell Freeman, also known as Mickey, is a fashion stylist born and raised in Philadelphia. Mickey currently works with the likes of Peyton List, McKenna Grace, Landry Bender, Aldis Hodge, Tobias Harris, Sinqua Walls, Dylan Sprouse, Azealia Banks, Keke Palmer, and Dascha Polanco. His work has been featured in publications such as GQ, Vogue, Marie Claire, Grazia, and L'Officiel.
Emma Childs is the Style Editor at Marie Claire, where she researches up-and-coming trends, curates shopping guides, and gushes about the must-buy items she can't stop thinking about. She previously wrote for TZR, Editorialist, Elite Daily, and Mission Magazine and studied Fashion Studies and New Media at Fordham University. When she's not writing up fashion deep-dives or finding the season's best pieces, you'll find her fiddling around in Photoshop and perusing HBO Max for the next show to base her personality on (currently, it's "Succession").