The 15 Best Loafers for Women in 2022
The closet staple is trending this season.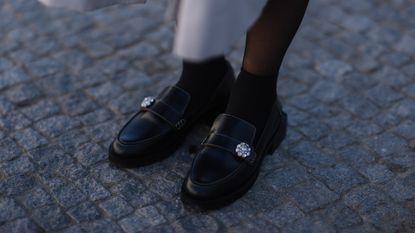 (Image credit: Jeremy Moeller/Getty Images)
Let it be known that I am a winter shoe aficionado. I'm not really a sandals person, so the onset of colder weather means that I can finally stow away my open-toed shoes and replace them with a pair of loafers—or several. Because there are so many pairs and different loafer options on the market right now, I spoke to Jamie Lee (opens in new tab), a Shoe Buyer at luxury retailer Moda Operandi (opens in new tab) to find the very best loafers on the market for fall and winter 2022.
The once-preppy style has become a mainstay on the feet of models both on and off the runway, as well as on the feet of every single A-list celebrity. Both Kendall Jenner and Katie Holmes have both been spotted in pairs from Vagabond Shoemakers (opens in new tab), for instance, which is also a favorite brand among the Marie Claire editorial team.
Loafers were a prominent choice on the Fall/Winter 2022 runways as well—brands like Ralph Lauren and Louis Vuitton styled them as a part of their collections. At the former, iconic black-and-white penny loafers were styled with tailored menswear-inspired pieces. At the latter, the patent-leather loafer offerings had an oh-so-subtle peep toe and were worn with oversized trousers and blazers. As for street style, top model Gigi Hadid recently wore a pair of two-tone penny loafers with a fall-toned suit set, while her sister, Bella, wore them with a micro mini skirt and white ankle socks.
Ahead, Lee breaks down exactly what you should look for in a pair of loafers for fall and winter 2022, including which colors and styles are trending and her favorite pairs you can snag for under $300. Plus, the Marie Claire editors share their favorite loafer picks.
What to Look For When Buying Loafers
"I would definitely recommend black for your first pair," says Lee, noting that shoppers should also decide if they want to buy a pair of chunky or sleek loafers. "Both are equally timeless and easy to wear with just about any outfit," Lee says.
The Loafers Trending This Season
"Prada has been a leader in this category for Moda Operandi for several years, but there's certainly a bigger offering from other designers this season," says Lee about the most popular loafer brands right now. While Prada's chunky loafers (opens in new tab) are an investment-worthy staple at this point, Lee says that other brands are "giving their loafers special design detail to differentiate them from other pieces on the market," citing Chloe's stitching, Bottega Veneta's chain-style loafers, and Miu Mui's "classic penny loafer detail."
Affordable Loafer Brands
"At the $300 and under price point, we offer some great options from Aeyde (opens in new tab), Ganni (opens in new tab), and St. Agni (opens in new tab)," says Lee. "The Aeyde style has actually been so popular that it has sold out multiple times, and we are leaning into additional color options in the pair for the Spring/Summer 2023 season."
The Best Loafers for Women
Meet the Experts