What Star Body Shape Are You?
Whether you're a petite hourglass or a full rectangle, get tips on how to love your body and to dress for your figure.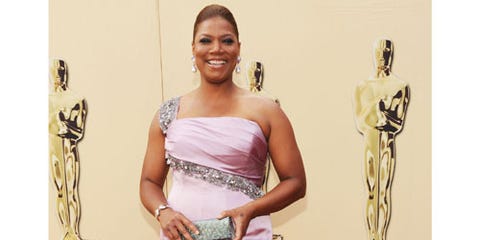 Whether you're a petite hourglass or a full rectangle, get tips on how to love your body and to dress for your figure.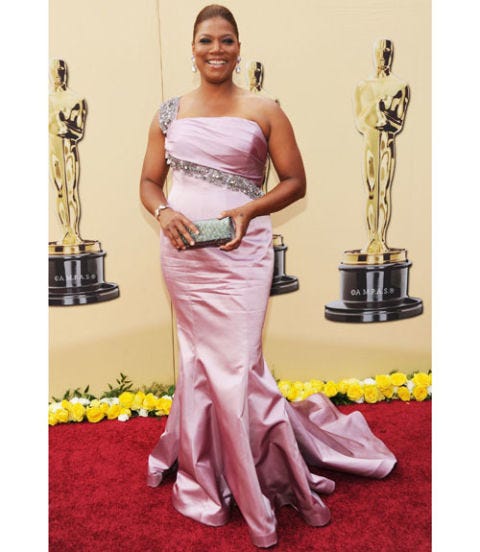 Queen Latifah
Her Look: The rapper-turned-Oscar nominee is what fashion designer Bradley Bayou describes as a "tall, full rectangle." Her form, with little waistline definition, can appear boxy, so he uses "soft fabrics and corsets." He also applies "design elements that release at her hip to give her some extra curves."
Your Look: Try wide V-necks or off-the-shoulder dresses. This, Bayou says, "elongates your shoulder line and when used in combination with a corset, will pull in your waist and make your torso appear smaller." Also, show off your favorite features. If you love your legs, a simple slit can do the trick.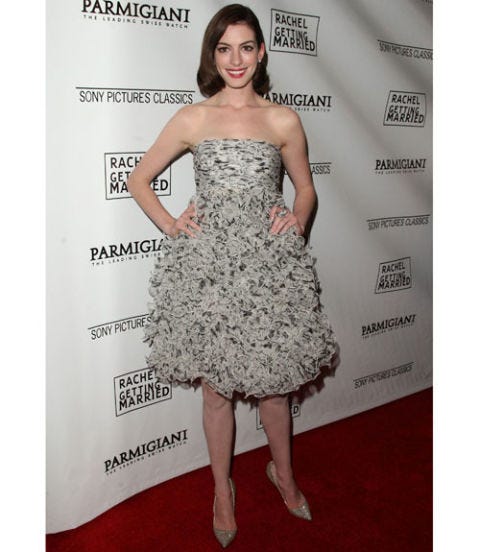 Anne Hathaway
Her Look: Also a rectangle, the actress has broad, pronounced shoulders and slightly curvy hips. "The more she accentuates her shoulders and hips, the smaller her waist will appear," Bayou says. "Because she's tall and slender, the proportional differences in her body are small, so she doesn't have to do much to create that balance."
Your Look: If your shape is similar to Anne's, Bayou assures you it's "very easy to dress" yourself. Always wear looks that pull in at your waist and release at your hip. A tuxedo jacket with a strong shoulder would work, as would an A-line skirt.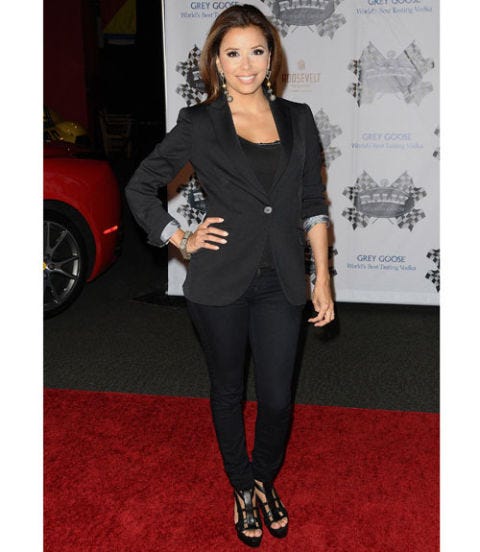 Eva Longoria
Her Look: The Desperate Housewives star has a "short, petite hourglass" figure. "When working with Eva, I always use long, lean lines to elongate her petite frame, making her seem taller," Bayou says. "It's also important to highlight her waist. Otherwise, her naturally balanced figure could get lost."
Your Look: To add height, Bayou recommends monochromatic looks that are simple in terms of design — like a pantsuit or a long, silver gown — to create instant length.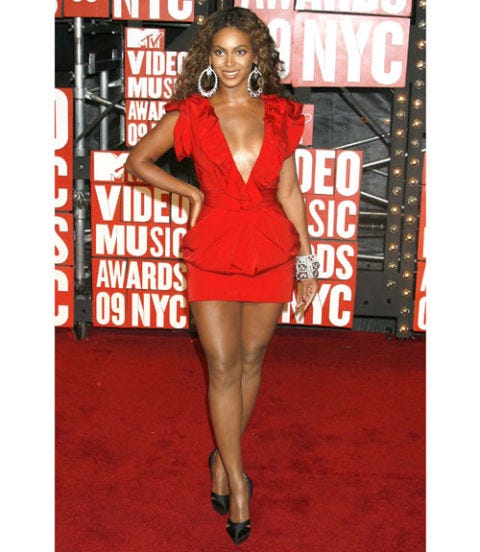 Beyoncé Knowles
Her Look: The Grammy-winning singer has an "average medium triangle" body shape, with her hips being the primary visual element of her silhouette. "She can carry plunging necklines, so I dress her in a minidress with a very dramatic V-neck," Bayou says.
Your Look: If you're like Beyoncé, you have "a narrow waist and a small rib cage, which makes it easy to flatter your upper body and show off your slim midriff," he says. Also, try belted looks to emphasize your small waist.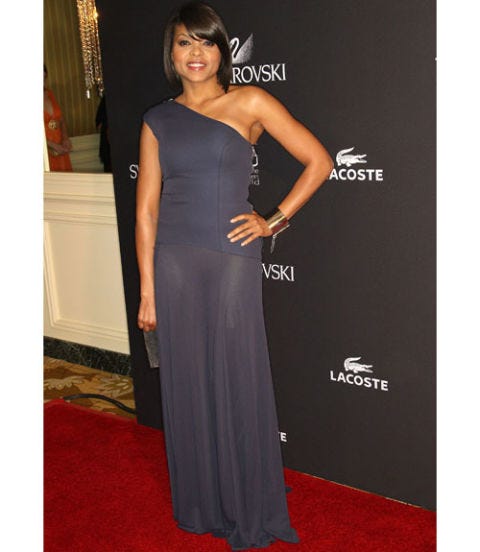 Frederick M. Brown/Getty Images
Taraji P. Henson
Her Look: The actress has an "average medium hourglass" body shape. "She's got curves in all the right places!" Bayou says. He opts to put her in formfitting designs that "accentuate her small waist" and have an "open top to show off her stunning collarbone and shapely arms."
Your Look: If you too have a great bustline, Bayou suggests wearing body-contouring items that show off your figure ... as well as some skin.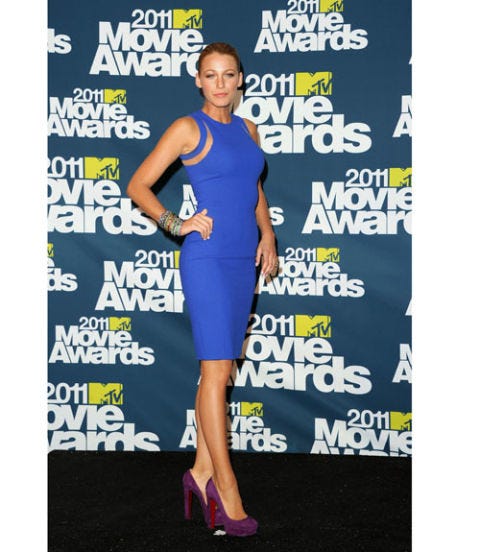 Blake Lively
Her Look: The Gossip Girl star and rumored new girlfriend of Leonardo DiCaprio is not afraid to show off her assets. This fitted Michael Kors dress is such a classic choice as it accentuates her curvy chest and her legs, without being over-the-top.
Your Look: If your dress is fitted and body-conscious like Blake's, we say avoid plunging necklines ... especially for daytime wear. And remember that sometimes a knee length pencil skirt is just as sexy as a mini.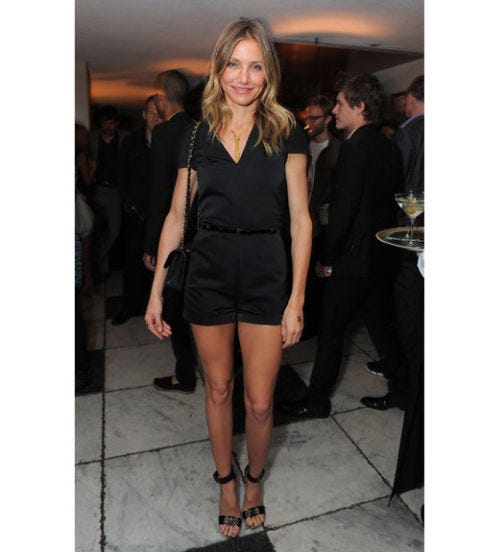 Cameron Diaz
Her Look: Cameron definitely has what we would describe as a skinny, but athletic build. It's all long lines and few curves which make it perfectly suited for this season's playful rompers.
Your Look: If you're wary of a one-piece romper, try pairing and sleek button down with a dressy short and a belt (to give the appearance of more of a waist.) Don't be afraid to show off those legs!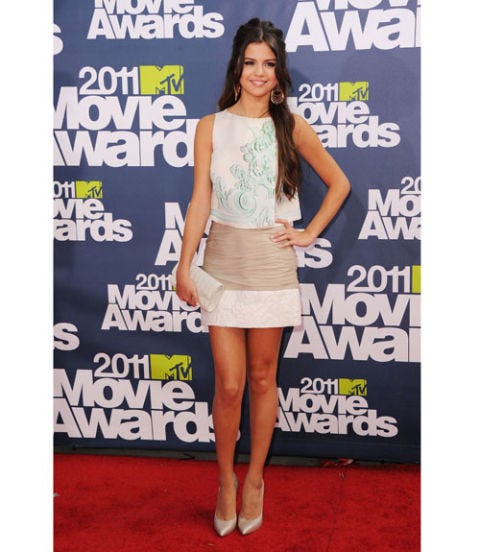 Selena Gomez
Her Look: The young actress is becoming one one-to-watch when it comes to fashion. She knows how to show off her tiny frame, without overwhelming herself with too much fabric.
Your Look: If you're petite like Selena, opt for skirts and dresses that highlight your small waist. But don't assume everything you wear needs to be super tight. We think this play on a tunic top is a great way to add just the right amount of volume to a look.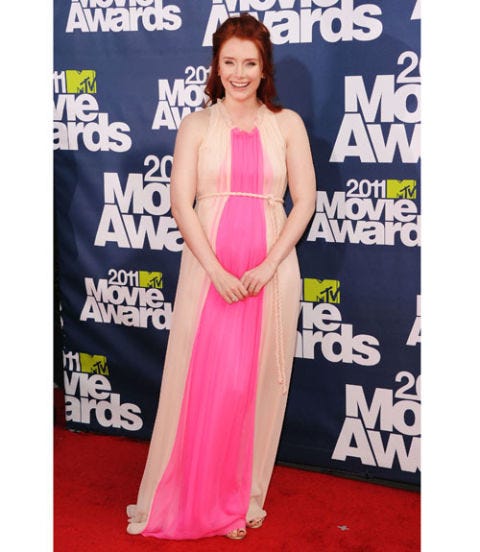 Bryce Dallas Howard
Her Look: The Twilight actress recently revealed that she's pregnant with her second child. What better way to dress around your bump than with a long, flowy maxi dress this summer.
Your Look: Whether you're expecting, or perhaps would just rather conceal a bit more around the middle, there are summer dresses available at every price range. A tie around the middle, a bit above your waist adds shape without being constricting.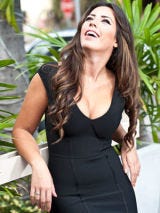 Dangerously Curvy
The Look: Marie Claire, our sister magazines, and Slim-Fast asked real women to weigh in on slimming down.* Their findings? 42% of readers consider themselves "dangerously curvy." This model plays up her feminine figure with a plunging neckline and slimming black sheath.
Your Look: Choose a cut that plays up your best features: a mini if you love your legs, or spaghetti straps for gorgeous shoulders. But don't feel that you have to hide everythign else: a nipped waist can slim belly bulges better than an empire cut, or minimize "log legs" with a flippy A-line skirt and open-toed mules.
*Source: 2012 Slim-Fast Custom Research; online study conducted by Gfk/MRI, among The Insiders and opt-in subscribers of Cosmpolitan, Elle, Marie Claire, and Redbook.
This content is created and maintained by a third party, and imported onto this page to help users provide their email addresses. You may be able to find more information about this and similar content at piano.io